Facilities and Technology
Facilities and Technology
The Department is located within the Claire Trevor School of the Arts campus. The Music & Media Building (MM) contains the department office and most faculty and staff offices, teaching studios, and classrooms, as well as rehearsal spaces, and various other specialized creative laboratories.
Performance Venues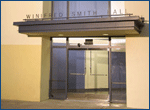 Winifred Smith Hall, named for one of the Department's most generous donors, provides an intimate recital space with seating for approximately 200 patrons. Smith Hall contains the Oberbergen Pipe Organ and a nine-foot concert grand piano. Home to the annual Chamber Music Series, the facility is also used for student recitals and various other small-group performances.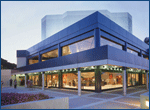 The Irvine Barclay Theater, located only a few minutes' walk from the School of the Arts complex, is a joint venture of the University and the City of Irvine. Each year the Department schedules several events in this beautiful facility, including selected performances of the University Symphony.
Technology
Music department facilities and technology are for use by Music department students and faculty ONLY. These facilities are not available for rent or for use by the wider UCI community.
The Gassmann Electronic Music Studio, located in 103 Music and Media Building, is a Macintosh-based studio for digital recording and MIDI composition, named for School of the Arts benefactor, composer Remi Gassmann.
The REALab (Realtime Experimental Audio Laboratory), located in 216 Music and Media Building, is a laboratory for research and creative activity in the use of computers in live musical performance, including realtime audio processing, sound spatialization, networked performance, interactivity, and alternative computer-mediated instruments.
The ColLab (Music Collaboration Laboratory) located in 190 Arts Instruction Technology Resource Center is designed to promote an interactive, collaborative model for teaching, research, and creative work in audio and music. It supports multi-channel audio recording, surround sound, multimedia presentation, and teleconferencing.
The Music Recording Studio located in 1103-1104 Contemporary Arts Center, and connected to the Experimental Media Performance Laboratory, supports 24-channel recording and provides a drum set, a Nord Stage 2 88-key synthesizer, and a Yamaha Disklavier grand piano.
The Sound Studio in 115 Music and Media Building is a secondary recording and production studio shared by the Sound Design program in the Department of Drama and the ICIT program in the Department of Music.
The Keyboard Instruction Lab in 190A Arts Instruction Technology Resource Center is a facility for teaching keyboard skills and music theory, outfitted with a Yamaha Music Lab monitoring system, sixteen digital pianos, computer projection, and stereo sound system.
The CLASSic Synthesizer Studio (Classic Laboratory for Analog Sound Synthesis) is a small studio of "vintage" synthesizer equipment for students to gain hands-on experience with analog synthesizers of the late '60s, '70s, and early '80s. It features a Moog modular synthesizer (circa 1970), two early Buchla synthesizers (1970s), a Roland Jupiter 6 (early 1980s), and other old synthesizers.
The Beall Center for Art and Technology supports research and exhibitions that explore new relationship between the arts, sciences, and engineering, and thus promote new forms of creation and expression using digital technologies. The Beall Center aspires to redefine the museum/gallery experience, both in content and form, suggesting answers to the question of how technology can be used effectively, not only to create new forms of art, but also to connect artist to artist, and artist with audience.
For more information on technology in the Music Department, please see these documents maintained by Professor Christopher Dobrian: