Music Recording Studio
at
UCI
---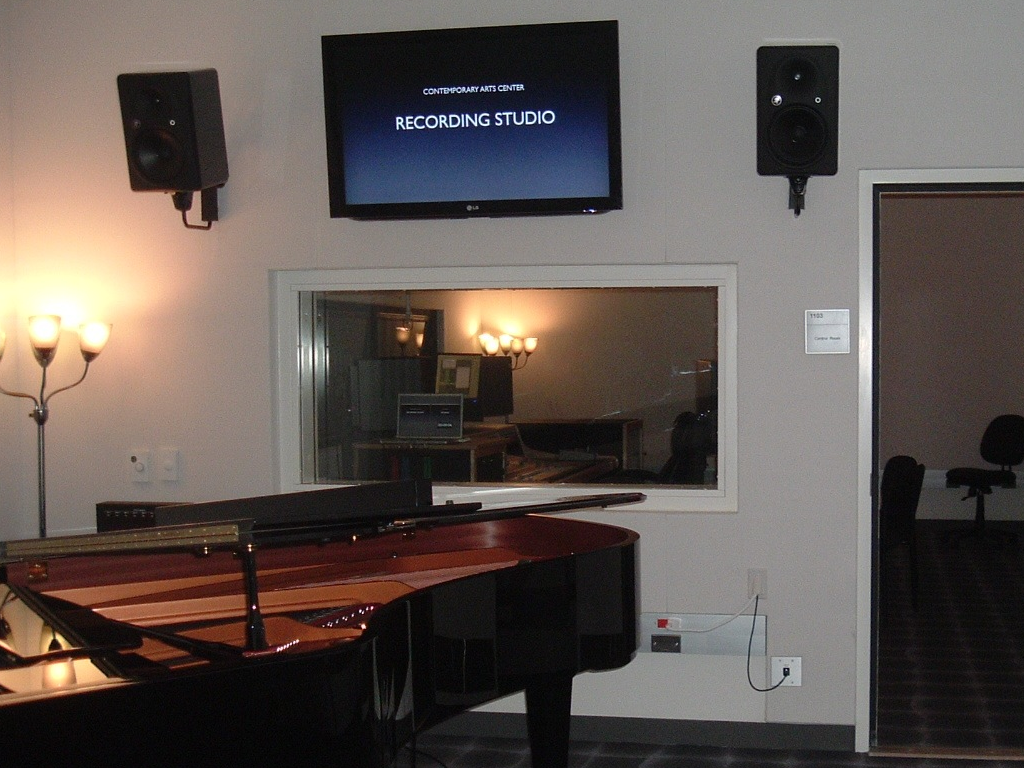 The Music Recording Studio at UCI
is located in Room 1103-1104 of the
Contemporary Arts Center in the Claire Trevor School of the Arts.
---
The Recording Studio is a 24-channel facility suitable for recording solo instruments, chamber ensembles, and large ensembles. It consists of a spacious control room with 5.1 surround sound system and a studio with grand piano and drum set, and it faces out on the Experimental Media Performance Laboratory (xMPL), a large space suitable for orchestral and choral recordings.
The Control Room is equipped with:
- 5.1 surround speaker system with five Meyer HD-1 speakers and one Meyer UMS-1P subwoofer
- Avid D-Command 24-channel mixing surface
- Digidesign ICON surround panner
- Avid Pro Tools HD XMON audio monitoring system
- Two Avid HD audio interfaces and one Apogee Symphony I/O interface
- Avid Sync HD
- Apple Mac Pro 8-core 2.4 GHz computer
- Two Acer 24-inch video monitors
- Grace m802 MIDI-controllable microphone preamplifier
- True Systems Precision 8 microphone preamplifier
- Focusrite ISA 828 microphone preamplifier
- Nord Stage 2 88-key synthesizer
- Dynaudio BM5AmkII monitor speakers
- MOTU MIDI Express XT MIDI interface
- Panasonic DMP-BD85K Blu-Ray player
- Furman HR6 headphone distribution system
- half-normalled bantam audio patch bay
- a diverse collection of professional microphones and stands
- full audio/video/data connectivity to the Record Room and the xMPL
- leather engineer's chair and producer's couch
The Record Room is equipped with:
- Yamaha Disklavier DC7mkIV MIDI-enabled grand piano
- Yamaha drum set with Zildjian cymbals
- Mackie HR824mk2 playback speakers
- 52" LG video monitor
- Taytrix acoustic gobos for sound management
- chairs and stands for chamber ensembles
The walls of both rooms are non-parallel and absorptive to minimize unwanted reflections. The dimensions of each room are approximately 22'x20'. All windows are double-paned for suppression of sound transmission. Both rooms have specially designed doors for optimal sound suppression.
---
Many faculty and student projects have been recorded in this studio. The first commercially-released CD recording made in this studio is Engraved in the Wind (2013) by UCI Professor Nicole Mitchell.
The Recording Studio is for recording of faculty and student artistic and academic projects in the Claire Trevor School of the Arts. The facility is not currently available for rental by non-UCI users.
---
The Music Recording Studio was designed, equipped and installed by Christopher Dobrian. Wiring was installed by Tim Tschopp of Technical Multimedia Design, Inc. A great many other people contributed to the completion of the studio, including Director of Space Planning & Facilities Toby Weiner, graduate student assistants Ian Hattwick, Josh Ottum, and Michael Matthews, and pro bono assistant Oliver Dobrian.
---
This page was last modified August 25, 2013.
Christopher Dobrian, dobrian@uci.edu