Marlaina Owens Is An Operatic Force to Reckon With
The Fulbright scholar on privilege, Paris and the paired criticisms of being 'too much'
By Mia Hammett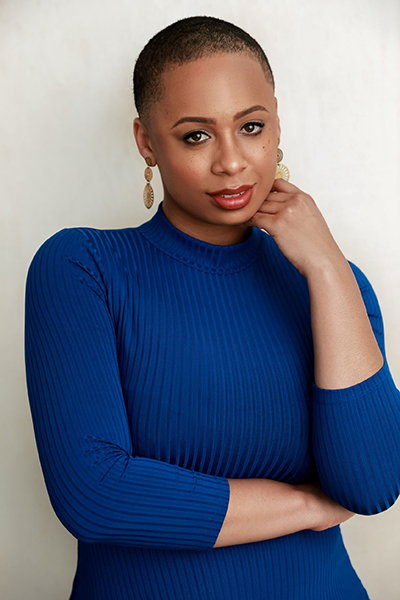 A classical singer, actress and performer, Marlaina Owens has the pleasure of adding "2022-23 Fulbright Scholar" to an already extensive set of professional arts experiences.
Owens received her Master of Fine Arts in Voice from UCI in 2019, and her bachelor's degree in Vocal Performance from Loyola Marymount University in 2016. But the real-life Marlaina Owens exists far beyond the written resumé: The particular energy and excitement of speaking with Owens is comparable to seeing a Broadway musical live for the first time. With abundant cheer and an indelible stage presence, Owens is ostensibly in the beginning stages of a vibrant, impassioned performing arts career.
Image: Marlaina Owens (Photo: Molly Pan Photography)
An Early Pursuit
On recalling some of her first experiences in singing, Owens finds it difficult to pinpoint a specific moment. "There's so many instances. I come from a very musical family. Both grandpas on both sides are musicians in their own right: One is a jazz musician and one is an R&B musician. For singing, they put me in a children's church choir."
As early as her kindergarten graduation, Owens got up and sang Lion King. "Adults just let me sing; they let me be. It was always 'something Marlaina does.' I wasn't ever self-aware of it until maybe high school, when I started taking lessons."
Owens never fully considered acting until she attended the Amazing Grace Conservatory in middle school, where her first play was Oliver Twist. Acting quickly became a secondary skill.
Owens notes her enrollment in Loyola Marymount University as a catalyst for her professional performing arts career. According to Owens, LMU's million-dollar endowment provides students the opportunity to audition in summer abroad programs. Here, Owens was able to enroll in a summer program in Austria.
But it wasn't until her enrollment in the domestic exchange program at Spelman College where Owens finally saw — and took — herself seriously. "It was the first time I had seen other Black women like me pursuing classical music, doing the competitions just as good as me, if not better. It really lit a fire under my belly… before [that], I was the only Black senior in my undergraduate program; there was only one other Black girl. But you didn't really see yourself. And of course, in the history classes, that's also not the focus point, so you have to go out and do your own research."
It was the first time I had seen other Black women like me pursuing classical music, doing the competitions just as good as me, if not better. It really lit a fire under my belly.
Having visited Hawaii, Paris, Austria, Germany and Amsterdam, Owens' work as an opera singer has earned her the ability to travel the world — even as an undergrad.  "All of the sudden, the world had opened up because I had chosen to pursue classical music. It became very obvious that opera was strong in a way that was different from here in America. And now I'm at the precipice of the longest time I'll be in Europe consecutively."
Owens admitted that finding — and actively taking advantage of — career opportunities is part luck and part ambition. It's this same sort of hard truth that Owens returns to as she jumps through the hoops of pursuing a career in the performing arts industry.
"A lot of singers who are just as talented didn't have the resources to continue, because there was a literal global pandemic happening outside. At that point it became about survival, and I recognized my privilege. I still had enough money to have lessons. I think my professional work in the past two years unveiled the elitism of making it in this industry. I feel like it's always important to point that out, because a lot of young singers come to me and ask, 'How did you do it? How did you audition, do the job, and keep singing?' And I think, yes, it's about technique, it's about practice, it's about discipline, but it's also been because I have the means — and it's a hard truth that we sometimes gloss over."
When she first came to UCI, Owens was excited to work with Dr. Darryl Taylor, founder of the African American Art Song Alliance. Not only is he an amazing voice instructor, said Owens, but he was particularly essential in Owens' ability to maintain both her academic research and her pursuit of professional singing. While Taylor also played a pivotal role in helping Owens learn more about her history, Owens recalls that much of her research was done outside the classroom. "In terms of figuring out my heritage of where I fell as a Black woman in the classical community, I had to find it myself. It wasn't a part of what is the canon to get a degree in music."
Looking Ahead
"When COVID hit, I ended up joining a tax agency and becoming a tax preparer. I saved up enough that I could self-sponsor a trip to Germany for two months." Owens had envisioned for herself a curated recital that compared and contrasted American and Parisian culture. "I would bring the element from my master's recital of the African American women composers. Also, the poets used for the songs I used in my master's recital all gravitate around the same cultural event — the Harlem Renaissance — and that opened up a cavern for me in terms of repertoire. So, I thought, 'What's a moment in Parisian history that reflects the Harlem Renaissance? If I find a Black moment of civil unrest, what type of music would I find?'"
...there has to be a certain point where you grow enough in your artistry that it doesn't matter what they say.
Ultimately, Owens "found that, during my master's recital, the way that musicians spoke up was through their music. I wanted to see if I could find that in the Fulbright, so that's what I'm doing." Per the Fulbright, Owens will soon move to Paris for the next year, where she expects to continue the work laid out by her master's recital.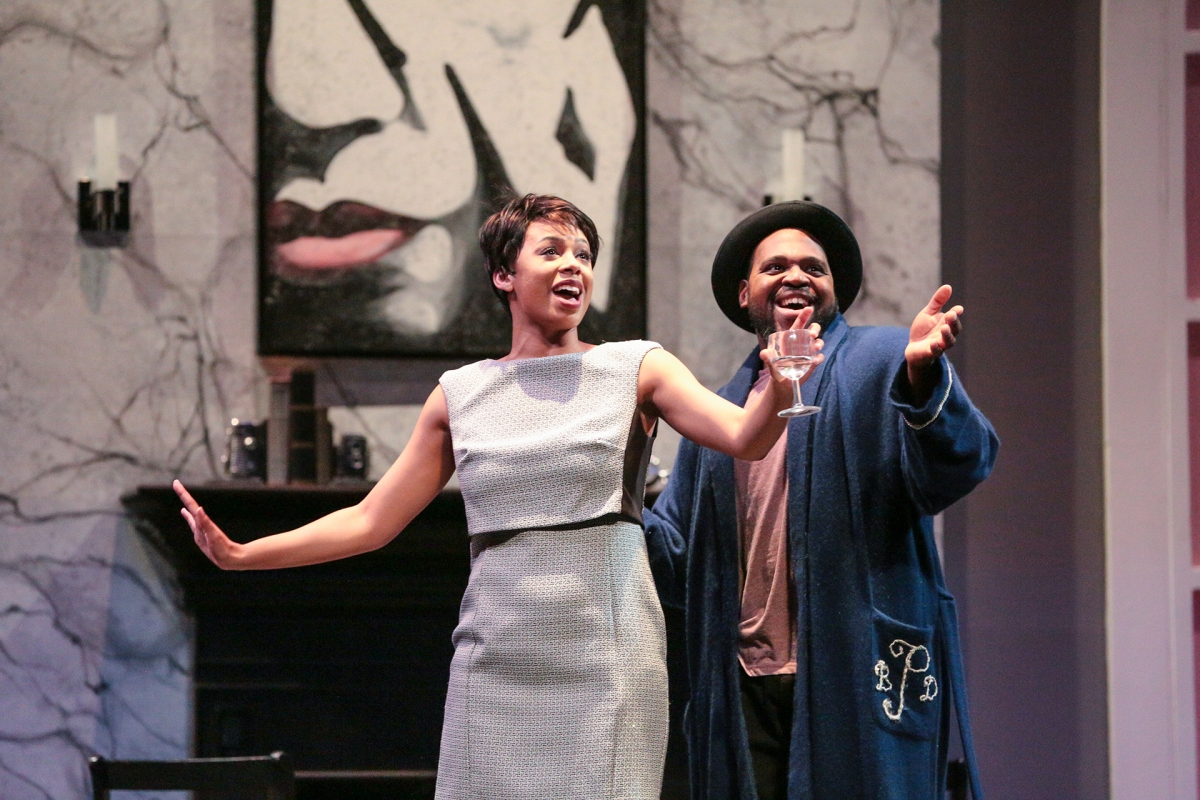 Image: Marlaina Owens in a production of Die Fledermaus by UCI Opera in 2019. (Photo: Skye Schmidt)
A Growth Mindset
When asked about how she balances her work as a triple-threat, Owens admitted that "I didn't even see myself in that way. I saw it strictly as, 'This is what you need to do to become a singer.' It wasn't until 2019 when we did Die Fledermaus at UCI. It was the first opera I had done where I had spoken lines instead of singing — and that rattled me. I was terrified." But after deciding to take acting classes in Burbank, Owens realized that these were the skills she had been cultivating her entire time as a student; her focus instead previously lay in singing, and what responsibilities accompanied it.
Understandably, Owens is wary of her ability to find balance among her related — but distinct — commitments. For Owens, it's more about what feels right in the moment. Sometimes it's less, sometimes it's more.
Owens also notes that she is often considered "too much" as an actor — a live wire. "They say it in different ways, of course." Comments would vary between "'We don't want a performance. We want you to stand there and sing.' And there's some people who say, 'Lean into the fact that you have this very emotional side that you're willing to show us, and who cares if it's too much — it's moving us,' you know. So it's always both-and." Owens believes she has yet to settle somewhere along the lines of this too-much-not-enough dichotomy.
Overall, "a lot of opinions come through you. But there has to be a certain point where you grow enough in your artistry that it doesn't matter what they say — and that's what I'm still growing into, I think. Growing past the validation I felt I needed as a student, and growing into the fact that I am a professional artist now… Growing past letting people mold me."
---
Learn more about Marlaina Owens' Paris travels on Instagram at www.instagram.com/marlainalexis. You may also find Dr. Darryl Taylor's Art Song Alliance organization and upcoming conference at music.arts.uci.edu.
Please visit our secure direct giving page and make a gift today!
CONNECT - Fall 2022
Posted Date:
Tuesday, October 11, 2022