Mari Kimura Explores Music's Intersections with Technology and Science
By Richard Chang
Mari Kimura, a professor of music at UCI's Integrated Composition, Improvisation and Technology program, is connecting students, disciplines and departments with her groundbreaking work. She's fostering collaboration and interaction during times when the coronavirus pandemic has kept us all apart.
The acclaimed violinist, composer and researcher is a leader in the field of "subharmonics" — the production of pitches that sound an octave below the violin's lowest string (G), without retuning.
Kimura, a Guggenheim Fellowship recipient, has also created an innovative product called MUGIC® (music user gesture interface control), that tracks motion and produces sound in conjunction with various physical movements. She's got her own patent on the product, and has used it in classes at UC Irvine, at the Atlantic Music Festival in Maine, where she's chair of the Future Music Lab, and beyond.   
Kimura's MUGIC® device has allowed students in computer science, electrical engineering, mechanical engineering, music and design to work together on projects and in performances — both in person and remotely.
"Students used the (MUGIC®) sensor with music, dance and theater," Kimura said. "There are multidisciplinary uses for it — anything to do with movement. Students are doing really interesting stuff.
"During the pandemic, we ran a class with a professor in the dance department. So we developed some data transmission protocols. We did everything remotely, and we did what we could. It was very instructional and very interesting. It was a very good experience."
In addition to being an acronym, "MUGIC®" is a playful combination of the words "music" and "magic," she says.
Kimura also heads a multidisciplinary design program at Calit2 (California Institute for Telecommunications and Information Technology), which is a research institute based simultaneously at UC Irvine and UC San Diego.
"I'm not really interested in trying to duplicate the real performance," she said. "I'm always trying to discover what we can do with what we have. When you have limited resources, you come up with creating solutions with ideas."
Her current research is actually exploring nonmusical applications for her MUGIC® device.
Blazing Trails in Music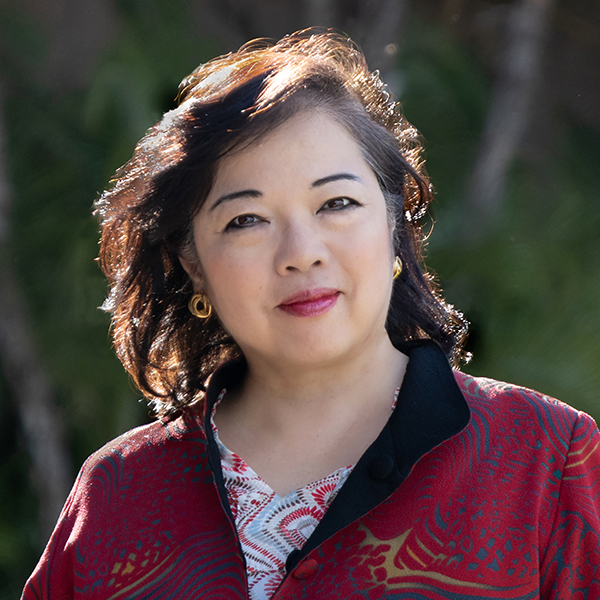 Even before arriving at UCI in 2017, Kimura was an accomplished and boundary-breaking violinist and composer. She has performed across the country and the world, including appearances with the Tokyo Symphony Orchestra, the Hamburg Symphony, the Hong Kong Sinfonietta, and at music festivals in Paris, Hungary, Italy, Mexico, Lithuania and South Korea.
She has premiered important compositions by John Adams, Luciano Berio, Salvatore Sciarrino, Jean-Claude Risset and Tania Léon. Her mastery of subharmonics has been widely recognized in publications such as The New York Times, Scientific American and Strings magazine.
One glowing, 1994 New York Times review helped release her from immigration purgatory in Canada while on tour and ultimately aided her in getting a green card, she said.
She has also won a slew of big awards, including the Kenzo Nakajima Music Prize in 1995, the Guggenheim Fellowship in music composition in 2010, and a composer-in-residence for musical research at IRCAM in Paris in 2010.
In 2011, the Carnegie Corporation named her one of 45 "Great Immigrants: Pride of America."
Kimura received her undergraduate degree at the Toho Gakuen School of Music in Japan. She obtained a doctor of musical arts (D.M.A.) from Juilliard in 1993.
When you teach, you learn. Teaching always helped me. It always helped my vision.
She taught at New York University from 1994-96, and has taught at the Juilliard School since 1998. She still teaches a graduate course in interactive computer music performance at Juilliard.
"Teaching and learning are one and the same, in my opinion," said Kimura, who lives in Irvine, yet travels frequently. "When you teach, you learn. Teaching always helped me. It always helped my vision. Teaching is the process of creating something. That is a learning process for everybody."
She has two children, ages 20 and 17, and her husband is French computer scientist Hervé Brönnimann.
John Crawford, professor of intermedia arts at UCI, helped recruit Kimura to the music department and the Claire Trevor School of the Arts. Over the past few years, the two have collaborated on a number of projects together, including live streaming events and a partnership between dance and music students using Kimura's MUGIC® device.  
"Mari is a visionary," Crawford said. "She is extremely focused and dedicated to her work. She's a real artist, and is a really dedicated artist. She is, of course, extremely wide ranging in her interests.
"She's interested in learning and growth, and in continuing to develop her own skills and capabilities. She's also just a really wonderful, friendly, down-to-earth person who is extremely easy to work with. She is a delight, and we're fortunate to have her as a colleague at the School of the Arts."
In recent years, Kimura's MUGIC® device has really taken off, blossoming into its own business, or limited liability company (LLC). Since she did not have much of a background in marketing, sales or company management, she has enrolled in the Paul Merage School of Business at UCI, where she's working toward an executive MBA.
"I was oblivious to the ways of business," she said. "That experience of being a student during COVID — it was very eye opening."
In general, she says, she likes to look on the positive side of things and sees the glass as invariably half full.
"The pandemic has showed me new possibilities," she said. "Every situation is an opportunity in disguise. Compared to what other people in society have had to go through, we are still very privileged to be given the mechanisms to keep learning."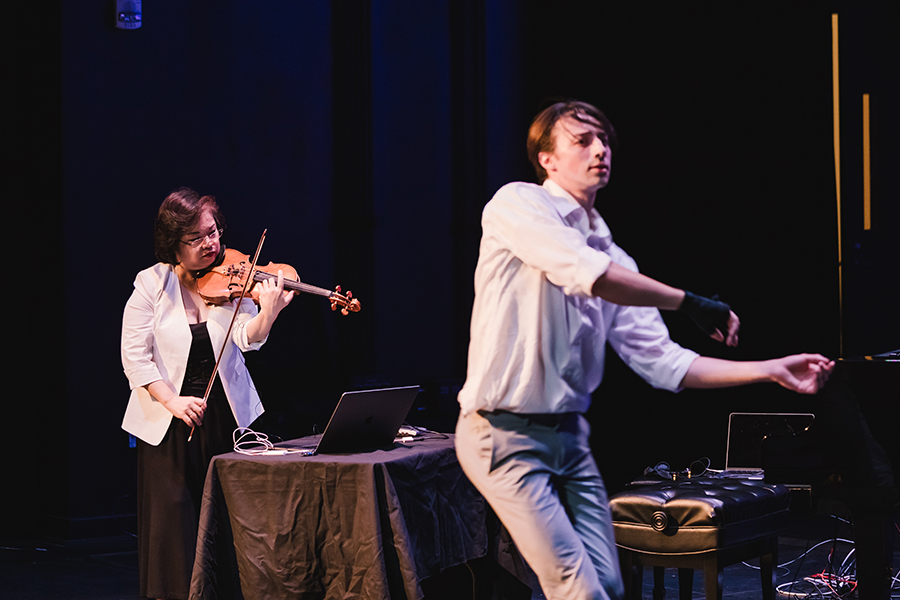 Image: Headshot of Mari Kimura (Photo by  Brandon Rolle)
Image (bottom): Mari Kimura and dancer Jacob Machmer (M.F.A. '19) perform "CetaceAria" during a 2018 performance. Machmer demonstrates the MUGIC® motion sensor product (on his right hand) through a series of motions and improvisational dance.(Photo: Will Tee Yang)
---
To learn more about Mari Kimura and the faculty in the Department of Music, visit music.arts.uci.edu. You may also learn more at www.marikimura.com.
Please visit our secure direct giving page and make a gift to support Music today!
CONNECT - Fall 2021
Posted Date:
Wednesday, September 22, 2021