The Maestro Has Left the Building
Dr. Stephen Tucker, 22-year music director for the UCI Symphony Orchestra, reflects on his time at CTSA
By Matt Coker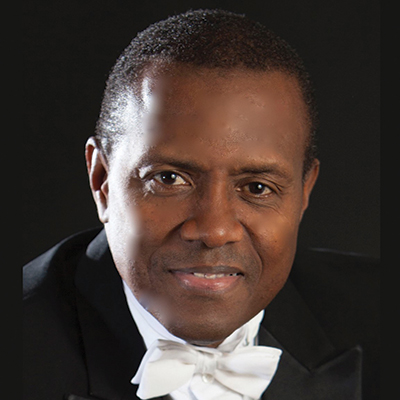 Stephen Tucker's accomplishments would not only fill the orchestra pit but the entire Hollywood Bowl. The professor and Robert and Marjorie Rawlins Chair of Music teaches conducting, orchestration and analysis. He conducts for the campus opera, dance performances and, as its longtime director, the UCI Symphony Orchestra.
He has served as music director of Riverside Lyric Opera Company, frequently appeared with the El Dorado Opera Company in Santa Clarita, and conducted musical theater and opera at UCLA as a doctoral student. He has guest conducted the Pacific Symphony, Long Beach Symphony and Los Angeles Master Chorale. His baton has also guided musicians in Taiwan, Italy, Hungary, Slovenia, and his native Jamaica.
Tucker's career highlights include Avery Fisher Hall, Lincoln Center debut, where he conducted Beethoven's Choral Fantasy and Ravel's Concerto for the Left Hand, and his sharing of the podium in performance with his identical twin brother before Paul Tucker retired as the director of Choral Activities at the University of Kansas in 2020.
Changing Lives
As Maestro Stephen Tucker prepares to retire after a remarkable 22-year career at UCI, he ticks off another achievement he would rank "way up at the top" with others cited above: Changing the lives of Santa Ana schoolchildren.
"I don't think there's any greater accomplishment than inspiring young people in whichever way you can to better themselves," he says while relaxing in the Department of Music chair's office. "This is not about music. This is about making people's lives better and making the students want to achieve more."
Tucker was invited to a November 2012 benefit concert at Santa Ana High School's Bill Medley Auditorium, where the headliners – trumpeter Arturo Sandoval and percussionist Sheila E. – were joined onstage by stringed instrument players from the school's orchestra.
Afterward, Tucker gave his business card to one of the conductors with instructions to call him if the program ever needed his help.     
Shortly thereafter, Claire Trevor School of the Arts' then new Director of Outreach Megan Belmonte met with Tucker to pitch having the UCI Symphony Orchestra do much more with the Orange County community.
"I looked at her very skeptically because I'd had people in that position say that before to me," the maestro says. "I would say I want to take the orchestra to some high school, and they would do nothing. So I said to Megan that I would like to take the orchestra to three high schools, but Santa Ana must be one. I told her if we don't get Santa Ana, we won't go to any high school."
Belmonte called Tucker a little while after that to say she could book only two high schools.
"I'm listening and waiting for the disappointing news," Maestro Tucker recalls. "She said, 'One is Huntington Beach,' and I said, 'They don't really need us, but you did your job.'"
And more, because the second school was … cue the timpani … Santa Ana High School. But the maestro's joy as his entire orchestra was being bused to the campus near downtown Santa Ana was somewhat deflated upon taking the stage. "There were only about five students in the auditorium," he says. "But we played."
Afterward, the high school's two conductors were invited to come to UCI for a meeting with Belmonte and Tucker. "We are going to adopt you," the maestro informed his guests – to puzzled looks. "I don't know what adopting looks like," he continues, "but I know when you adopt a child, you have to feed it."
The maestro was informed by schoolteachers that many Santa Ana students would not be going on to college and that most would eventually leave the campus to stay home to help support their families. Sure enough, the first time he met with a group of young musicians and asked how many were planning to go to college, no hand was raised.
"We wanted to motivate them through music and for them to visit the campus of UCI to see what goes on here," the maestro says. "We tried to get them interested in going from high school to college. We became successful so quickly."
By the second year, a few hands went up, and each year after that, the number of hands increased. Not all of those college-bound students continued in music, but some have gotten scholarships to prestigious universities, and a few have even landed in UCI Symphony Orchestra chairs.
The relationship with Santa Ana High School has resulted in students attending master classes led by Maestro Tucker, being coached by UCI orchestra players, and sitting in on rehearsals. It all culminates in a combined performance by the UCI and Santa Ana High orchestras, the most recent having been on April 12 in Bill Medley Auditorium.
Image: Dr. Tucker (front and center) leads the Santa Ana High Orchestra and the UCI Symphony Orchestra in a combined concert held at Bill Medley Auditorium on April 12, 2022. (Photo: Victor de los Santos)
Cherished Memories
Taking a brief break from preparations for the May 27 UCI Symphony Orchestra Spring 2022 performance in Irvine Barclay Theatre, the maestro was flooded with cherished memories, including weekend retreats in the mountains at the beginning of school years so university musicians could bond with one another.
"They will come back from the retreat and say, 'I have never been this tired. Boy, that was good. That was really good.' It's because they also got a chance to get to know each other, which is something that does not happen in the orchestra normally," Tucker says.
"The orchestra is at least 50% non-music majors. So they could go the whole year and not know each other. We started the retreat as a community builder and to help the orchestra get started and up to speed quickly. I certainly hope the concept of building community is retained after I leave. That would be an outstanding thing."
He says he will also never forget the lifelong friendships forged with the music program's generous benefactors. Their support, coupled with his grit, helped change Irvine Barclay Theatre from a ghost town during his earliest performances to standing room only today.
"I'll miss the donors who supported us," says the maestro. "I mean, there are people who just want to see the orchestra go forward and succeed. They put money in even if all they want is to be able to see us perform. Or some would say, 'I saw an article on a project you are doing. Kudos! Go for it!' You know, these are the people who you can't replace in your life. You will always remember them."
Speaking of remembrances, Tucker mentioning, "I will always miss the orchestra," is a reference to UCI's, not Santa Ana High's, because he has made it clear that while he soon will be retired from the university, "I am not giving up on the Santa Ana project. They know. I have told them in Zoom meetings, and I have told them in person. I am committed to it. They can put me on the schedule any time to come in and work."
Only recently, because Maestro Tucker is hearing it from so many people, did he realize how many lives he impacted and how vital the orchestra is.
"People across campus who I didn't even know or had not been paying attention to are pointing out how significant this organization is to the general university and the community at large. So it is now that I am becoming more aware of the significance of this group. One thing I want my colleagues in music and students past, present, and future to know is how important they are in the community and how they should take it as seriously as I tried to do in making this a continuing, life-changing organization in Orange County."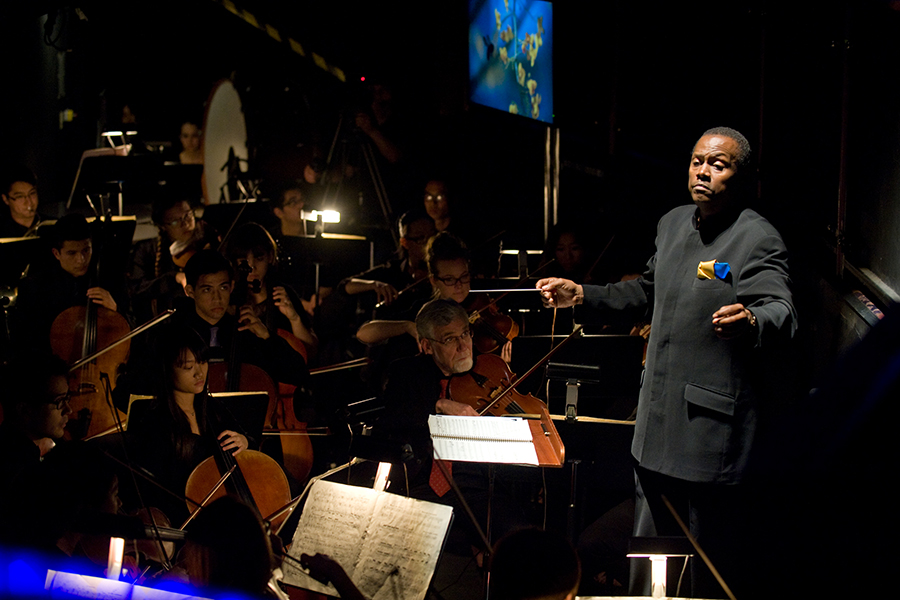 Image: Dr. Tucker leads the symphony at the investiture of Chancellor Howard Gillman in 2015. (Photo: Steve Zylius)
---
To learn more about Dr. Stephen Tucker and the UCI Symphony Orchestra, visit the Department of Music website at music.arts.uci.edu.
Dr. Tucker will retire on June 30, 2022.
Please visit our secure direct giving page and make a gift today!
CONNECT - Summer 2022