Geoffrey Pope
Geoffrey Pope has been recognized through numerous appointments, commissions, and awards as a conductor and composer. He is delighted to return to UCI Irvine as Conductor of the UCI Symphony Orchestra and Opera, and also begins his music directorship as the conductor of the Beach Cities Symphony. Pope's musical work has taken him throughout the United States and Europe, where he seeks to present provocative and engaging performances that have a strong cultural impact.
Dr. Pope received his undergraduate degree in composition at the University of Southern California. He received master's degrees in composition and conducting at the Eastman School of Music, where he was awarded the prestigious Walter Hagen Conducting Prize. In 2017, he completed his doctorate in conducting at the University of California, Los Angeles.
As a conductor he has performed with organizations including the symphonies and opera departments of UCLA and UC Irvine, Eastman School Symphony Orchestra, Musica Nova, Sound ExChange Orchestra, OSSIA New Music, Opera Brittenica, Synchromy, Palo Alto Chamber Orchestra, Lakewood Symphony, Aurora Symphony, Pleven Philharmonic (Bulgaria), and ensembles at USC and Occidental College.
Notable conducting engagements include the premiere of David Reyes' Aztec opera El Circo Anahuac, as well as performances of Johan Strauss, Jr.'s Die Fledermaus at UC Irvine, the first English language production of Stephen Sondheim's Sweeney Todd in Budapest, and Son of Chamber Symphony for the composer at the Inside the (G)Earbox: John Adams @ 70 symposium at UCLA. He conducted Benjamin Britten's opera The Rape of Lucretia as part of the worldwide Benjamin Britten Centenary celebrations, with "energy and flair" (Boston Classical Review), leading a "warm and expressive rendering of Britten's complicated score" (Boston Musical Intelligencer). Other past engagements include the premiere of Jason Barabba's Lettere da Triggiano oratorio with the What's Next? Ensemble and members of the Los Angeles Master Chorale, a multimedia concert performance of Osvaldo Golijov's Ayre with soprano Terri Richter at the Hammer Museum in Los Angeles, and performances of Arnold Schoenberg's Pierrot lunaire with the Experimental Playground Ensemble throughout the Denver Metropolitan Area to great acclaim.
2021 recordings conducted by Pope include composer Michael Kim-Sheng's album Heavy Moon, and Cadere by Noah Meites. Past recordings include the Benjamin Boretz Violin Concerto with Tchaikovsky Medalist Charles Castleman for the Open Space label, and Robert Morris' Roundelay, distributed internationally by the Perspectives of New Music label. He was recently audio editor and mixing engineer of purportedly the first COVID-era virtual opera featuring full orchestra and singers, with each person recorded individually. For this he executed over 20,000 edits to Valley Opera's production of Suor Angelica to synchronize performers into a cohesive, seamless whole. This production is currently a 2022 semifinalist for The American Prize. His musical work has been featured on radio stations including Classical KUSC, Colorado Public Radio, and Southern California Public Radio.
Pope made his European conducting debut in 2015 with the Pleven Philharmonic (Bulgaria), leading workshop performances of Dvorak, Elgar, and Barber. While studying at the Eastman School of Music, Pope served as Assistant Conductor of Musica Nova, Eastman's renowned contemporary music group, and has prepared ensembles for eminent conductors Brad Lubman, Jeffrey Milarsky, and Alan Pierson, in addition to working with resident composers Oliver Knussen, Steven Stucky and Tristan Murail. He was the Founding Music Director of the Sound ExChange Orchestra, an ensemble devoted to presenting concerts of standard and new repertoire in unorthodox settings to encourage audience interaction with performers and inspire a new generation of listeners. Pope has appeared with the OSSIA New Music ensemble, the Eastman School Symphony Orchestra, and has functioned as Music Director for the Eastman Graduate Composers' Sinfonietta. While at USC, Pope founded the Starving Composers' Ensemble, some of whose recorded performances were broadcast on Classical KUSC 91.5. He also conducted the premiere of his own chamber opera, The Stone House, with the Chamber Opera of USC, and served as Assistant Conductor for the USC Thornton Contemporary Music Ensemble in 2007 and 2008. The following year, he conducted a new production of Dido and Aeneas in Wichita, Kansas, directed by Kazakh performance artist Timur Bekbosunov. While completing his doctoral studies, Pope was co-conductor, manager, and librarian of the UCLA Symphony from 2014-2017. He has led UCLA Philharmonia and Opera UCLA on several occasions, including in a lecture-recital featuring music of Richard Wagner and Bernard Herrmann, for which he composed a companion piece. He also regularly conducted Flux, UCLA's new music ensemble led by eminent pianist and professor Gloria Cheng. In 2016, he performed with the Thelonious Monk Institute of Jazz for musical luminaries including Herbie Hancock and Kenny Burrell. Pope's conducting teachers have included Neal Stulberg, Brad Lubman, Neil Varon, Diane Wittry, and Mark Davis Scatterday.
As a composer, Pope has enjoyed performances by various ensembles and individuals worldwide. In 2007, the Palo Alto Chamber Orchestra performed his work in Prague, Budapest and Leipzig. His solo viola piece, Disembarking, was commissioned by playwright E. M. Lewis for her Song of Extinction, and was hailed as "the most amazing element of all" by the Santa Monica Daily Press. In 2008, his commissioned work Srebrenica Fields was performed at the Summer Brass Institute in Atherton, California, and in 2010, his music was performed by flutist Catherine Branch at the Kennedy Center's VSA Festival. In 2012, his setting of Alfred, Lord Tennyson's Ring Out, Wild Bells, was awarded second prize in the Hazel Renshaw Carol Competition, was performed by the Music Makers of London in the historic St. Sepulchre-without-Newgate chapel. Later that year, Pope premiered Radium & sky, written in memory of the Aurora theater shooting victims, with the Aurora Symphony Orchestra. The piece was subsequently featured on Colorado Public Radio's Colorado Matters series and on Morning Edition. In 2013, Pope received Third Place from The American Prize for his chamber orchestra work, Votive, described by judges as "intimate, contained, ritual music that moves in a very 'human' progress—almost as if strands of thought come forward, linger in examination and then dissipate." Pope's former composition teachers include Donald Crockett, Tamar Diesendruck, and Ricardo Zohn-Muldoon. He also studied with the late composer and electroacoustic music pioneer Allan Schindler, for whom he was a teaching assistant at the Eastman Computer Music Center. His current project, Sarajevo Vespers, is an opera based on a true story of events in the Bosnian War, with a libretto by archaeologist and novelist Courtney Angela Brkić.
His scholarly interests include Viennese music of the early twentieth century, and the role of diegetic music in the evolution of sonic spatialization. His doctoral dissertation, Auf der Bühne, addresses the evolving role of instrumental music written to be performed onstage (Bühnenmusik, or banda) in German language opera, and the coordination issues involved in its execution and synchronization with the orchestra pit.
Dr. Pope enjoys regular work in the commercial music industry as a session conductor and orchestrator, and as a forensic musicologist helping composers and studios navigate music copyright infringement matters via consulting and expert testimony services.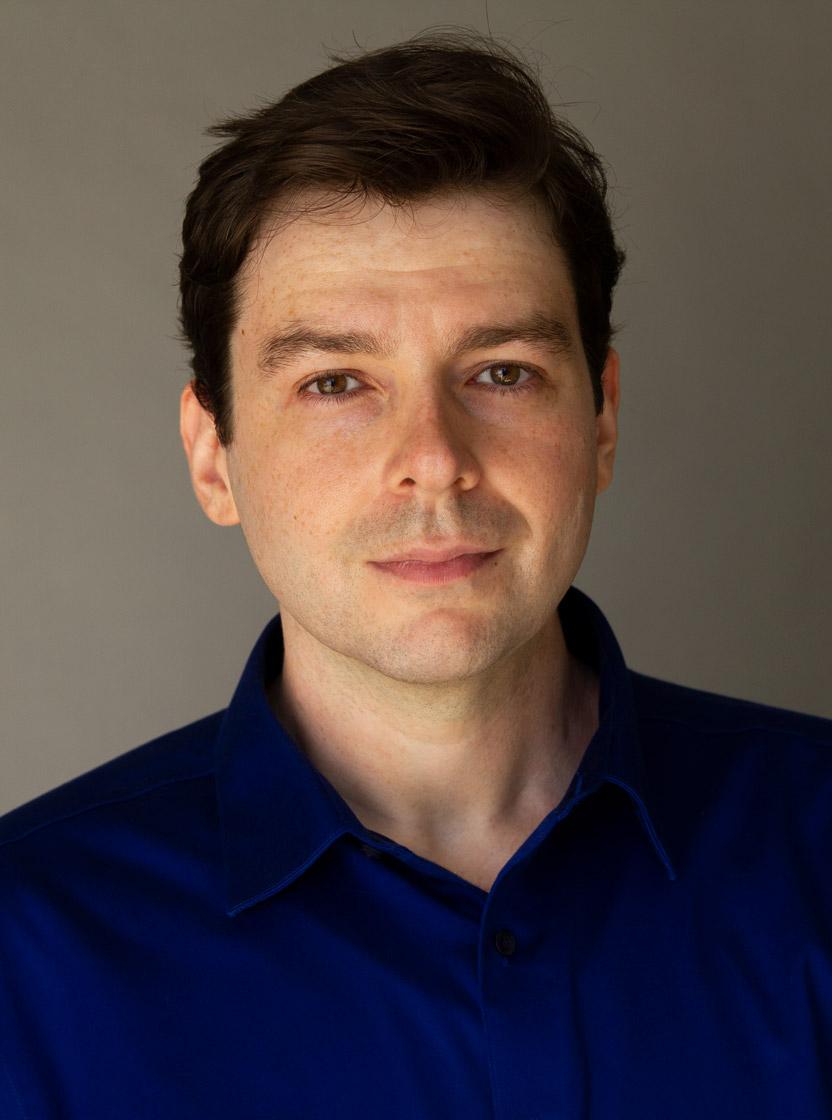 Specialization:
Conductor, UCI Symphony Orchestra and Opera