Amy Bauer
Ph.D., Yale University, 1997, M.M. University of Wisconsin, Madison, B.M. St. Norbert College
Amy Bauer's research focuses on twentieth-century music, especially the music of György Ligeti, spectral music, and issues surrounding the reception and analysis of contemporary music.
She has published on the music of Ligeti, Messiaen, Carlos Chávez, David Lang, contemporary opera, the television musical, and on issues in the reception and theory of modernist music. In addition she has given papers at national and international conferences on the music of Miles Davis, Mary Lou Williams, and cross-cultural issues in twentieth century music. Her monograph Ligeti's Laments: Nostalgia, Exoticism and the Absolute (Ashgate, Nov. 2011) provides a critical analysis of the composer's works, considering both the compositions themselves and the larger cultural implications of their reception. György Ligeti's Cultural Identities, ed. with Márton Kerékfy (Routledge, 2017), is the first book devoted to exploring the composer's life and music within the context of his East European roots, revealing his dual identities as both Hungarian national and cosmopolitan modernist. She is currently co-editor (along with Liam Cagney and Will Mason) and contributor to the Oxford Handbook of Spectral Music (forthcoming).
Prior to joining the faculty at UC Irvine Bauer taught at Washington University, West Chester University, the University of Missouri-Kansas City, and the University of Colorado at Boulder.
Research Interests
György Ligeti, spectral music, psychoanalysis, cross-cultural influence in music, interdisciplinary approaches to music analysis, critical theory, popular music and jazz theory.
Teaching
Undergraduate music theory and analysis, graduate analysis, critical theory and philsophy of music, various topics in post-1945 music, rhythmic theory, Schenkerian analysis, history of theory, cross-cultural influences in music, world music, theory of non-Western music, readings in contemporary music theory.
Upcoming lectures
"Timbre, acoustics and the "materialisation" of space in post-spectral music," Music and Space: Past Experiences, New Perspectives, Parma 2-3 December 2021.
"This [Sounds like] a True Story": scoring the heightened reality of Noah Hawley's Fargo," Scoring Peak TV: Music and Sound in Television's New 'Golden Age', Royal Northern College of Music in Manchester, UK, 14-16 July 2022
Selected Publications
Books:
The Oxford Handbook of Spectral and Post-Spectral Music, edited by Amy Bauer, Liam Cagney and WIll Mason (Oxford, forthcoming)
György Ligeti's Cultural Identities, ed. with Márton Kerékfy (Routledge, 2017).Available in paperback and ebook.
Ligeti's Laments: Nostalgia, Exoticism and the Absolute (Ashgate, 2011). Available in paperback and ebook.
Articles, book chapters and reference guides:
"¡Unicamente La Verdad!: Camelia la Tejana's Many Truths," in Opera in Flux: Idenity, Staging, Narrative, ed. Yayoi Uno Everett and Nicholas Stevens (University of Michigan Press, forthcoming)
"An Explosive Confrontation: Messiaen and the Post-War Avant-Garde," in Messiaen in Context, ed. Robert Sholl (Cambridge, forthcoming)
"'Did Someone Say Post-Spectral?' The Orchestral Imaginary in Millenial Works by Tulve, Dalbavie, and Haas," in Musical Waves: West Coast Perspectives on Pitch, Narrative, and Form, ed. Andrew Asiz and Jack Boss (Cambridge Scholars, in press)
"Codes, constraints, and the loss of control in Ligeti's keyboard works," in A Tribute to György Ligeti in his Native Transylvania, nos. 1–2, edited by Bianca Tiplea Temes and Kofi Agawu (Cluj Music Academy, 2020)
Bauer, Amy. "György Ligeti." In Oxford Bibliographies in Music. Ed. Kate van Orden. New York: Oxford University Press, 2020.
"Gender," with Beate Kuschke, Plurale Analyse, Ariane Jeßulat, Oliver Schwab-Felisch, Jan Philipp Sprick, and Christian Thorau, eds. (Bärenreiter und Metzler, 2020)
"A World in Constant Motion: Thomas Adès' In Seven Days," in Adès Studies, ed. Philip Stoecker and Edward Venn (Cambridge, 2021)
"The Sublime Object of Music Analysis," in The Sound of Žižek. Musicological Perspectives on Slavoj Žižek, ed. Mauro Bertola (Peter Lang: 2021)
"Automata in extremis: Mauro Lanza's sublime sound machines," Writing <–>Technology, Composers 1973–1983: Nuove Musiche, No. 5, ed. Giacomo Albert and Andrea Valle (2020)
"Spectral Aesthetics and Ecological Listening in the Music of Helena Tulve," in The Oxford Handbook of Spectral and Post-Spectral Music (Oxford, 2021)
"The Music of Gyôrgy Friedrich Haas," with Landon Morrison, in The Oxford Handbook of Spectral and Post-Spectral Music (Oxford, 2021)
"From Pulsation to Sensation: Virtuosity and Modernism in Ligeti's First and Ninth Piano Etudes," Contemporary Music Review 38:3 (2019).
"Contemporary Opera and the Failure of Language" in The Routledge Research Companion to Modernism in Music, Björn Heile and Charles Wilson, eds. (Farnham, UK: Ashgate/Routledge, 2019), 427–53.
The Music of Helena Tulve, in Musicology Now, the American Musicological Society, March 29, 2018.
Introduction, and "Genre as émigré: the return of the repressed in Ligeti's Second String Quartet," György Ligeti's Cultural Identities, ed. with Márton Kerékfy (Routledge, 2017)
"The mysteries of Selma, Alabama": re-telling and revelation in David Lang's The Difficulty of Crossing a Field," In Search of the 'Great American Opera': tendenzen der americanischen Musicheaters, Gregory Herzfeld and Frédéric Döhl (Münster and New York: Waxman-Verlag, 2016)
"Canon as agent of revelation in the music of Ligeti," in Contemporary Music and Spirituality, Sander van Maas and Robert Sholl, eds. (Aldershot, UK: Ashgate, 2016)
"Nonrepetition and Personal Style in the Solis and Inventions," Carlos Chávez and His World, Leonora Saavedra, ed. (Princeton University Press, 2015),
"Singing Wolves and Dreaming Apples: The Cosmopolitan Imagination in Ligeti's Weöres Songs," Ars Lyrica, vol. 21 (2012), 1–39.
"The Cosmopolitan Absurdity of Ligeti's Late Works," Contemporary Music Review 31/2-3 (2012): 163–76.
"Tone-color, movement, changing harmonic planes: Cognition, Constraints and Conceptual Blends in Modernist Music," The Pleasure of Modernist Music: Intention, Meaning, and the Compositional Avant-Garde, Arved Ashby, editor, (Rochester: Eastman Studies in Music, 2004), 121–52.
"'Composing the Sound itself;' Secondary Parameters and Structure in the Music of Ligeti," Indiana Theory Review, Volume 22, no. 1 (Spring 2001), 37-64.
Reviews and Responses
Response to "Global Notation as a Tool for Cross-Cultural and Comparative Music Analysis" by Andrew Killick, Anaytical Approaches to World Music Journal (aawmjournal.com),
Seth Brodsky, From 1989, or European Music and the Modernist Unconscious (University of California Press, 2017), Journal of the American Musicological Society Vol. 72 no. 1 (Spring 2019.), 260–66.
Yayoi Uno Everett, Reconfiguring Myth and Narrative in Contemporary Opera: Osvaldo Golijov, Kaija Saariaho, John Adams, Tan Dun (Indiana University Press, 2015), Music and Letters 99/3 (August 2018), 500–02.
György Ligeti: Of Foreign Lands and Strange Sounds, ed. by Louise Duchesneau and Wolfgang Marx (The Boydell Press, 2011), Music and Letters, vol. 94/4, 709-12.
Rachel Beckles Willson, Ligeti, Kurtág, and Hungarian Music during the Cold War (Cambridge University Press, 2007), Music and Letters 90/2 (2009)307-10.
Richard Steinetz, György Ligeti: Music of the Imagination (Faber and Faber, 2003), twentieth-century music, Vo. 2, No. 2, (September 2005), 302-309.
Capriccio Nr. 1 /Invention /Capriccio Nr. 2 for piano (1947-48), and Ricercare per organo (1953) by György Ligeti, MLA Notes (March 1995)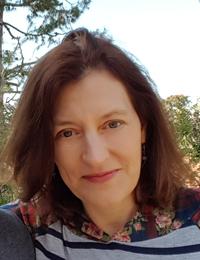 Specialization:
Music Theory; Graduate Director
Location:
3043 Contemporary Arts Center (CAC)