David Kasunic on Chopin's Piano Technique in the Context of the Romantic Ballet Technique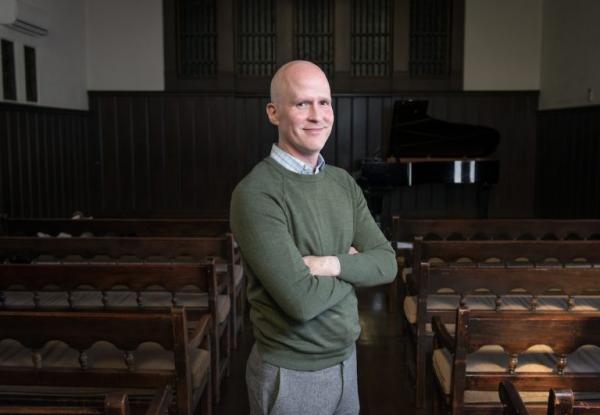 Join us for the final 2019 lecture of the 2019–2020 UCI Musicology Guest Lectures series. David Kasunic will speak on Chopin's Piano Technique in the Context of the Romantic Ballet Technique, Thursday, December 5, 4 PM, CAC third floor Colloquium room.
In the fall of 1831 Chopin arrives in Paris and soon thereafter writes to his friend Tytus Woyciechowski of his impressions of both Meyerbeer's Robert le diable and the Frédéric Kalkbrenner's piano playing. Chopin was enthusiastic about both. It was in Robert that Chopin first witnessed Marie Taglioni dance. That same year Kalkbrenner published his piano method, Méthode pour apprendre le piano-forte à l'aide du guide mains. While he declined Kalkbrenner's offer of piano instruction, Chopin is reported to have said "that he had more than once received his inspiration from Taglioni's dancing."
Whereas conversation about the role of dance in nineteenth-century music has centered on the stylization of dances in instrumental music, this paper focuses instead on the influence of dancing technique on piano technique, particularly the impression of Talgioni's dancing en pointe on Chopin's piano technique, as reported by his students and indicated by his sketches for a piano method. Taglioni's technique gave the impression of effortless and artless dancing, as though she seemed to float on air—a calculated impression that disguised her great athleticism and exertion.
This impression of effortlessness would have appealed to Chopin greatly. Indeed, as the work of Irena Poniatowska and more recently Danuta Jasińska has made clear, Kalkbrenner's method of instruction is at variance with Chopin's method, such as in the former's insistence on striving for equality of all fingers. Chopin's method instead follows the lead of Taglioni's example, which, as dance historian Jennifer Homans writes, was "to use the strictures of classical technique to show the relationship between freedom and limits in her own body."
In December of 1831, around the time that Chopin wrote to his friend Tytus, he also wrote to his teacher Josef Elsner, who didn't want Chopin to study with Kalkbrenner and wanted him, instead, to focus on composing. Chopin's replied to Elsner that "it is my conviction that he is the happier man who is able to execute his compositions himself." Chopin's idiosyncratic method of executing his compositions emphasized ease, the minimization of physical effort, the reduction of strain, souplesse, and the recognition of the fingers being unequal. This paper argues that this method was inspired, in part, by the model of Taglioni, another revolutionizer of physical technique who made Paris her home just as Chopin was doing the same. Moreover, as his health declined over the years, Chopin's unorthodox piano method, in its attempt to reduce the physical labor of the pianist, became a necessary aid to his increasing disability.
David Kasunic is an Associate Professor of Music History and has been at Occidental College since 2008, having first taught at Haverford College upon receiving his doctorate from Princeton in 2004. His research has focused on Chopin's compositional relationship to French and Italian opera and contemporary singing practice, and the aesthetic, scientific, literary, and philosophical reception of singing in 1830s and '40s Paris. Two recent publications explore the phenomenon of tubercular singing, in Chopin's music and in Verdi's La traviata. His current research seeks to understand Chopin's piano technique in the context of dance, and to develop a mode of analysis that will link piano technique to compositional craft, and body movement to sound. In addition to work on Chopin, his other research and publications have been on opera, the history of aesthetics, and Mahler. Teaching highlights include a popular double-course on the culture of food, co-taught with a cognitive scientist and sociologist, and an interdisciplinary course on fin-de-siècle Vienna that begins on campus and culminates in Vienna for a month of on-site instruction.
Click here for more information on the musicology lecture series.
Dates:
December 5, 2019 - 4:00pm