In A Dark Wood: The Journey Through Mathew Rosenblum's Lament/Witches' Sabbath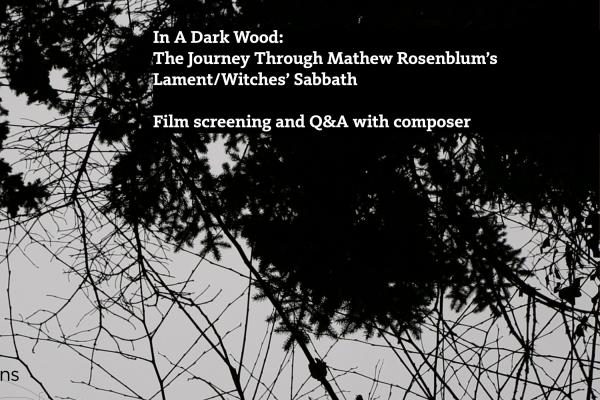 Join us for a Film Screening & Q & A with the composer Matthew Rosenblum of David Bernabo's "In a Dark Wood" Wednesday, March 4, 6 p.m. in the McCormick Screening Room, 1070 Humanities Gateway. "In a Dark Wood" charts the path leading to the creation of Mathew Rosenblum's "Lament/Witches' Sabbath," a highly personal concerto written for the world-famous klezmer clarinetist and composer David Krakauer. Shot on location in Pittsburgh, New York City, and Boston, the film reminisces on Rosenblum and Krakauer's long friendship while exploring the composer's remembrance of his grandmother, who fled Jewish persecution in Ukraine in 1919 and finally made her way to New York via Vienna and Palestine. With its use of sampled laments sung in Ukrainian, Russian, and Yiddish, it's truly powerful and poignant music that has great relevance in our time.
With diverse musical elements derived from classical, jazz, rock, and world music traditions, Mathew Rosenblum's compositions offer "an ear-buzzing flood of sound, rich in unusual overtones" (Boston Globe). Using a variety of tuning systems, his work eschews traditional boundaries, creating compellingly fresh soundscapes. The Pittsburgh Post-Gazette describes Möbius Loop as "richly layered and shimmering with vibrancy." Of Falling, the New York Times writes that it was "rapt, fretful, eerily suspended" and "overshadowed" everything else on the program. Writing about the same composition, George Grella, of New York Classical Review, notes that "Falling blends electronics, spoken word, and live music more effectively than most other such efforts. The piece compresses foreground and background into a rich, floating mass. . . . The path into the heart of the piece is both clear and infinite."
Sponsored by UCI Illuminations. Register for this screening. For more information contact David Brodbeck.