Cesar Favila on "Sonic Thresholds in Colonial Mexican Convents"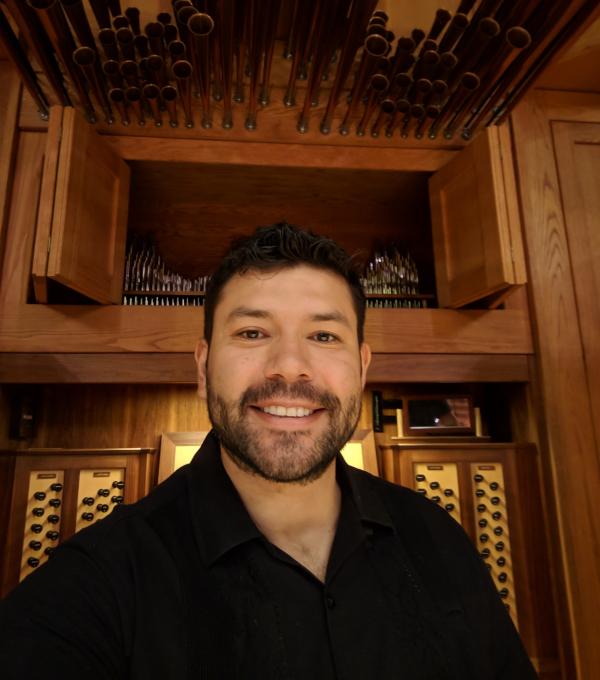 Join us for the final Winter 2020 lecture of the 2019–2020 UCI Musicology Guest Lectures series. Dr. Cesar Favila from the University of California, Los Angeles will speak on "Sonic Thresholds in Colonial Mexican Convents: The Grates of the Cloister and the Lips of Nuns, or Who was Sister Rosa?," Thursday February 27, 4 PM, CAC first floor Colloquium room.
The state of Novohispanic convent music and historical sources—limited and scattered at best; destroyed or in private hands at worst—has contributed to a lacuna in scholarship on women's music making in colonial Mexico. The pioneering work of Julia Tuñón Pablos on the (forgotten) history of women in Mexico calls for a more careful reading between the lines of books and documents written by men to find women's contributions to Mexican society. For music history, this means drawing musical concerns out of convent ceremonials and rules, devotional literature, and nuns' biographies (Vidas de monjas), for example, to contextualize the few music manuscripts that remain. Through the writings of male clerics about how nuns should and should not live their cloistered lives, we learn that nuns' thoughtful and prayerful singing was said to accompany the angel choirs in heaven, but when they disobeyed their prelates, they could even attract demons. This talk focuses on the richly musical space within colonial Mexican convents, the choir, or coro, where much of this singing took place. It brings to light some rarely performed music that once resonated within this architecturally unusual choir structure. The coro was a grated threshold between the private and public within which nuns could be heard singing by the laity in the main body of the church, but they were not visible to them. Convent musicians were aptly allegorized as angels because they were physically positioned above the ground floor, because parishioners in the church could not see them, and because nuns were idealized as virgins, a status that the grates symbolically guarded—even if some of the nuns had lost their virginity. This was the quintessential location where agency was negotiated through nuns' efforts to please God, themselves, and their convent patrons with music and thus a fitting place to begin learning about the musical lives of nuns in colonial Mexico.
Biography
Cesar Favila is a native of Northern California and holds a BA in music from UC Davis and a PhD in music history and theory from the University of Chicago. His publications include pieces in Aztlán: A Journal of Chicano Studies and the Journal of the Society for American Music. Favila's current book project, Immaculate Sounds: The Musical Lives of Nuns in New Spain, addresses sacred music and its intersections with urban culture, gender, race, mysticism, and other fine arts in colonial Mexico.
He is Assistant Professor of Musicology at the UCLA Herb Alpert School of Music and serves on the faculty advisory committees for the UCLA Center for Medieval and Renaissance Studies, the Center for 17th– & 18th– Century Studies and William Andrews Clark Memorial Library, the Chicano Studies Research Center, and LGBTQ Studies. He is a member-at-large of the American Musicological Society and the American Guild of Organists.
Click here for more information on the musicology lecture series.
Dates:
February 27, 2020 - 4:00pm