The Pursuit of Artistic Inquiry
Research and innovation are at the core of the mission at the Claire Trevor School of the Arts
by Greg Hardesty | UCI Magazine, Winter 2023 | March 1, 2023
Annie Loui, professor of acting in the Claire Trevor School of the Arts, remembers being recruited to UCI from her cozy, full-time faculty position in the theater arts department at Brandeis University, just outside Boston. For Loui, who also trained as a dancer and choreographer in France and taught theater at Harvard University, Southern California was as foreign as an alien moonscape.
But the pitch from CTSA's acting brass was irresistible. "I was told I could use the university as my laboratory," Loui recalls. That was 30 years ago.
The chair of the Department of Drama at the time was Stephen Barker – the recently named dean emeritus of CTSA who was a passionate advocate for research and innovation in the arts.
New dean Tiffany Ana López, who took over on July 1, 2022, aspires to build on Barker's legacy of interdisciplinary arts research not only within the school's four departments of drama, dance, art and music, but also in collaboration with other UCI schools, from medicine to business to the humanities and beyond.
"The arts are engaged with research questions that are the pillars of the university," says López, a dramaturg and first-generation Latina college student born and raised in Southern California. "We interrogate and investigate in the same way that a clinical researcher does in the laboratory, but here, our theaters and studios are our laboratories."
The naming, in 2020, of Jesse Colin Jackson, then an associate professor of electronic art and design, as CTSA's inaugural associate dean of research and innovation underscores the school's aim to further develop as a living, breathing lab of leading-edge work at a university whose stellar reputation in research is dominated by the hard sciences.
"Arts-based research is one of UCI's most unheralded forms of excellence," Jackson says. "One of the core characteristics of research is the pursuit of novelty. What's the future of being an actor? Of sets? Of curating an art show? That's where the novelty comes in for us."
He adds: "A research paper's purpose is to distribute knowledge. What we do here is not that different: We create work that's in conversation with other similar work that gets put into catalogs or cultural programming, and it has a similar goal of distributing new ideas.
"Arts professors want to advance their fields just as any other professors do."
Drama: Bringing History Into View
The stage had nowhere for the seven actors to hide – they remained in full view of the audience. There were no sets. A sophisticated projection system had replaced this mainstay of traditional theater.
The Story of Biddy Mason, which Loui wrote in collaboration with University of Southern California professor of English Dana Johnson, embodied CTSA's focus on research and innovation – and the novel ways in which faculty and students are producing art.
The December 2022 production, in CTSA's technologically loaded Experimental Media Performance Lab, told the story of a real-life Los Angeles pioneer who walked, as an enslaved woman, 1,700 miles from Mississippi to Southern California with her Mormon owner's wagon train in 1848. Mason later worked as a midwife and nurse and became an entrepreneur and philanthropist, building schools and churches. Her story is little known.
Loui aimed to change that. She learned about Mason in a short-story collection and reached out to Johnson, who wrote the original short story, to bring it to the stage.
Spending hours at the Huntington Library and online, Loui filled in the blanks of Mason's life – boilerplate research that her CTSA colleagues routinely engage in. It's an activity that mirrors the nuts-and-bolts gumshoe work of UCI scientists who toil away in wet labs.
CTSA is filled with scholars who conduct similar conventional research, such as musicologists and dramaturgs and other professors who study dance theory and dance science.
The push for novelty that López and Jackson stress is being realized in plays like The Story of Biddy Mason – in which actors simulated cattle, wheels, horses and riders, with their wordless, dancelike movements, a specialty of Loui, taking center stage.
Image: The Story of Biddy Mason, written and directed by Professor Annie Loui in the Experimental Media Performance Lab (xMPL) at the Claire Trevor School of the Arts. (Photo: Paul R. Kennedy)
Dance: Pushing Movements
Ariyan Johnson, assistant professor of dance who specializes in hip-hop and jazz, brims with excitement as she discusses several projects she's juggling.
One is a 37-minute documentary she's putting the finishing touches on, "Spiritual Cyphers: Hip Hop and the Church," which examines how the 50-year-old dance form connects to spirituality. Production of the first installment was funded by a $10,000 faculty grand prize Johnson won as part of CTSA's research and innovation initiative, launched in tandem with Jackson's appointment in 2020.
She's among several recipients of Institute for 21st Century Creativity grants for faculty research that began in 2017 under Barker's leadership. One awardee is producing an art piece about institutional elder care in a musical setting; another is using dance to advance scholarship in the sciences; and a third is dramatizing stories told inside prisons during the COVID-19 pandemic.
Johnson, who joined CTSA in summer 2020, says that UCI has been consistent in supporting the underresearched, underfunded projects that are her passion. She received a 2022-23 Hellman Fellowship for "Looking for Revelations," a multimedia work that will delve into the type of dancing done in Black churches.
"In connection to my Hellman, I'm going to take something specific to the Black Church experience that originally was presented in Inglewood and reimagine it for UCI's Dance Vision 2023 concert and see how it does in a different house at the Barclay Theatre with different people and aesthetics," Johnson says. "There's always a plethora of things for me to explore, research-wise, here. I want to continue to push things forward, and that's what research is for."
Her phone rings, and Johnson lets it go to voicemail.
The call was from Kelli Sharp, UCI associate professor of dance science and co-director of iMove at the Sue and Bill Gross Stem Cell Research Center. Sharp studies motor learning in dancers and focuses on injury prevention and wellness using motion-capture technology.
Says Johnson: "That's my next big collaboration."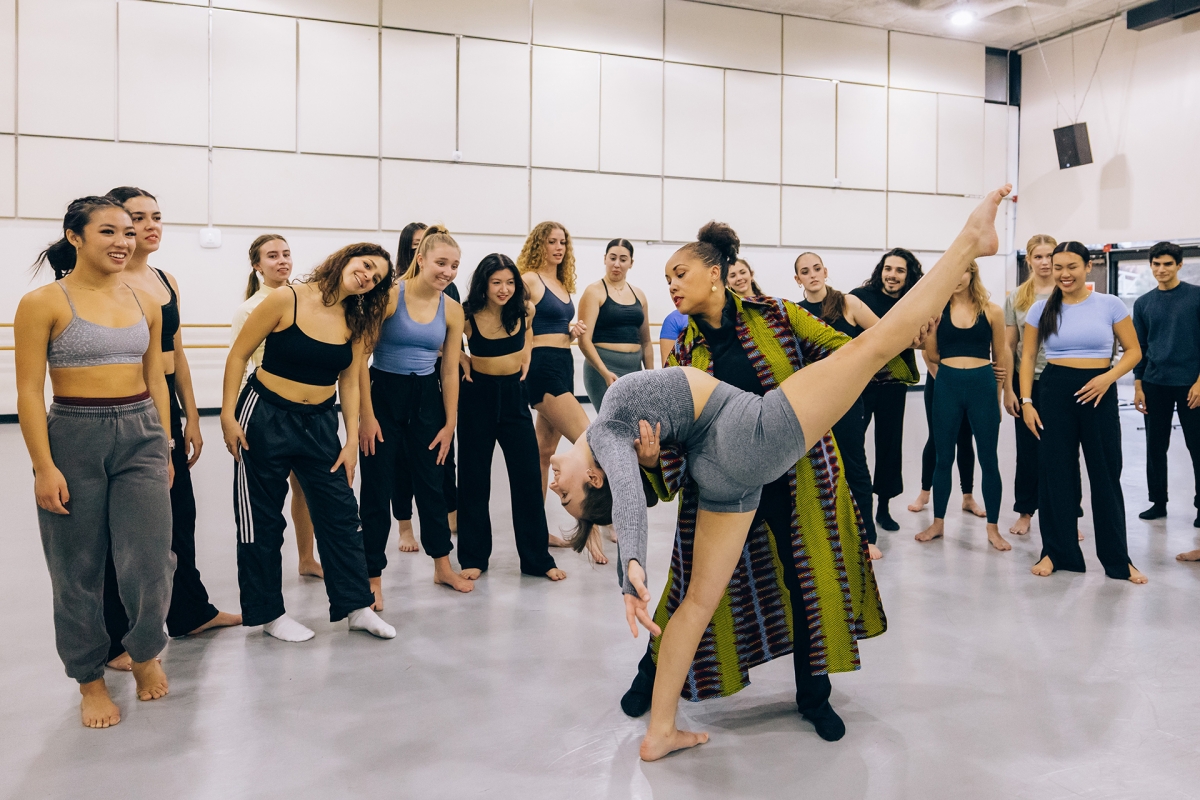 Image: Ariyan Johnson teaches a jazz class in the ordinal dance studios on the Claire Trevor School of the Arts campus. (Photo: Will Tee Yang)
Art: Natural Endeavors
In mid-December 2022, Jackson – who specializes in turning computer algorithms into 3D-printed plastic art pieces – was preparing to trek to the high desert.
He and Liz Stringer, a UCI graduate student in art, exhibiting artist, independent curator, arts administrator and educator, were setting up for their second special topics seminar held at the Burns Pi.on Ridge Reserve, a 2.-hour drive from UCI.
Students from seven departments in four schools – arts, biological sciences, humanities and physical sciences – had enrolled in the fall 2022 course, which involved site improvements to the UCI-managed reserve near Joshua Tree. Creative activities included installations, performances, short films and research.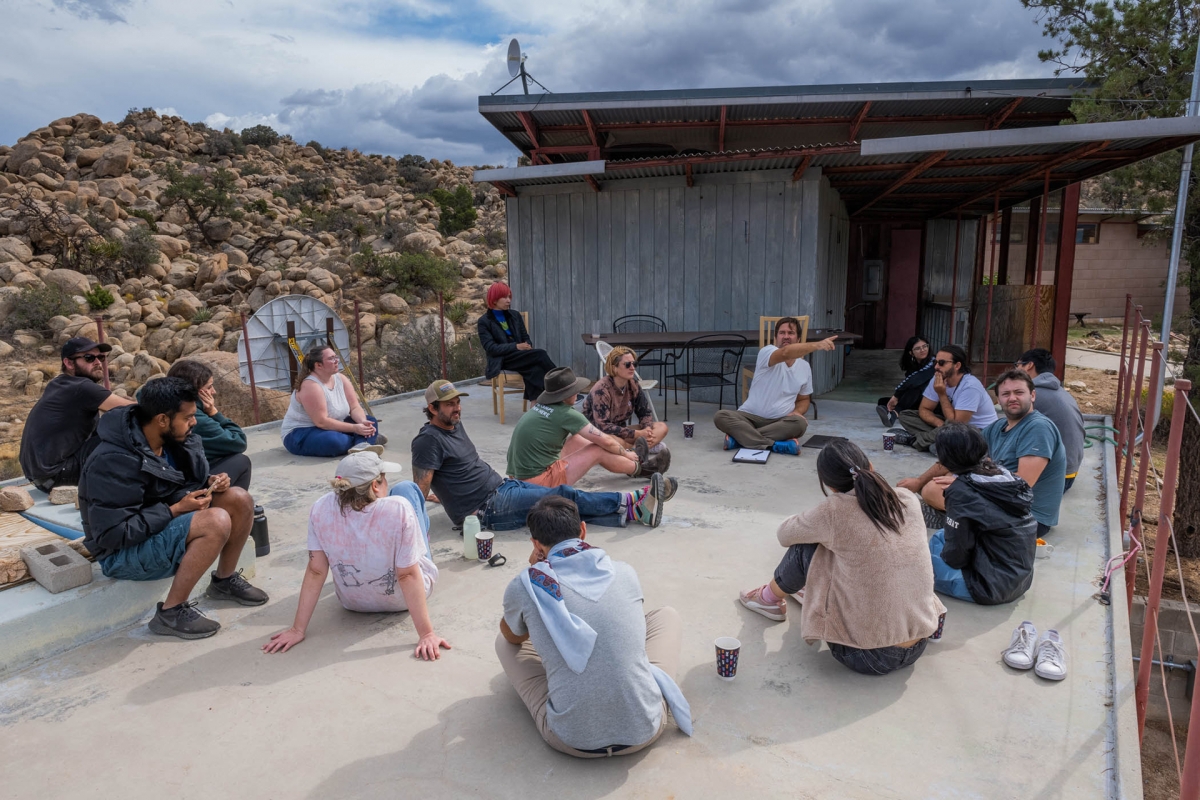 Image: Jesse Colin Jackson (center pointing) lectures to a cohort of students from the various disciplines at Burns Pi.on Ridge Reserve. (Photo: Hiroshi Clark)
"Knowledge creation is exciting," Jackson says, "and I want to facilitate the creation and dissemination of this knowledge."
Knowledge about another subject is what got Anna Kim into art.
Kim, a third-year M.F.A. student in visual arts, majored in social anthropology at Harvard University and spent a year on a postgraduate travel fellowship studying shaman rituals and producing photo-based projects in South Korea. Her experience led her to UCI in fall 2020 to pursue her master's degree.
"For me," Kim says, "art is a very natural extension of exploring research questions."
Her recent research into linguistic anthropology – and how language can be a limiting thing in terms of how people encounter the world – was the inspiration for her second-year M.F.A. exhibit. For that project, Kim printed each letter of the English alphabet on a different sheet of transparent paper and stacked them on top of each other to create a symbol formed by the compressed letters.
"It was my way of making language incomprehensible," she explains, "but also to make a new symbol out of it. I wanted the work to emphasize the precariousness of language."
Music: Exploration of Sound
UCI professor of music Mari Kimura, a violinist and composer, has patented her own creation: a motion sensor that allows musicians and artists to use their movements to manipulate sounds or graphics.
Kimura, who works in UCI's integrated composition, improvisation and technology Ph.D. Program, has used her MUGIC (music user gesture interface control) device in collaboration with students in computer science, engineering and other disciplines on projects and in performances.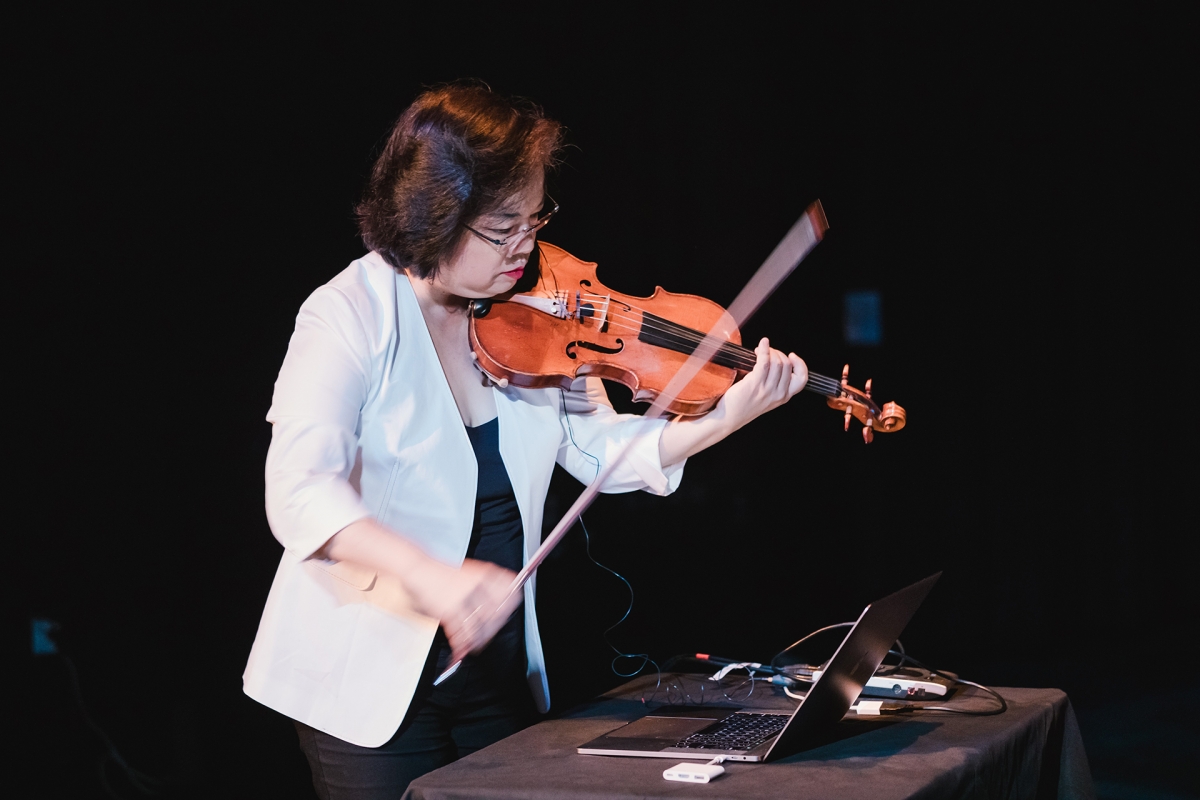 Image: Mari Kimura plays the violin during a MUGIC demonstration performance in the Experimental Media Performance Lab (xMPL). (Photo: Will Tee Yang)
Similarly, Jo.o Martins, a Ph.D. candidate in the new degree program history and theory of music, has been encouraged to work on his research with scholars from other UCI departments. Martins took a one-on-one research course with Rachel O'Toole, UCI associate professor of history, to learn more about the historical roots of Brazilian music and events that shaped its evolution. Martins was one of two students in the initial cohort of the history and theory of music Ph.D. program, which launched in fall 2020. It combines both historical musicology and music theory and analysis.
Although he hasn't invented his own gadget yet, Martins – winner of the 2022 Ingolf Dahl Award in Musicology for a paper he wrote about jazz pedagogy – is researching Brazilian folkloric music and how artists have tweaked or built on it over the decades.
"Our Ph.D. program is still in its infancy," Martins notes, "and we're pushing it in the direction we want it to go."
A Creative Engine With Critical Timing
CTSA is collaborating with other UCI schools in pursuing research innovation. For the past six years, Joel Veenstra, professor of teaching in stage management and vice chair of the Department of Drama, has held improvisation workshops for MBA students and business executives at The Paul Merage School of Business, as well as students in UCI's School of Medicine and Sue & Bill Gross School of Nursing.
"The workshops are to help people experiment and learn how to better communicate, collaborate and work together," Veenstra says. "We have so much to offer at the Claire Trevor School of the Arts. We have a unique approach to how we do our work collaboratively, and we offer lessons that can be applied to any field in terms of how we can better work and create together."
Image: Professor Joel Veenstra teaches student from

The Paul Merage School of Business the art of networking at a seminar at UCI.
CTSA also is involved in the UCI School of Medicine Program in Medical Humanities and Arts, which is designed to integrate arts- and humanities-based materials into medical education.
Activities include performing medically themed plays to explore patient, family member and physician perspectives on care and reading various poems about a doctor breaking bad news to a patient and then discussing how to improve real-world care.
In recent years, CTSA has been a strong engine behind the creation of Illuminations: The Chancellor's Arts & Culture Initiative, which aims to ensure that all students, regardless of major, have serious and meaningful exposure to the creative arts, as well as the establishment of the Jack and Shanaz Langson Institute and Museum of California Art.
Loui tapped James Fallon, professor of anatomy and neurobiology, as a scientific consultant for "Reading Frankenstein," another play she produced at the Experimental Media Performance Lab, which was co-created by Antoinette LaFarge, UCI professor of art. The intermedia performance layered brain imaging, digital projections, a virtual creature and live actors to examine the ethics of genetic engineering.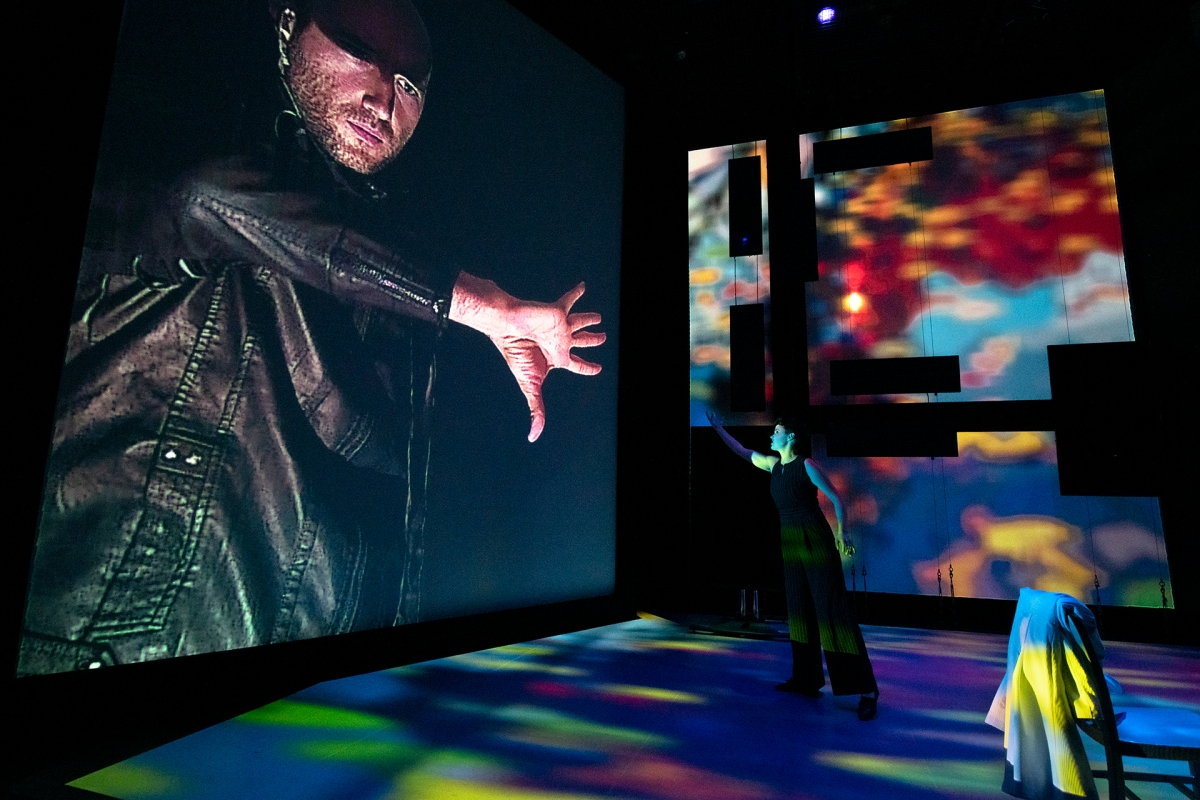 Image: Abel Garcia (left) and Kaden Kearney (right) co-created by Annie Loui, Antoinette LaFarge and Jim Fallon, and performed in the Experimental Media Performance Lab (xMPL). (Photo: Steve Zylius)
Arts are more important now than ever before, López says.
"We know that inspiration is a catalyst that moves us past anger and anxiety, and we live in a moment where people are wanting and needing to feel inspired," the dean says. "That's the shared nexus between arts and research.
"Research helps us innovate and advance, but research is also a form of inspiration for what we need to build together for a better future. The arts are an important part of that inspiration. They are a form of inspirational research. It's research that inspires in a way that captivates people."
---
Learn more about Research and Innovation at the Claire Trevor School of the Arts on the research website at research.arts.uci.edu.