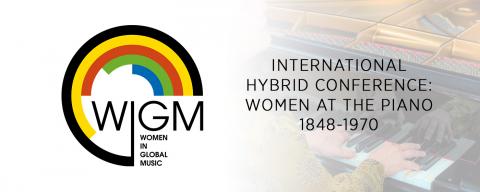 The Department of Music is pleased to host the International Hybrid Conference: Women at the Piano 1848–1970, March 16– 19, 2023, organized by Joe Davies and Natasha Loges.
This conference seeks to broaden out – historically and geographically – the discourse surrounding professional women pianists between 1848 and 1970. These years witnessed sustained interest in public piano performance, both onstage and in recording, against a backdrop of socio-political and technological change, from the 1848 revolutions, through two World Wars, to the decline of imperialism and the rise of second-wave feminism. The conference not only contributes to developments in gender studies, but also explores the piano as an instrument of globalism, colonialism, and mobility, with particular implications for women.
The conference will take place March 16–19, 2023, at the University of California, Irvine.
The conference is generously supported by the CTSA Department of Music, UCI Humanities Center, UCI Illuminations, the European Commission, the Royal Musical Association, Music & Letters, and the Women in Global Music Network.