Kei Akagi
Pianist and composer Kei Akagi has been a mainstay of the international jazz world for over two decades. Perhaps best known for his work as a member of the Miles Davis band in the late 1980's, his career also includes extended associations with major figures such as Stanley Turrentine, James Newton, Joe Farrell, Al DiMeola, and Airto Moreira. In addition, he has performed or recorded with Art Pepper, Blue Mitchell, Freddie Hubbard, Ron Carter, Charlie Haden, Charnett Moffett, Tom Harrell, Bobby Shew, Eddie Harris, Slide Hampton, Steve Turre, Robin Eubanks, Jean-Luc Ponty, Jeff Watts, Allan Holdsworth, and others.
Akagi has recorded 12 CD's as a solo artist and leader. As a sideman and accompanist, he has appeared on over 40 CD's worldwide, including Miles Davis's last recorded works. He has also written numerous original works for his own and others' recordings, with over 30 compositions currently in publication.
Akagi's performance schedule revolves around two major international concert tours a year. As Professor of Music at the UC Irvine, he directs the jazz studies program.
Teaching
Jazz piano; jazz history; jazz theory & composition; jazz improvisation methods; jazz small-group performance.
Select Performance History
1979-1985 Airto Moreira/Flora Purim
1984-1985 Joe Farrell
1985-2000 James Newton
1986 Allan Holdsworth
1986 Jean-Luc Ponty
1986-1988 Al DiMeola
1989-1991 Miles Davis
1991-2000 Stanley Turrentine
1994 -1995 Sadao Watanabe
Select Recordings
As leader:
"Playroom" (Moo/Mesa Bluemoon, 1992)
"Mirror Puzzle" (Audioquest, 1994)
"New Smiles and Traveled Miles" (Media Ring, 1998)
"Viewpoint" (Video Arts, 2000)
"Palette" (Video Arts, 2001)
"A Hint of You" (Video Arts, 2003)
"Modern Ivory" (Video Arts, 2004)
As co-leader:
"AAJT - Sound Circle with Rufus Reid and Akira Tana" (Evidence, 1993)
"Three Generations: The Kennedy Center Concert Vol. 1" (King, 1997)
"Three Generations: The Kennedy Center Concert Vol. 2" (King, 1997)
With James Newton:
"Suite for Frida Kahlo" (Audioquest)
With Miles Davis:
"Miles in Paris" (WEA Music Video)
"Live Around the World" (Warner Bros.)
"The Complete Miles Davis At Montreux" (Warner Bros.)
"Highlights from the Complete Miles Davis at Montreux" (Warner Bros.)
With Airto Moreira & Flora Purim:
"Midnight Sun" (Virgin)
"The Magicians" (Concord)
With Al Dimeola:
"Tiramisu" (Manhatten)
With Bobby Shew & Tom Harrell:
"Playing With Fire" (MAMA Records)
With Stanley Turrentine:
"Live! at Blues Alley" (Blues Alley)
"Do You Have Any Sugar?" (Concord Vista)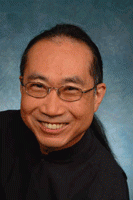 Title:
UCI Chancellor's Professor
Specialization:
Jazz Studies Director and Jazz Piano
Degree:
B.A., International Christian University, Tokyo