UCI Symphony Orchestra - Winter 2022
UCI Symphony Orchestra - Winter 2022
Dr. Stephen Tucker, conductor
Friday, March 4, 2022
8:00 p.m.
Irvine Barclay Theatre
Be moved during an evening consisting of:
Symphony No. 5 in B-flat major, D. 485
Dance of the Yi People

Chinese simplified: 彝族舞曲; traditional: 彞族舞曲; pinyin: Yízú Wǔqǔ
Sometimes also called Dance of the Yi Tribe or Yi Dance, this is one of the most popular solo compositions for the pipa, a four-stringed pear-shaped fretted lute used as one of the primary traditional musical instruments of China.
Featuring guest artist and guzheng master, Bei Bei Monter

Symphony No. 8 in B minor, D. 759

Commonly known as "the Unfinished Symphony"
Join Maestro Stephen Tucker for a Pre-Concert Conversation before the performance at 7 p.m.
---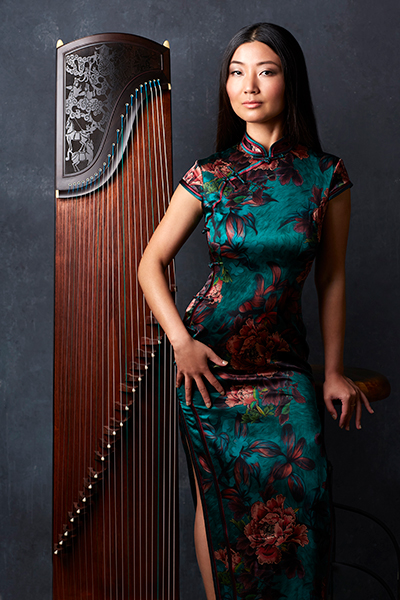 About our guest artist Bei Bei Monter
Guzheng master Bei Bei Monter was born in Chengdu, China and trained at China Central University of Nationalities and Hong Kong Academy for Performing Arts under several Guzheng masters. As a recording artist, her performances have been featured in Disney's live-action Mulan film in 2020, Disney- Pixar's animation film Turning Red (2022), Sci-fi Channel's Battlestar Galactica, award-winning video game Revelation, and the new Universal Studios Beijing theme park. In 2015, she was featured as one of "The Most Fascinating People of Los Angeles" by LA Weekly Magazine. She and her music were included in the American college textbook World Music by Michael Bakan. Bei Bei has released four albums and was featured in many artists' songs such as Loyal Brave True by Christina Aguilera as well as Yue Dao Tian Xin Chu by Summer Jike Junyi. She has performed throughout the U.S. and Canada, and toured to Hong Kong, India, the U.K. and Italy. She was also featured as a guest soloist performing with UC Irvine Symphony Orchestra, UCLA Game Music Ensemble and Pacific Symphony. Bei Bei's multiple performance videos on YouTube have been viewed over 12 million times in total. Her fans are all over the world.
(Image: Bei Bei Monter, photo by Stefanie Parkinson)
---
Tickets*
General admission: $21
Seniors, Groups 10+, UCI Faculty & Staff: $18
Arts Packages: $16
UCI Students & Children under 17: $8
* Ticket Sales for this event end on Fri., 3/4 @ 12pm. Past that time, tickets will be available directly via Irvine Barclay Theatre. Please note their service fees of $1-$3 per ticket.
---
Please visit our secure direct giving page and make a gift to support Music today!