Nina Scolnik with the American String Quartet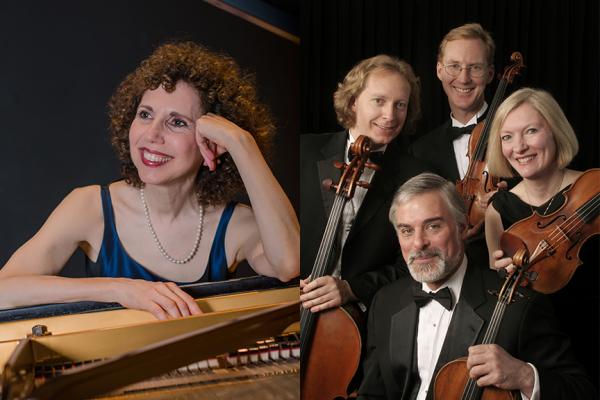 Nina Scolnik with the American String Quartet
Presented by UCI Claire Trevor School of the Arts and Irvine Barclay Theatre
Wednesday, January 24, 2018
8:00 p.m.
Irvine Barclay Theatre
Praised by the press for her musical sensitivity, precision, and attention to style, Nina Scolnik has performed at renowned festivals in Europe and in the United States as a recitalist, soloist with orchestra and chamber musician. A distinguished teacher of international standing, Scolnik has groomed pianists for serious careers as concert artists and teachers for over 30 years.
Internationally recognized as one of the world's finest quartets, the American String Quartet has spent decades honing the luxurious sound for which it is famous. In its 40 years of touring, it has performed in all fifty states and has appeared in the most important concert halls worldwide.
PROGRAM
Piano Quartet No. 2 in E- flat Major, K. 493 - Wolfgang Amadeus Mozart
String Quartet No. 3 in F Major, Op. 73 - Dmitri Shostakovich
Piano Quintet No. 2 in A Major, Op. 81 - Antonín Dvorák
To view program notes, please click here. 
Part of the Distinguished Artist Series
Tickets:
Adults $30
Students & Children (under 17) $14
Dates:
January 24, 2018 - 8:00pm