2018 Trio Céleste's Chamber Music Festival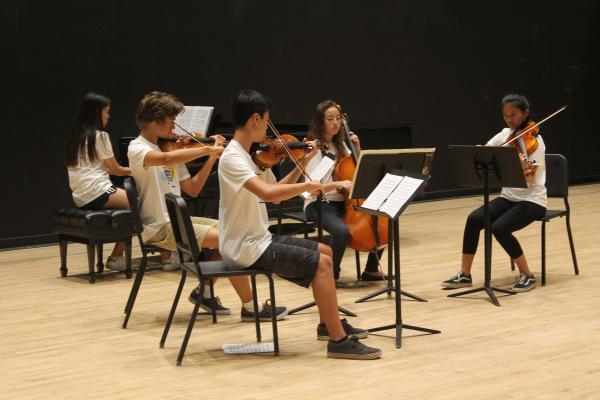 Trio Céleste's Chamber Music Festival
July 5-July 13
Monday-Friday
9:00am-4:00pm
Ages 12-19
Join one of the most unique and rewarding musical experiences available in Southern California! Explore masterpieces in the chamber music repertoire while working with world-renowned faculty.
Work alongside our resident ensemble Trio Céleste as you build upon your technique towards becoming a well-rounded musician. Students will be divided based on ensembles, participating in group workshops, personalized coaching and individual practice. String, wind, and pianists are all welcome to attend. The Academy will end in a final showcase performance for family and friends (more details to be shared).
Please note that while there is no formal audition for acceptance into the program, we do ask that students submit a personal statement and attend an in-person 'audition'. These supplemental items are used by our instructors to asses individual levels and goals in order to properly structure ensembles and lesson plans.


Scholarships and Financial Aid are available!
Student Handbook
Please ensure that you have thoroughly reviewed the 2018 Student Handbook regarding all important information and policies for the Summer Academies in the Arts.
Waivers and Forms
All participants are required to download, read, print, sign and return the following forms prior to the first day of your Academy (to download, right click and save as):
Failure to do so will result in the student not being allowed to participate in the program until all missing forms are signed and returned. Fees for missed classes will not be refunded.
Audition and Personal Statement
Personal Statement must be no more than one (1) page in length and should speak to your goals as a musician, what you hope to gain from this intensive, why music is important to you, etc. Word or PDF files only.

For Trio Céleste's Chamber Music Festival: In-person auditions will take place so students can be properly placed in appropriate ensembles during the Academy. In-person auditions occur in early June, specific date TBD. More information will be emailed to you closer to the date, but please note that you must first register for the course in order to schedule an audition.

All supplemental materials should be uploaded to a secure, file-sharing website (Google Drive, Dropbox, YouTube, etc.). A link to these files should be copied and pasted into the appropriate sections on the registration page. Please note that you will not be able to complete the online registration unless you have all these materials prepared. An email confirming your registration will be sent to you as a copy for your records.

Cancellations and Refunds
Please review our Cancellation and Refunds policy here.
All Academies and dates are subject to change without notice.