International Electronic Music Artist Val-Inc. Performs at UCI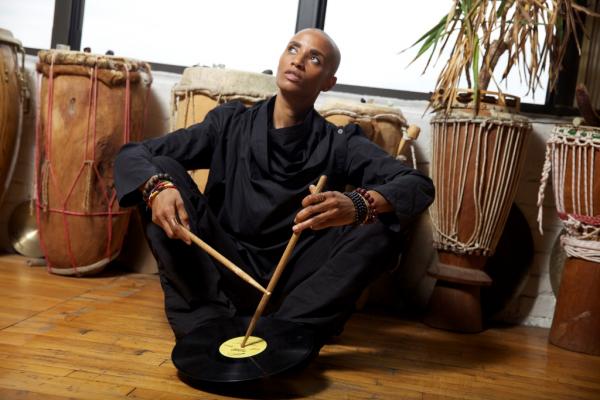 International Electronic Music Artist Val-Inc. Performs at UCI
Afro Electronica Concert Enriches the Gassmann Electronic Music Series
IRVINE, Calif. (January 18, 2017) – UC Irvine's Claire Trevor School of the Arts department of music's Gassmann Electronic Music Studio presents Afro Electronica, a concert by electronic music performer Val-Inc., Friday, January 27, 2017 at 8 p.m. in Winifred Smith Hall on the UCI campus. The concert will feature an engaging, rhythmically-charged performance on turntables, percussion, electronics, and computer. Admission is free; no ticket is required.
Val-Inc. will also give a lecture on "Afro Electronica" that same afternoon in Winifred Smith Hall at 5 p.m., free and open to all. Based on her history of electronic music performance, she will present her work as a form of sonic improvised exploration.
Val-Inc. (Val Jeanty) is a New York-based computer music performer who has created her own distinctive style of live electronic music performance called Afro-Electronica, combining electronica with Haitian Vodou percussion rhythms, incorporating her ancestors' past into the future with electronic instruments. She has said, regarding her own music, "I use these electronic tools, but the music is spiritual—something you might hear at church, or in any other religious ceremony. It's the kind of sound that gives your spirit freedom to roam. The sound is definitely on a frequency people are not used to hearing, but it speaks to them. It takes them to another sphere."
Both the evening concert and afternoon presentation by Val-Inc. are funded by the Gassmann Electronic Music Studio, a laboratory for research and creative activity in electronic and computer music in the Claire Trevor School of the Arts at UC Irvine. Travel funding for Val-Inc. has been generously provided by the African American Student Experience Committee (Council on Climate, Culture and Inclusion) at UCI.
These events are part of the twentieth season of the Gassmann Electronic Music Series at UCI. For more information about the series, visit music.arts.uci.edu/dobrian/gemseries or phone Gassmann Studio director Christopher Dobrian at (949) 824-7288.
About UCI Claire Trevor School of the Arts: As UCI's creative laboratory, the Claire Trevor School of the Arts explores and presents the arts as the essence of human experience and expression, through art forms ranging from the most traditional to the radically new. The international faculty works across a wide variety of disciplines, partnering with others across the campus.  National-ranked programs in art, dance, drama, and music begin with training but end in original invention. Students come to UCI to learn to be citizen-artists, to sharpen their skills and talents, and to become the molders and leaders of world culture. For more information, visit www.arts.uci.edu.
About the University of California, Irvine: Founded in 1965, UCI is the youngest member of the prestigious Association of American Universities. The campus has produced three Nobel laureates and is known for its academic achievement, premier research, innovation and anteater mascot. Led by Chancellor Howard Gillman, UCI has more than 30,000 students and offers 192 degree programs. It's located in one of the world's safest and most economically vibrant communities and is Orange County's second-largest employer, contributing $5 billion annually to the local economy. For more on UCI, visit www.uci.edu.
Posted Date:
Tuesday, January 17, 2017 - 16:00