UCI Symphony Orchestra performs at Santa Ana's famous Bill Medley Auditorium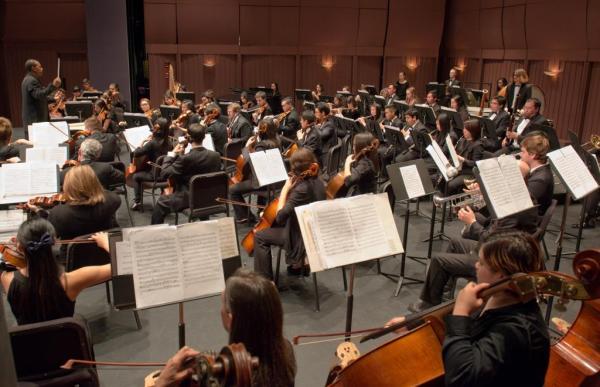 MEDIA ADVISORY
UCI Symphony Orchestra performs at the famous Bill Medley Auditorium
The concert celebrates the ongoing outreach partnership with Santa Ana High School
EVENT:
The UCI Symphony Orchestra led, by Maestro Stephen Tucker, will present the first concert of the 2016-17 season "The Defiant Sixth!" in Santa Ana as part of an on-going outreach project with Santa Ana High School. The concert is free for all Santa Ana residents.
WHEN/WHERE:
8 p.m. Friday, November 4, Bill Medley Auditorium, Santa Ana High School - 520 W. Walnut Street, Santa Ana, CA
INFORMATION:
General Admission tickets are $10 for adults / $5 for children under 17. Box Office (949) 824-2787 or www.arts.uci.edu/tickets. FREE for all Santa Ana residents. Media planning to attend should contact Jaime DeJong at 949-824-2189 or jdejong@uci.edu.
HIGHLIGHTS:
7 p.m.: Pre-concert conversation with Dr. Stephen Tucker, conductor.
8 p.m.: Concert. The program will include Overture to Die Fledermaus by Johann Strauss Jr.; Symphony No. 6 by Dimitri Shostakovich; Valses nobles et sentimentales and La Valse by Maurice Ravel.
BACKGROUND: 
Five years ago the UCI Symphony Orchestra, led by Maestro Tucker, adopted the Santa Ana High School (SAHS) Symphony Orchestra. The partnership was designed to build awareness of the university experience to make it a tangible goal for the SAHS students; increase access to arts resources; and cultivate engaged young artists, the Trevor School students, who will become involved citizens in their communities not just in the arts. For the first time, the UCI Symphony Orchestra will perform a full concert in Santa Ana, continuing the intersection of our two communities for the benefit of both.
Posted Date:
Monday, October 31, 2016 - 17:00