Saturday Academy in Digital Music Production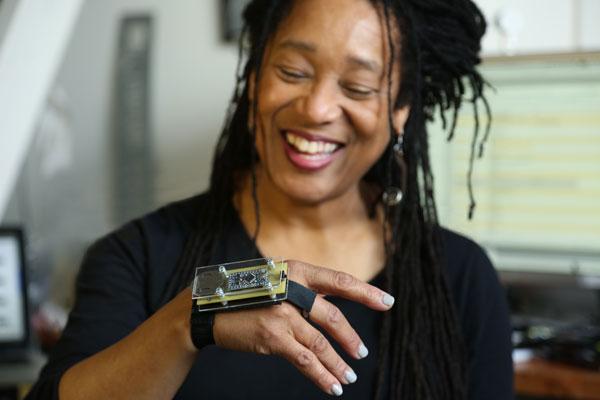 Saturday Academy in Digital Music Production
Workshop #1: Playing Music with Gestures
Saturday, October 22, 2016
10:00 a.m. to 1:00 p.m.
Music and Media Building
Work with award-winning singer, composer, computer musician, and Trevor School guest artist Pamela Z!  Students receive hands-on instruction in how to make and play music by means of gestures with wireless devices.  No instrumental or computer programming experience required!
Students and guests are also welcome to join Pamela Z at her FREE concert "Works for Voice, Live Electronics, and Video" on Friday, October 21st at 8:00pm at Winifred Smith Hall.  For more information on this concert, visit the event page. 
---
Registration costs include workshop, food, and materials.  You can register for a single workshop, OR the entire series.  Both options are available on the registration page.
$35 for Workshop Only
$75 for 3-Workshop Series
Need-based Scholarships are available!  If interested, please fill out the following Scholarship Form and email the completed form to artsoutreach@uci.edu.

All participants are required to complete and submit a waiver and photo release form upon arrival to the Academy. 
Download the Waiver (right click, save as)
Download the Photo Release (right click, save as)
For more information on the Gassmann Electronic Music Series, visit their website.
---
Interested in sharing this Academy with others?  Feel free to download our flyer (Right click, Save As) and distribute as you'd like!
(Image: Pamela Z in her San Francisco Studio wearing a SensorPlay controller. photo credit: Goran Vejvoda)