20th Anniversary African American Art Song Conference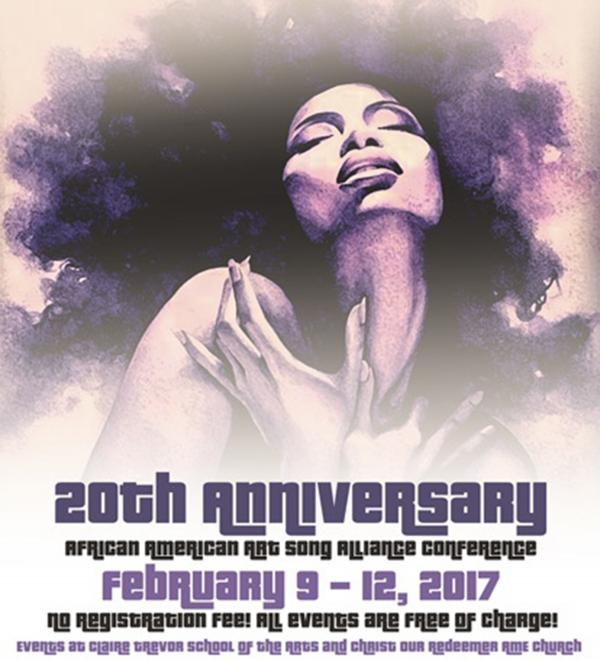 20th Anniversary African American Art Song Conference
February 9 – 12, 2017
Winifred Smith Hall
The African American Art Song Alliance was founded by Darryl Taylor in 1997. Nationally and internationally acclaimed artists and scholars converge on Irvine to celebrate and investigate African American Art Song, mingled with performances of spirituals, opera, lectures, paper presentations, and panel discussions through the conference. This quinquennial event is always sure to enlighten and entertain. This event is presented in conjunction with Christ Our Redeemer AME Church.
Friday and Saturday performances for the conference will be live streamed by the Hampsong Foundation at the following link:
https://livestream.com/hampsong
Sunday's 10:30am performance will be live streamed from www.corchurch.org
Free registration. All events are free admission.
The schedule of events can be downloaded here.
The rehearsal schedule can be downloaded here.
Visit the conference website: http://artsongalliance.org/

Host Hotel:
Radisson Hotel Newport Beach
4545 MacArthur Boulevard, Newport Beach, CA 92660
You may make your hotel reservation by calling
(800) 333-3333
Request the conference rate for the African American Art Song Alliance ($149.00 per night)
For immediate questions, please contact Peter Chang, Music Department Manager, at pechang@uci.edu.
Dates:
February 10, 2017 (All day)
February 11, 2017 (All day)
February 12, 2017 (All day)