Computer Music
at
---
Computer music activity at UCI emphasizes composition and performance of experimental music, especially works involving computer-aided algorithmic composition and the use of computers in live performance.
---
---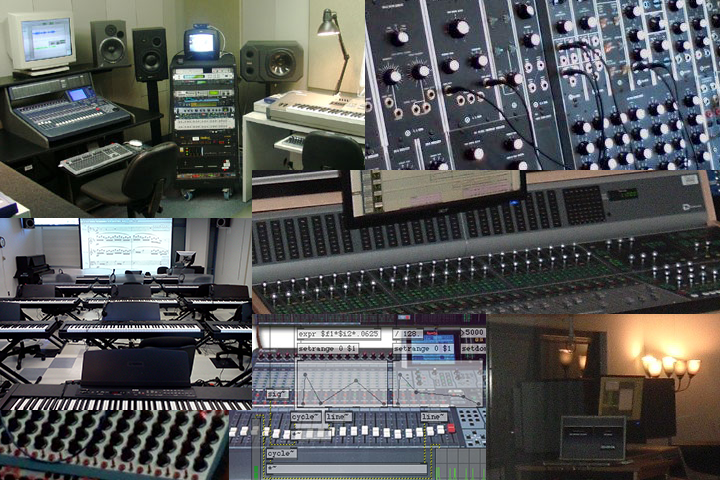 The Music Department in the Claire Trevor School of the Arts at UC Irvine is fortunate to have exceptional facilities for electronic and computer music. The department has spaces dedicated to digital recording, computer music composition, interactive computer music research, sound design, computer-assisted instruction, telematic performance, and analog electronic music synthesis.
Funded by a generous bequest from composer Remi Gassmann, the first facility for electronic and computer music at UCI was installed in 1996-97, and has been named the Gassmann Electronic Music Studio in recognition of Mr. Gassmann's gift, which continues to generate income that supports the upgrade and maintenance of the music technology facilities and activities in the school.
A few years after the installation of the Gassmann Studio, the Realtime Experimental Audio Laboratory (REALab) was established for research and creative work focusing on the interactive use of computers in live performance.
Several other facilities for music technology have since been created, including the Sound Studio (a.k.a. the "PhattBoxx") designed by Michael Hooker, the Keyboard Instruction Lab, the CLASSic Synthesizer Studio, the Music Recording Studio, the Music Collaboration Laboratory (ColLab), and various other recording spaces.
A complete listing and description of the music technology facilities in the Claire Trevor School of the Arts, including information about policies for their use, is available online.
The Music Department offers a progressive curriculum in computer music at both the Bachelor's and Ph.D. degree levels. You can read the generic description of the computer music courses in the Music Department chapter of the UCI Catalog.
The undergraduate curriculum begins with Music 51: Music Technology and Computers, an introduction to the history, technology, and aesthetics of electronic and computer music. Students who have completed that course may enroll in the intermediate Music 151: Computer Music Composition, a course on the composition of music made uniquely possible by the computer, using software for recording, production, processing, and synthesis. Students who have completed that course may enroll in the advanced Music 152: Interactive Arts Programming, a study of artistic issues and programming techniques involved in the development of interactive computer music. Another advanced seminar, Music 147: Studies in Music Technology addresses a variety of topics in computer music programming and the musical applications of digital signal processing. All of the courses in computer music are open both to Music majors and to non-majors. Because the courses are designed as a progressive sequence, students should plan ahead to take Music 51 before taking any of the intermediate or advanced courses.
At the graduate level, Music 215A: Computer Music Composition and Production addresses methods of sound synthesis and processing, basic programming using Max, studio techniques, and theories of electro-acoustic composition. Music 215B: Computer Music Programming builds upon the topics covered in 215A, presenting intermediate and advanced topics in audio and music programming, emphasizing interactive music performance. The two courses are required for the degree in Integrated Composition, Improvisation, and Technology (ICIT), and they are also available to any other graduate student by agreement with the instructor. Additional advanced studies in computer music are normally carried out with one's dissertation advisor in Music 250: Directed Research.
Other courses relevant to computer music are available in the Drama Department's Sound Design program. Undergraduate sound design courses are Drama 50D: Introduction to Sound Design and Drama 179: Intermediate Sound Design. The graduate sound design curriculum includes several courses that are frequently of interest to students of ICIT.
Other professors who use computers in their musical work and contribute to studies in music technology at UCI include Kei Akagi, Music; Alan Terricciano, Dance; Michael Hooker, Drama; and Vincent Olivieri, Drama.
---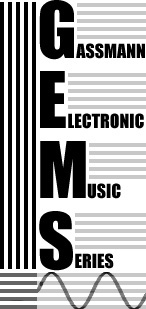 The Gassmann Electronic Music Series
is an annual series of concerts and lecture/demonstrations
focusing on Music and Computers
Produced and directed by Michael Dessen.
A listing of the past seasons of the Gassmann Electronic Music Series from 1997-2021, produced and directed by Christopher Dobrian is available online.
---
This page was last modified August 31, 2022.
Christopher Dobrian, dobrian@uci.edu