UCI Music welcomes new Assistant Professors Grimes and Hammel
UCI Music welcomes new Assistant Professors Grimes and Hammel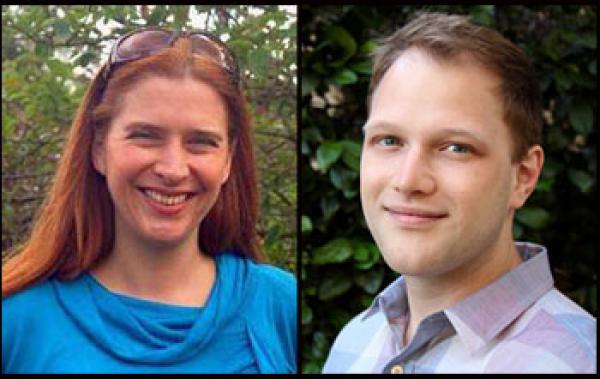 The UCI music department welcomes two new Assistant Professors in Musicology, Drs. Nicole Grimes and Stephan Hammel.
Nicole Grimes studied historical musicology at Trinity College Dublin (TCD) and Ludwig Maximilians University, Munich. She was awarded a Ph.D. at TCD in 2008 for her dissertation "Brahms's Critics: Continuity and Discontinuity in the Critical Reception of Johannes Brahms." Since that time, her research has focused at the intersection between German music criticism, music analysis and music aesthetics from the late-eighteenth century to the present day. She is particularly fascinated by the intertextual relationship between music and philosophy, and music and literature. She is currently finishing a book called Brahms's Elegies: The Poetics of Loss in German Culture which is concerned with the reciprocal relationship between Brahms's music and the Austro-German intellectual tradition.
Stephan Hammel received his B.M. from Rice University (2008) and his Ph.D. in historical musicology at University of Pennsylvania (2014). His primary research interest is the aesthetics and politics of musical modernism in Latin America in the 20th century. He is currently at work on a monograph interpreting the material conditions and intellectual roots of an aesthetic movement that encompassed Silvestre Revueltas and Alberto Ginastera, Heitor Villa-Lobos and Alejo Carpentier. Working between disciplines, he has given papers at conferences both within and without the United States, including the Latin American Studies Association, the American Musicological Society, and the American Society for Aesthetics. He also writes about methodological and theoretical concerns, especially those involved in developing a historical materialist approach to the study of music.
Posted Date:
Friday, July 15, 2016 - 12:30