UCI Symphony Orchestra and College Orchestra Directors Association Conference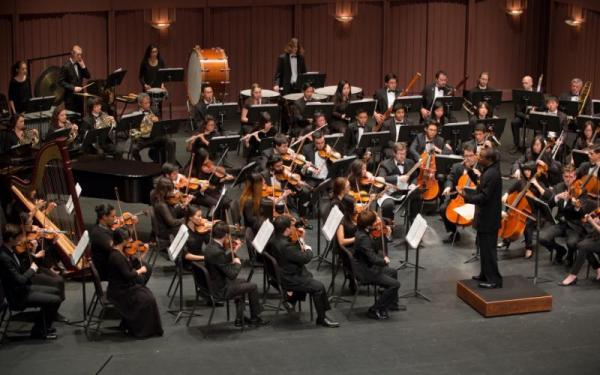 UCI Symphony and College Orchestra Directors Association (CODA)
Concerts and conference events, Feb. 1-3, 2018
9:30am, Friday, February 2:
The University of Mary Washington Symphony Orchestra
Winifred Smith Concert Hall, UC Irvine. Free admission, limited seating
1:30pm, Friday, February 2:
​The University of Milwaukee, Wisconsin ​​​​​​Symphony Orchestra
Winifred Smith Concert Hall, UC Irvine. Free admission, limited seating
5:15pm, Friday, February 2:
Presentation by Nina Bernstein, daughter of Leonard Bernstein
Crystal Cove Auditorium, UC Irvine Student Center
7pm, Saturday, February 3:
UC Irvine Symphony Orchestra presents "A Celebration of African-American Composers" 
$20 general admission; $15 Seniors, and $5 for students with ID
Soka Performing Arts Center, Soka University
Tickets: http://www.soka.edu/pac/tickets/
The Music Department of the Claire Trevor School of the Arts is honored to host the 2018 conference of College Orchestra Directors Association (CODA), from February 1-3, 2018. On Thursday, February 1, the conference will have all its activities in Los Angeles, with no activities at UCI. On Friday, February 2, the conference will resume at UCI, offering concerts by 2 of the 3 visiting orchestras: The University of Mary Washington, at 9:30 am, in Winifred Smith Concert Hall, and the University of Milwaukee, Wisconsin, at 1:30pm, in the same venue. Both concerts are free and open to the public, but will have limited seating, so attendees are advised to arrive early.
At 5:15pm on Friday, February 2, in Crystal Cove Auditorium in the UCI Student Center, Nina Bernstein, daughter of Leonard Bernstein will speak to conference attendees. Since this is the 100th anniversary of Leonard Bernstein's birth year, it is a wonderful opportunity for the UCI and Irvine communities to enjoy this rare engagement with the daughter of one of America's musical treasures.
On Saturday, February 3, the conference will move to Soka University, in Aliso Viejo, where the third visiting orchestra, from the University of Northern Arizona, and the Symphony Orchestra of the University of California, Irvine will at Soka Performing Arts Center. The Northern Arizona Symphony concert, at 1:00pm, will be free, but tickets must be picked up at the box office. The UCI Symphony concert, at 7pm, entitled "A Celebration of African-American Composers" will be ticketed at $20 general admission; $15 Seniors, and $5 for students with ID.
Tickets for the Saturday evening concert may be purchased at the Soka Box office online at http://www.soka.edu/pac/tickets/.
Dates:
February 2, 2018 (All day)
February 3, 2018 (All day)