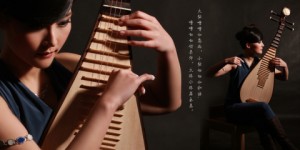 I have the academic and artistic goals of becoming an accomplished composer. My high school and undergraduate studies have given me knowledge in instrument playing, music theory, classical composition and computer music composition. For me, playing an instrument is the foundation of composition. As a Chinese, I am fond of the traditional music of my country and I think that bridges can be built between cultures, as has been shown by other composers sharing the two traditions.
EDUCATION
– 1998: entered the TianJin Conservatory of Music, majoring in pipa.
– 2004: entered the Central Conservatory of Music of China, Beijing.
Major: composition
– 2009: graduated from the Central Conservatory, Beijing in composition.
EXPERIENCE
– Invited to present Chinese music and my own compositions at the New England conservatory of Music, March 2009.
– Performed Chinese instruments at the Weill Recital Hall of Carnegie Hall, New York, March 2009.
– Performed a pipa and electronics composition written for me by Marc Battier (France), during the 2009 MusicAcoustica festival.
isis-solo@hotmail.com
yunxiang@uci.edu
Aria [audio: Aria.mp3]