ICIT New Ears Series: Workshop by Shane Shanahan
Title: "Cross-Cultural Rhythmic Improvisation and the Modern Frame Drum"
Guest Artist: Shane Shanahan
Date: Friday, October 17, 2014
Time: 2-3:30 p.m.
Location: MM220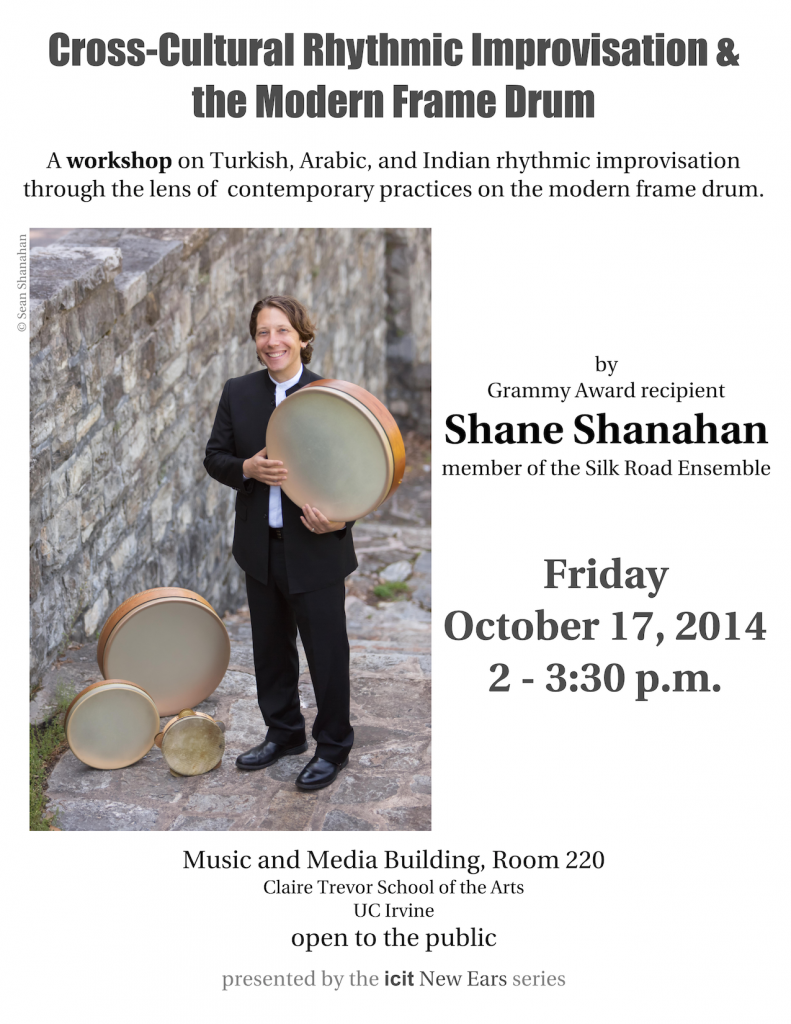 This event is open to the public.
Description:
Grammy Award winning percussionist and Silk Road Ensemble member Shane Shanahan presents a workshop on Turkish, Arabic, and Indian rhythmic improvisation through the lens of  contemporary practices on the modern frame drum.
Bio:
Grammy Award winning percussionist Shane Shanahan has cultivated his own unique and highly sought after sound by combining his studies of drumming traditions from around the world with his background in jazz, rock and Western art music.  He is an original member of the Silk Road Ensemble (Yo-Yo Ma, Artistic Director) as well as a member of frame drum master Glen Velez' TaKaDiMi Ensemble and cellist Maya Beiser's Provenance Project.  He has performed and/or recorded with Bobby McFerrin, Aretha Franklin, Philip Glass, Alison Krause, Sonny Fortune, Deep Purple, Jordi Savall, Fantasia, Chaka Khan, G. E. Smith, Simon Shaheen, Jamey Haddad, Cyro Baptista, Anindo Chaterjee, Sandeep Das, Shahram Nazeri, Alim Qasimov, Kayhan Kalhor, Howard Levy and Steve Gorn, among others.
Highly involved in The Bridge Project–a three-year trans-Atlantic partnership uniting The Brooklyn Academy of Music, The Old Vic Theatre of London, and Neal Street Productions–Shane was one of two featured musicians in Shakespeare's "As You Like It" and "The Tempest," directed by Oscar winner Sam Mendes ("American Beauty"/"Skyfall"). On Broadway, he has played for Caroline, Or Change, The Color Purple, Shrek, and Spider-Man, Turn Off the Dark.
TV and radio appearances include the Late Show with David Letterman, Good Morning America, the National Geographic Channel, NPR, PBS, NHK, and The Opening Ceremony of the Special Olympics in Shanghai.  Shane has presented workshops and clinics at many universities, including Harvard, Princeton, Northwestern, New York University, UC Santa Barbara and the Rhode Island School of Design.  He has also performed and created outreach programs for many world-class museums, such as the Art Institute of Chicago, the National Museums of Japan in Kyushu and Nara, the British Library in London, the Rietberg Museum in Zurich, and the Rubin Museum of Himalayan Art in New York.
He received his Bachelor's Degree and Performer's Certificate from the Eastman School of Music and his Master's Degree from The Hartt School where he serves periodically as a visiting faculty member.
Website: http://www.shaneshanahan.com/