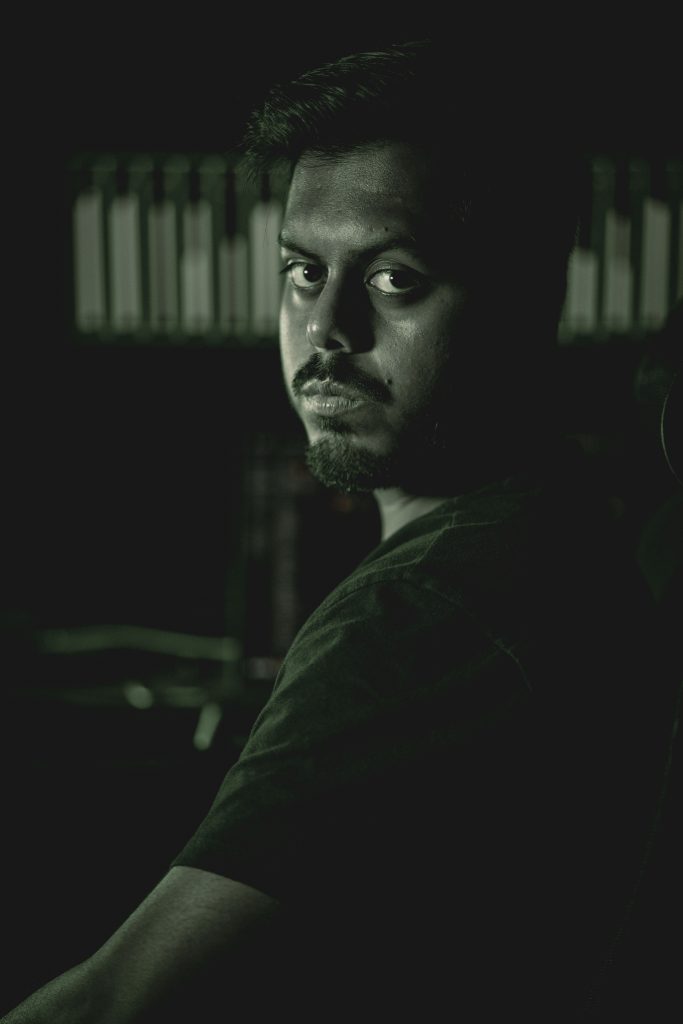 Born in Bangladesh, Teerath Majumder is a composer and producer of electronic music. With a background in North Indian classical and Western art music traditions, he seeks new methods of making music, often through the use of immersive sound systems, modular synthesis, wearable sensors, and various other means. His work traverses several domains including film, dance, theater, sound art, and independent production.
Teerath's career as a composer began in India where he created works for the new music ensemble Hundredfoot Road and soundtracks for Tamil films. Since then, his creations have been performed and recorded by London Firebird Orchestra, Del Sol string quartet, Hub New Music, and Transient Canvas, among others. Whenever feasible, he has sought collaboration with artists coming from different backgrounds than his. His work with choreographers, filmmakers, and musicians working in a variety of genres constitutes a significant part of his oeuvre.
Investigating how we experience music and how that experience can be enhanced is one of Teerath's key interests. For instance, he has been exploring how the instrumentation and arrangement of traditional Bengali songs can be reimagined to deliver a novel experience to the listener and emphasize the meaning of the text. Teerath has also been invested in the idea of involving the audience in the creative process in live performances. Through the use of interactive technology, he wants to create spaces that facilitate meaningful audience participation. He assisted composer and flute-player Nicole Mitchell with her immersive sound installation Mothership Calling (2021) by creating software that triggers and moves sound events in the physical space. It involved partnering with Dolby and integrating Atmos Renderer in the software system.
Teerath is currently working on his PhD in the Integrated Composition, Improvisation and Technology (ICIT) program at University of California, Irvine. He received his BA in Music degree from Middlesex University, London where he was awarded the Richard Turton Composition Award. Before joining ICIT, he worked as a sound designer, product specialist, and tester with the UK-based music tech company Roli.