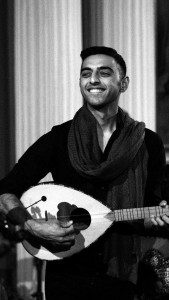 Jiryis Murkus Ballan, Palestinian composer, Buzuq player, performer, and musical director, Jiryis, grew up in Nazareth in the Galilee region.
After completing his music and archaeology studies at the University of Haifa, he began his M.A studies in the music composition program at SUNY Buffalo as Fulbright Scholarship. At SUNY, Jiryis studied composition with Jonathan Golove and Cort Lippe, focusing on music for contemporary dance, and was also active in the Theatre and Dance Department as an accompanist for contemporary dance classes and dance improvisation workshops. In his compositions and improvisation, Jiryis integrates various disciplines and music cultural elements.
During the summers, Jiryis co-direct The Caravan Orchestra and Choir project, an intercultural orchestra of young musicians from Israel (Arab Palestinians and Jewish) and Germany. Before joining the Department of Music at UCI, I worked as a research assistant at the Music Department of the University of Haifa, researching The Urban Arab Palestinian Wedding Music in the Galilee region and maqam-based music. His research was on the inclusion of the synthesizer in traditional Arab Palestinian music ensembles.
Photo by Andie Materiell