ICIT Workshop: Mary Oliver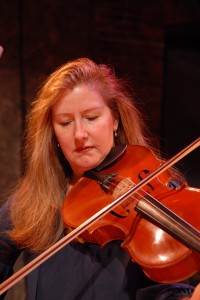 Presentation and improvisation workshop by violinist/violist Mary Oliver
4pm, Tuesday, March 31, 2015
MM 218 ("NoCap"), UC Irvine

Ms. Oliver will perform and discuss some of her solo compositions and improvisations, and conduct an improvisation masterclass with students.  The event is free and open to all students and faculty. All students are invited to attend and encouraged to bring their instruments.

Mary Oliver, violin, viola, and hardanger fiddle, is a performer whose virtuosity spans the worlds of scored and improvised music. Oliver (b. La Jolla, California) completed her studies at the University of California, San Diego where she received her Ph.D for her research in the theory and practice of improvised music. Her doctoral thesis, "Constellations in Play," identified a new kind of creative discipline, which Oliver has pursued with colleagues locally and around the world. As a soloist, Oliver has performed in numerous international festivals and premiered works by, among others John Cage, Chaya Czernowin, Brian Ferneyhough, Lou Harrison, Joëlle Léandre, George E. Lewis, Liza Lim, Misha Mengelberg and Iannis Xenakis. She has worked alongside improvising musicians and dancers such as Han Bennink, Mark Dresser, Katie Duck, Cor Fuhler, Myra Melford, Alexander von Schlippenbach and Michael Schumacher. Based in Amsterdam, Oliver is a member of the Instant Composers Pool (ICP) Orkest, and a regular collaborator with dancer/choreographer Michael Schumacher.  She is on the faculty at the Hogeschool voor het Kunst Utrecht teaching at the school for Kunst, Media and Technologie.