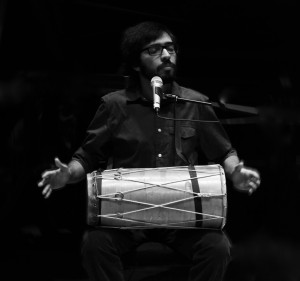 Hesam Abedini is an Iranian-American performer, composer, improviser and educator residing in Irvine, CA. His work crosses the boundaries between idioms as wide as contemporary music, classical Iranian music and free improvisation. He is the founding member of the Sibarg, an Intercultural Creative music ensemble that combines traditional Iranian music and Jazz. Hesam's music has been performed by various musicians and ensembles such as, JACK Quartet, selected members of the Atlas Ensemble, Del Sol String Quartet, Loadbang, New Mexico Contemporary Ensemble, Amalgama Ensemble, Sunflower, and Mark Dresser's Bass Ensemble. He is the winner of the New Mexico Contemporary Ensemble's 2nd Annual Call for Scores in 2018.
Since 2011, under the supervision of Dr. Hossein Omoumi, Hesam has researched on classical Iranian music and directed the NEA and Roshan Cultural Heritage Institute-sponsored Documentary film "From Isfahan to Irvine". He is a graduate of the Tehran Music Conservatory and holds his B.A. in Music Composition with honors from the University of California, San Diego. He studied music composition with Dr. Lei Liang, Chinary Ung, Anthony Davis and improvisation with Mark Dresser.
Currently, Hesam is a Ph.D. candidate in Integrated Composition, Improvisation and Technology at the University of California, Irvine as a Provost PhD Fellow under the supervision of Prof. Christopher Dobrian. He is an Associate Faculty in music at Saddleback College where he teaches composition, harmony and musicianship. Hesam has also designed and taught a course on Music of Modern Iran at the University of California, Irvine.
Personal Web: www.hesamabedini.com
NEA Project: www.pish-radif.com
Sibarg Ensemble: www.sibarg.com