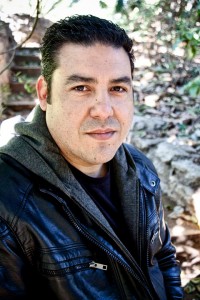 George Gomez-Wheeler is a composer and performer of acoustic and electronic music.   His work combines diverse instruments and genres, as well as musical interactivity between performer and computer, concepts of spatialization, and video processing. His current research will continue to focus on the creation of new electronic musical instruments that attempt to capture human expression.
He performed for fifteen years as a Saxophonist and Technical Director of the Liquid Skin Ensemble, a seven-member group comprised of classical, jazz and rock musicians, which performed at major venues in Los Angeles, such as the Japan America Theater, the Getty Museum, as well as at the LG Arts Complex in Seoul, Korea.
He is a co-founding member of Frère Concrète, a new music electro-acoustic duo that consists of flute, saxophones and EWI, dueling laptops, and visuals, which has performed at different university venues in Los Angeles including The Daniel Recital Hall at CSULB, The Wild Beast and the R.O.D. Theatre at the California Institute of the Arts (CalArts).
George has collaborated with choreographers for many years. Recently, he premiered "Arise", a commission for percussion quartet, which was premiered at REDCAT (May 2015) and "(R)evolve", a collaboration with Choreographer Leslie Scott at the Sharon Disney Lund Theatre, CalArts. He also was involved in the event "Speed Dating and Hookups" at Art Share L.A. (May 2014), which included a structured improvisation with Damon Rago and a free improvisation with Loretta Livingston.
His Multimedia Video/Dance collaboration with Choreographer Lauren Windslow-Kearns, and Filmmaker Mark Vanocur, with the piece, "Everywhere I Look", is part of the New York Library permanent collection.  Additionally, he has composed original music and sound design for the Body Talk Dance Company
As a professional sound engineer, he worked with many local groups which span from Rock, Punk, Ska, Latin Jazz, as well as Postmodern/Contemporary Classical.
He serves on the Composition/Theory faculty at the Bob Cole Conservatory of Music at CSULB, and the Sharon Disney Lund Dance Department at CalArts. He is currently in the Ph.D program for Integrated Composition, Improvisation, and Technology (ICIT) at the University of California, Irvine.