Gassmann Electronic Music Series: The Living Earth Show
Friday January 25, 2020
THE LIVING EARTH SHOW
HYPHEN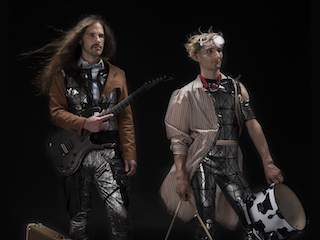 Winifred Smtih Hall
Claire Trevor School of the Arts, UCI
8:00 pm, Free
Reception following concert, courtesy of the Jordan Center for Persian Studies.
Hyphen showcases a new work written for The Living Earth Show (guitarist Travis Andrews and percussionist Andy Meyerson) by Iranian electroacoustic music composer Alireza Mashayekhi. The concert celebrates Mashayekhi's 80th birthday, and features the world premiere of his new work Labyrinth II.
This event is made possible by a grant from UCI Illuminations and with support from the Gassmann Electronic Music Series and the UCI Department of Music.