! December 9, 1999 >
Presented by the Gassmann Electronic Music Studio, UCI School of the Arts
Gassmann Electronic Music Series
1998-1999
---
The 1998-1999 season features appearances by such outstanding and innovative composers/performers/programmers as Mari Kimura, Pamela Z, Sylvia Pengilly, Pedro Eustache, Joan La Barbara, and others.
---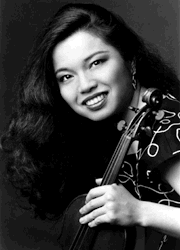 Violinist and computer musician MARI KIMURA
Wednesday, October 21, UCI Concert Hall, Free
Lecture-demonstration 1:30pm, Concert 8:00pm
New York-based musician Mari Kimura is a Juilliard-trained virtuoso violinist who composes her own music and writes her own computer programs for interactive computer-mediated performance. She has developed innovative techniques for both acoustic violin and Zeta electronic violin, and is internationally recognized as a unique and exciting improviser and performer of new works.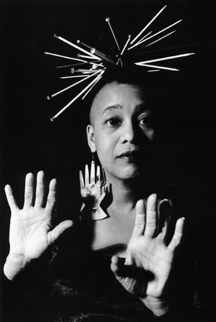 Computer musician, vocalist, and composer PAMELA Z
Wednesday, October 28, UCI Concert Hall, Free
Lecture-demonstration 1:30pm, Concert 8:00pm
San Francisco-based composer/performer Pamela Z works with voice, electronic processors, samplers, and a novel control device called The BodySynth to create layered works using vocal styles ranging from experimental extended techniques to operatic bel canto.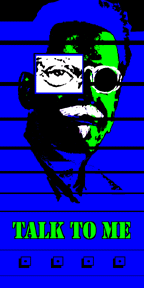 An Interactive Audio Installation by CHRISTOPHER DOBRIAN
Part of the UCI Music Department concert "An American Mosaic"
Tuesday, November 17, Irvine Barclay Theatre, 8:00pm
A computer installation with animations by Daniel Beck, sculptural design by UCI professor Douglas-Scott Goheen, and interactive MSP audio processing by Christopher Dobrian. Sounds "heard" by the computer are used to cause changes in the animation and are processed and incorporated into a musical fabric of sounds from the immediate environment.
Composer, programmer, and video artist SYLVIA PENGILLY
Tuesday, December 1, UCI Concert Hall, Free
Lecture-demonstration 1:30pm, Concert 8:00pm
Sylvia Pengilly retired from her job as a professor of music, and started a daring second career as a computer musician, programmer, dancer, and experimental video artist. Her performances include dance, live computer video processing, and computer-mediated synthesizer music, producing beautiful and hypnotic sonic and visual theater.
December 9: Algorithms for Computerized Music Composition
Computer music composer CHRISTOPHER DOBRIAN
Wednesday, December 9, 5:00pm
McDonnell Douglas Auditorium, Free
Christopher Dobrian, whose work focuses on the development of "artificially intelligent" systems for composition, improvisation, and cognition, speaks on how to write computer programs that compose.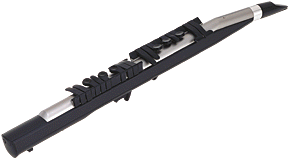 February 2: Electronic Wind Instruments
Tuesday, February 2, 1:30pm
UCI, Music Room 196, Free
A concert/demonstration of the latest MIDI wind controller and related synthesizers from the Yamaha Corporation of America, by Ross Costa.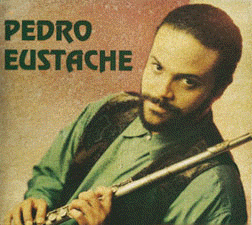 Wednesday, March 10, UCI Concert Hall, Free
Wind instrument workshop 1:30pm, Concert 8:00pm
Pedro Eustache is not only a virtuoso flutist, but is a master of a great many wind instruments from around the world, and incorporates computerized instruments and realtime signal processing in his performances. He will present a workshop on music for wind instruments and realtime interactive computer processing, and perform a concert of unique compositions.
March 16: From the Gassmann Studio
Computer music by UCI student composers
Tuesday, March 16, 4:00pm
UCI Concert Hall, Free
Students of computer music composition present their latest works for computer, synthesizers, and live performance.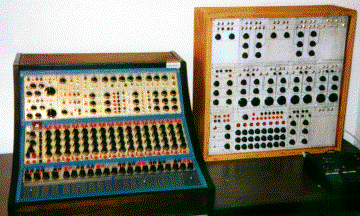 April 14: Analog Sound Synthesis in the Digital Age
Synthesizer expert KEVIN LIGHTNER
Wednesday, April 14, 5:00pm
UCI Concert Hall, Free
Synthesizer restorer Kevin Lightner speaks on the resurgence of interest in the classic synths of the '60s and '70s.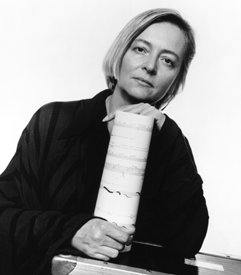 April 28: The Virtuosa in the Electronic Age
Soprano JOAN LA BARBARA
Wednesday, April 28, UCI Concert Hall, Free
Lecture-demonstration 1:30pm, Concert 8:00pm
Joan La Barbara, is a singer renowned for her extended vocal techniques and performance of avant garde works by contemporary composers. In a concert of her own compositons she sings with collaged layers of extended vocals and instruments, filtered through electronic processing. In an afternoon lecture she will discuss her composition techniques, collaborations with other composers, and some of her film work, including creating vocals for the alien newborn in "Alien Resurrection" and the layered vocal solos in John Frizzell's musical score for "I Still Know What You did Last Summer".
June 2: Designing Interactive Software
RICHARD MOE
Wednesday, June 2, 5:15pm
Computer Science Building, Room 432, Free
Richard Moe has been the project leader of several of the most popular interactive entertainment CD-ROMs produced by one of the leading companies in the field, Humongous, Inc.. He will speak on the challenges of designing and implementing a complex interactive software project, and strategies for managing team development of such a project.
June 3: Electronic Chamber Music
UCI ELECTRO-ACOUSTIC ENSEMBLE
Thursday, June 3, 4:00pm
UCI Concert Hall, Free
A concert of new compositions and improvisations for electronically processed instruments, synthesizers, and interactive computer music, performed by the new UCI student ensemble for electronic music performance.
/P>
---
You can also read descriptions of
PAST EVENTS
of the
1997-98 GASSMANN ELECTRONIC MUSIC SERIES
---
For more information, phone (949) 824-7288.
Producer/Director: Christopher Dobrian
Technical Director: Benjamin Israel
---
This series is made possible by the Gassmann Electronic Music Studio and the UCI Music Department. The appearances by Sylvia Pengilly are funded in part by the Meet the Composer Fund. Meet the Composer, Inc. funding is provided with support from the City of New York Department of Cultural Affairs, the Greenwall Foundation, and the Jerome Foundation.
---
Christopher Dobrian
December 9, 1999
dobrian@uci.edu