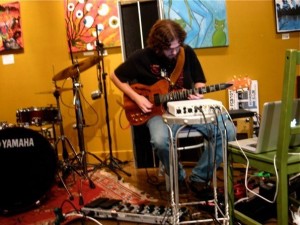 Jordan Watson is a composer, improviser, performer, and audio technician who explores the areas between popular, classical, and experimental music as a result of his musical background and influences, which include Frank Zappa, John Zorn, and a myriad of twentieth and twenty-first century composers. His approach is one of eclecticism and fusion, and often strives to blur the lines between composition and improvisation.
Originally from the Pacific Northwest, Jordan began playing violin in the fifth grade. By high school, he was composing, improvising, and playing guitar in an experimental, progressive rock, jazz, funk, fusion band, in addition to playing violin and upright bass in the school orchestra. In 2011, Jordan earned his Bachelors of Music degree in Composition from Western Washington University (WWU) in Bellingham, WA. At WWU, he studied composition and electroacoustic music with Dr. Roger Briggs, Dr. Bruce Hamilton, and Dr. Lesley Sommer. In addition to his compositional studies, he actively pursued many other facets of music, including three years of classical guitar studies under David Feingold and two years of audio engineering courses through Fairhaven College under the instruction of Jackson Long and Chris Vita.
Throughout his musical career, Jordan has had many unique opportunities and experiences. He received the first place award for the WWU Composition Competition in both 2010 and 2011. He worked closely with Dr. Bruce Hamilton to help coordinate, organize, run sound, and perform for the Bellingham Electronic Arts Festival in 2009 and 2011, MiniFest in 2010, the ElectroAcoustic InterExchange between the WWU and University of Montana electroacoustic departments in 2008 and 2009, and the performance of Dr. Hamilton's collective improv group, Mindmelds, at the Abstract Music in the Park (AMP) festival in 2011. Jordan has had the opportunity to play on the same bill as Vieux Farka Toure, Cuong Vu, Garaj Mahal, and Christopher DeLaurenti, run sound for Morton Subotnick, Lydia Kavina, and The Books, and participate in composition lessons with Samuel Adler and Wayne Horvitz. After earning his degree, he spent nearly two years as a live sound and recording intern at Swing House, Harmony, and Spitfire studios in Hollywood, CA where he worked under engineer and producer, Warren Huart. Two of his pieces, a solo electric guitar and processing piece, as well as a group improvisation piece, have been released on compilations under the netlabel, Spectropol Records.
www.jordanwatsonmusicandsound.com