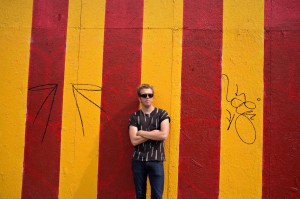 Jared was born in San Diego and has lived most of his life in Cardiff, California. He spent his high school years studying guitar with veteran San Diego jazz guitarist and teacher Bob Boss. During that time, Jared and his twin brother Jonathan started performing Jazz in local coffee houses around North County San Diego.
In March, 2011, Jared graduated from UCSD and received his BA degree in music. As a student at UCSD, he studied improvisation with bassist Mark Dresser, saxophonist David Borgo, and pianists Anthony Davis and Kamau Kennyatta and percussionist Steve Schick.
Aside from school, Jared and his brother have toured extensively around the world performing their own unique music under the name "The Mattson 2," with Jared on guitar, bass, and loop machine and Jonathan on drums. The Mattson 2 record for Galaxia Records and have released three albums. Their latest, "Feeling Hands," recently received the San Diego Music Foundation's award for best jazz album of the year.
As a guitarist Jared is interested in channeling his many musical influences, and original ideas and concepts involving guitar performance with loop pedal (real time sampling) to create improvised and composed music.