Faculty Series Concert: Michael Dessen Trio
Saturday November 22, 2014
Adventures In New Music
Composition, Improvisation, and Electronics
by The Michael Dessen Trio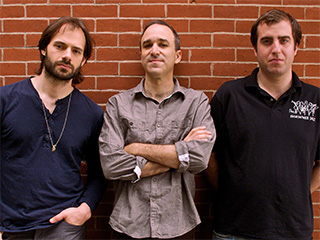 Michael Dessen Trio
Michael Dessen, trombone, electronics, and composition
Christopher Tordini, bass
Dan Weiss, drums
Winifred Smith Hall, UCI
8:00 pm, Admission $15
Seniors, UCI Faculty & Staff $14
UCI Students & Children, $5
Praised in DownBeat Magazine as "a musician for this moment," composer and trombonist Michael Dessen and his trio deliver a unique evening of adventurous improvisation, intricate compositions and live electronics.
Also…
Saturday, November 22, 2014
"Composing For Improvisers and Improvising With Composers"
A workshop/presentation by The Michael Dessen Trio
Winifred Smith Hall
4:00 pm, Free
Jazz musicians in the past century pioneered a stunning diversity of methods for collaborative, realtime music making that continue evolving today in many directions and communities. In this presentation, composer-trombonist and UCI professor Michael Dessen and renowned musicians Chris Tordini (bass) and Dan Weiss (drums) will demonstrate some of the ways they integrate improvisation with intricate pre-composed structures as well as with new forms of technology such as live audio processing and dynamic, screen-displayed "scorestreams." The workshop is open to the public, and both specialists and non-specialists will be welcome. The trio will also perform a concert of their original music at 8pm.
Click here for details.