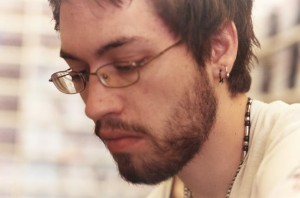 Daniel Andress Sanchez was born in El Paso, Texas (1987). He is a composer, improviser and pianist.
In 2006, he graduated Cum Laude from Etiwanda High School with recognition in the mathematics department for statistics and calculus, and in the fine arts department for piano, and received the BOA Achievement award in the field of Physical Sciences. He was recognized in 2005 and 2006 by SBSBOA for Outstanding Jazz Musicianship, and the Award of Merit for Outstanding Soloist. He enrolled at the University of California San Diego (UCSD) in 2007 as a physics major, and switched to music at the end of his freshman year.
During 2008, he toured with Latin Grammy nominated artist Luz Rios. As an arranger, he worked on the album Geunjin's Place for singer/songwriter Sam Kang, and collaborated on an extended piece for jazz chamber ensemble, electronics, and video with Sweedish composer Viktor Sjoberg's New Jazz Ensemble.
In 2009 he was awarded The Jazz Society of Lower Southern California Award for contribution to the University of California San Diego Jazz Department, and in 2010 he received The Cheatham Prize for jazz performance, theory, and composition. He has twice been awarded the acclaimed Stout Merit Scholarship for outstanding academic performance. John Muir College at UCSD has conferred upon him The Caldendonian Society of John Muir College for distinguished scholarly achievement, and Provosts's Honor, and he is a member of the prestigious Phi Beta Kappa National Honors Society. In 2011, he was awarded the President's Washington Scholarship for an internship at the Library of Congress, in the Division of Music. Before graduating, the music department at UCSD awarded him the Bertram Turetzky Award for exceptional musical participation and outreach by a performer.
Having studied from renowned faculty including Kamau Kenyatta, Anthony Davis, Mark Dresser, Lei Liang, Roger Reynolds, and Chinary Ung, he graduated with honors in both jazz studies and composition from UCSD's music department in the spring of 2011. Shortly thereafter, he was accepted into the M.F.A program for the new Integrated Composition Improvisation and Technology degree in music at the University of California Irvine (UCI).
As a band leader and collaborator, he has worked with numerous ensembles experimenting across genres all over southern California. Within San Diego, he has opened for musicians as diverse Charlie Hunter, Steve Smith, and OK GO. He has since collaborated with artists in dance, film, computer music, and pop from Los Angeles to San Diego. Currently, he resides in Orange County.
Website link is here.