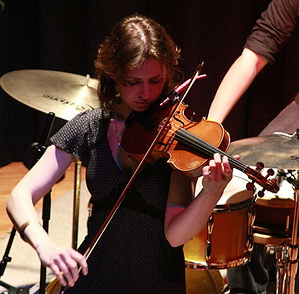 Anna Okunev is a Russian born and Australian raised violinist and composer. Anna holds a Bachelors Degree in classical violin performance from the Australian Institute of Music and in 2006, Anna received a scholarship to attend the Meadowmount School of Music in Westport New York, where she studied with Girardo Ribeiro and Patricia McCarty.
After changing focus to Jazz music and composition, Anna completed a Diploma in Jazz performance at the Sydney Conservatorium of Music. It was during this degree, Anna was invited to attend the International Workshop in Jazz and Creative Music in Banff, Canada, lead by Dave Douglas.
In 2012, Anna was awarded $10,000 by the Australia Arts Council as part of their ArtStart initiative, to help launch her career as an emerging artist. One of the funded projects included an album of Anna's original music. The grant also allowed Anna to work with Alexander Technique specialist and violin pedagogue, Janet Davies.
After moving to California in 2013, Anna was again awarded $10,000 by the Australia Arts Council to fund studies in improvisation, composition with Myra Melford and Gary Dial, classical violin with Movses Pogossian and mandolin with Chris Acquavella.
Aside from her studies, Anna has enjoyed a dynamic professional career, including music theater, session work, radio, film and television, solo recitals, orchestral and chamber performances. Some highlights include Alan Cummings debut album I bought a blue car today, 2008 Good Vibrations Tour with Kanye West and Sunday Live ABC radio broadcasts wight the Marianna Ensemble. Anna is completing her Masters at UC, Irvine as part of the Integrated Composition, Improvisation and Technology program.