New Expressions: Women in Music Technology
Claire Trevor School of the Arts
University of California, Irvine
On February 5-6 2016ICIT hosted a weekend celebrating the diverse work of contemporary female artists in the field of music technology. Events included concerts, talks, technology demonstrations, as well as keynote presentations by the innovative performer/technologist, Pamelia Stickney, and the leading scholar, Elizabeth Hinkle-Turner.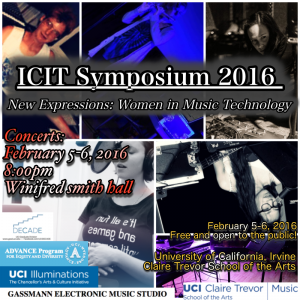 ---
All events were free and open to the public!
---
---
Special thanks to each of our generous sponsors!
DECADE – Diverse Educational Community and Doctoral Experience (DECADE Faculty Mentor Diversity Grant, professors Nina Scolnick and Christopher Dobrian, co-sponsors)
ADVANCE Program for Equity and Diversity (Spirit Grant, professor Kojiro Umezaki, sponsor) 

Claire Trevor School of the Arts (professor Stephen Barker, dean)

Gassmann Electronic Music Studio (professor Christopher Dobrian, director)

UCI Music Department (Rawlins Chair's Endowment, professor Michael Dessen, chair)

Illuminations 

(professor Julia Lupton, director)

OCMA – Orange County Museum of Art (audio installation exhibition, Cassandra Coblentz, host)

Scholarship funding donated by UCI Department of Music professors Nicole Mitchell, Nina Scolnick, and Christopher Dobrian
---
Integrated Composition, Improvisation, and Technology (ICIT) is an innovative MA/PhD program seeking to break down traditional limitations, focusing on contemporary modes of creative music making and the critical discourses surrounding them. ICIT is taught by faculty whose work embraces diverse forms of music making, challenging conventional distinctions between classical composition, computer music, improvisation, and jazz. The graduate students develop new creative work integrating a wide range of contemporary music and ideas.
In addition to the five core ICIT faculty, the roster of affiliated faculty includes many other performers, musicologists, theorists, and historians, making for a rich environment in which to develop critical skills that are essential for the 21st-century musician. The Claire Trevor School of the Arts is home to excellent graduate programs in Dance, Drama, Music, and Studio Art. UC Irvine is a quickly growing campus within one of the nation's leading research university systems. Located near the coast in Orange County, Irvine is an hour south of Los Angeles, a major art world center with vibrant contemporary music scenes.
Diversity is a core concern in the ICIT doctoral program at UCI. Whereas in most academic settings computer music and music technology are relegated to a separate program of study—one which is historically male-dominated, as are most STEM-related disciplines—ICIT was envisioned in hopes of becoming a force for change of this situation, aiming among other things to encourage women working in creative and technology-based specializations in music.
Women are generally underrepresented and underserved in graduate music technology programs. Although there are many pioneering female artists doing creative and innovative work with music technology, awareness and recognition of that work is frequently neglected in academic settings relative to the predominant attention paid to the work of males in the field. The symposium New Expressions: Women in Music Technology is one small step toward trying to change that state of affairs.