! -- This page was last modified on March 1, 2008 -- >
Gassmann Electronic Music Series
2007-2008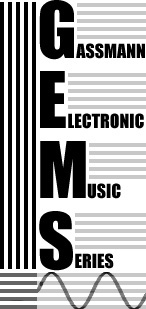 2007-2008


Events sponsored by the
Gassmann Electronic Music Studio
---
---
Laetitia Sonami and Sue Costabile
In the Making: Live Film and Electronics
I.C.You and The Appearance of Silence
Live Film and Electronics with Laetitia Sonami and Sue Costabile
Acclaimed electronic artist/musician/programmers Laetitia Sonami and Sue Costabile perform a concert of live interactive video processing and electronic music, including Sonami performing The Appearance of Silence with her innovative instrument the Lady's Glove, and the new collaborative work I.C.You for live-generated video and music.
Costabile and Sonami will also give lectures on their own work earlier the same day at the UCI Music Department.
Sonami, known for her work as a composer, performer, and sound artist, has performed in numerous festivals across the United States, Canada, Europe, and Japan, including the Ars Electronica Festival in Linz, the Bourges Music Festival in France, the Sonambiente Festival in Berlin, the Interlink festival in Japan, Bang-on-a Can, The Kitchen and Other Minds, S.F. Her unique instrument, the lady's glove, is made out of black lycra and is embedded with sensors which track the slightest motion of each finger, the hand and the arm. Her awards include the Alpert Award in the Arts (2002), Foundation for Contemporary Performance Arts Award (2000), the Civitella Ranieri Fellowship (2000), Studio Pass-Harvestworks residency (2001), and a Creative Work Fundaward (2000).
Sue Costabile has collaborated with musicians such as Morton Subotnick, Luc Ferrari, Laetitia Sonami, Antye Greie (AGF) and Joshua Kit Clayton at a variety of national and international venues including the San Francisco International Film Festival, REDCAT (Los Angeles), Ars Electronica (Linz), MUTEK (Montreal), SONAR (Barcelona), the MonkeyTown (NYC), and Activating the Medium (San Francisco). Her solo performances combine live imagery with a live soundtrack using her own voice, small sound effects devices and assorted electronic instruments. She currently teaches "Math & Media" at the California College of Arts (CCA) in Oakland.
---
Wednesday, October 24, 2007

12:00 noon, Music and Media 216

Sue Costabile: Lecture-Presentation
Video as Musical Instrument

Sue Costabile aka SUE.C is a visual and performing artist based in the San Francisco Bay Area. Her works challenge the norms of photography, video, and technology by blending them all into an organic and improvisational live performance setting. Employing a variety of digital tools to create an experimental animation "instrument," Costabile synthesizes cinema from photographs, drawings, watercolors, hand-made papers, fabrics and miniature interactive lighting effects. Dark, moody, textural, and physical, her live films inherit equally from the kinetic languages of Stan Brakhage's abstract cinema and Nicolas Schöffer's lumodynamic sculptures.
---
Wednesday, October 24, 2007
5:00 p.m., Winifred Smith Hall
Laetitia Sonami: Lecture-Presentation
Live Computer Music Performance
Since 1991 Laetitia Sonami has developed and adapted new gestural controllers to musical performance and composed works for live performance, most notably with her unique instrument The Lady's Glove. Sonami's performances combine hardware, software, sound, voice, and gesture in remarkably compelling music compositions.
---
Benjamin Israel
Making Waves: Research and Development in the Commercial Music Industry
MUSIC TECHNOLOGY LECTURE - Making Waves: R&D in the Commercial Music Industry
Benjamin Israel (UCI MFA alumnus in Composition and Technology) will discuss his work as Research and Development Supervisor for Content R&D at Yamaha Corporation of America, and will present his view of the new ideas and challenges in the music technology / professional audio industry today.
---
---
Wednesday, January 30, 2008
The Gassmann Series concert originally scheduled for this date has been postponed in order to accommodate a special event of the UCI Chamber Series:
The UCI Chamber Chamber Series presents
Rio Trio
Peter Marsh, violin; Armen Ksajikian, cello; Gerald Robbins, piano
8:00 pm, Wednesday, January 30
Winifred Smith Hall, UCI
Admission is Free
Trio in A minor, op. 50 (1881), P.I. Tchaikovsky (1840-1898)
I Pezzo Elegiaco - Moderato assai - Allegro giusto
II Tema con Variazioni:
(A) Andante con moto
(B) Variazione Finale e coda
Trio in D major, op. 70, no, 1 (1808), L. V. Beethoven (1770-1827)
Allegro vivace con brio
Largo assai e espressivo
Presto - Finale
Trio in C minor, op. 101 (1886), J. Brahms (1833-1897)
Allegro energico
Presto non assai
Andante grazioso
Finale: Allegro molto
The Rio Trio will also give a master class in Winifred Smith Hall the same day at 1:00 pm.
---
---
Michael Straus: What Are You Looking At?
A Multimedia Saxophone Performance Event
Wednesday, April 30, 2008 - 8:00 pm
Winifred Smith Hall, UCI
Admission is Free
What are you looking at? is the fusion of saxophone, film and electronic media in an evening-length multimedia event. This interdisciplinary performance project has teamed together a collective of forward-thinking composers and visual artists from the United States and abroad.
Saxophonist Michael Straus (b. 1983, New Orleans) has dedicated his abilities to the performance of new music, leading to engagements at venues ranging from Washington D.C.'s Kennedy Center and New York City's The Stone to Italy's Festival Internazionale del Sassofono. His strong commitment to today's music, coupled with his close work alongside composers, has resulted in over twenty new compositions by emerging and established composers such as Halim El-Dabh, Matthew Burtner, Peter V. Swendsen, Per Bloland, Vitor Rua, and Liduino Pitombeira, among others.
---
This page was last modified on March 1, 2008.
Christopher Dobrian
dobrian@uci.edu