! -- This page was last modified on April 3, 2010 -- >
GASSMANN ELECTRONIC MUSIC SERIES

2009 - 2010
---
---
---

Wednesday November 4, 2009
Steve Lehman
Saxophone and electronics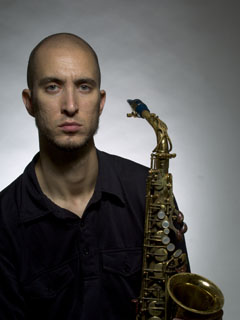 Music and Media Building, Room 218
8:00 pm, Free
Steve Lehman will present cutting-edge music for solo saxophone and live electronics. Incorporating detailed programming and real-time processing, Lehman creates computer-driven environments for improvisation that the New York Times describes as "an extensive language."
Named a Rising Star on the alto saxophone in 2006, 2007, and 2008 by the Downbeat Magazine International Critics Poll, Steve Lehman is a saxophonist and composer whose work resides on the frontiers of contemporary music. He has been recognized as one of today's truly original creative voices by The Wire, The New York Times, and Downbeat Magazine, as well as by National Public Radio and the BBC.
An award-winning composer, Lehman's pieces for large orchestra and chamber ensembles have been performed by the Janacek Philharmonic, The International Contemporary Ensemble (ICE), So Percussion, members of the Argento and Wet Ink Ensembles, and by the pianist Marilyn Nonken. His electro-acoustic music, recently showcased in Boston, Chicago, Baltimore, Washington D.C. and New York, has focused on the development of computer-driven models for improvisation, based in the Max/MSP programming environment.
Also...
Interactive Computer Environments for Improvisation
A lecture presentation by Steve Lehman
Music and Media Building, Room 218
4:30 pm, Free
Steve Lehman will present a discussion of his work with computer-driven environments for improvisation, based in the Max/MSP programming environment.
---

Wednesday November 18, 2009
Gloria Cheng
New music for piano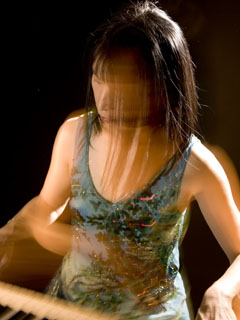 Winifred Smith Hall
8:00 pm, Free
Pianist Gloria Cheng, 2009 Grammy winner, performs new (and brand-new) works for piano and electro-acoustic acoompaniment. Included are Luigi Nono's classic ...sofferte onde serene..., Requiescat for Fender Rhodes by William Kraft, works by Kaija Saariaho, and the world premiere performances of two new compositions by the esteemed composer/flutist James Newton.
Pianist Gloria Cheng, recent winner of the 2009 Grammy Award for Best Instrumental Soloist Performance (without Orchestra), is widely recognized as a colorful and communicative interpreter of contemporary music. She has garnered universal acclaim for her unassuming virtuosity and eloquence, and has premiered dozens of new compositions.
Cheng's solo discography includes her highly praised debut CD of music by Olivier Messiaen on Koch, and two critically acclaimed Telarc releases: Piano Music of John Adams and Terry Riley and Piano Dance: A 20th-Century Portrait. Cheng's newest Telarc disc, Piano Music of Esa-Pekka Salonen, Steven Stucky, and Witold Lutoslawski, received the Grammy Award.
Prior to post-graduate studies in Paris and Barcelona, Cheng earned her B.A. in Economics from Stanford University, and graduate degrees in Music from the University of California, Los Angeles (UCLA) and the University of Southern California. Her primary teachers were Isabelle Sant'Ambrogio, Aube Tzerko, and John Perry. She is on the faculty at UCLA.
Also...
Interpretation of Contemporary Piano Music
A lecture presentation by Gloria Cheng
Winifred Smith Hall
5:00 pm, Free
Gloria Cheng will present a performer's perspective of the music she will be playing in the evening concert, the technical and musical challenges of the particular repertoire, and her interpretive approach to the music.
---

Sunday December 13, 2009
Latent Potentials:
Improvising Community
Digital Art and Culture Concert of Telematic New Music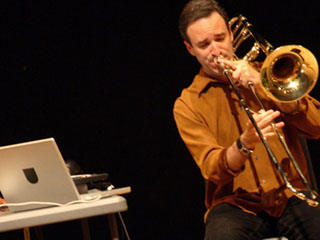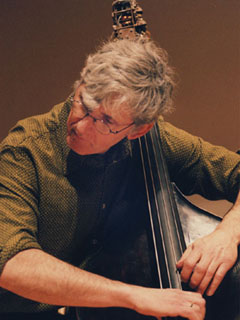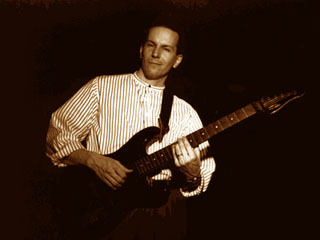 Winifred Smith Hall
8:00 pm, Free

A joint presentation of the conference on
Digital Art and Culture
the
Gassmann Electronic Music Studio
and the
Intel/UCI People and Practices Research initiative.
UC music professors Michael Dessen, Mark Dresser, and Christopher Dobrian collaborate with other UC faculty artists to explore the cultural and aesthetic ramifications of long-distance networked musical performance, through a concert of original chamber music works specifically composed for the medium of computer-mediated networked audio, video, and live instrumental performance.
This concert premieres new works that explore the artistic potentials of networking technologies, with performers in San Diego and Irvine, CA linked through low-latency, CD-quality audio and high definition video. Each work on this evening's program takes a different approach to the telematic stage and the questions it raises: aesthetic, philosophical and technical. The concert will feature compositions by Christopher Dobrian, Michael Dessen (trombone), and Shahrokh Yadegari (Lila), in collaboration with media artist John Crawford, bassist Mark Dresser, trumpeter Edwin Harkins, and other special guests.
This concert is a presentation of the 2009 conference on Digital Art and Culture, in collaboration with the Gassmann Electronic Music Studio. The networked music research of Dessen, Dobrian, and Dresser is funded in part by a grant from the Intel/UCI People and Practices Research initiative.
---
---

Wednesday February 17, 2010
The Mauger Trio:
Rudresh Mahanthappa, Mark Dresser, Gerry Hemingway
Saxophone, bass, percussion, and electronics




Winifred Smith Hall
8:00 pm, Free
Members of the much remembered classic quartet of Anthony Braxton and bandleaders in their own right, Mark Dresser and Gerry Hemingway are among the first names one considers as the best improvisers on their respective instruments, the double bass and the drum kit. Extraordinarily gifted musicians, innovators of defining and expanding the meaning of contemporary jazz, and being of wholly creative minds, these two veterans of creative music join forces with the younger but equally notable saxophonist Rudresh Mahanthappa, whose versatility and virtuosity combined with the depths of his multi-cultural roots justify his fame as a "rising star".
Also:
The Mauger Trio
On Improvisation

Winfred Smith Hall
5:00 pm, Free
The Mauger Trio will discuss their approach to improvisation and their individual experiences improvising in a wide range of ensembles, often including musicians from diverse musical genres and cultures.
---

Wednesday February 24, 2010
Music of No Memory
Jean-Charles François
Compositions and improvisations for voice and percussion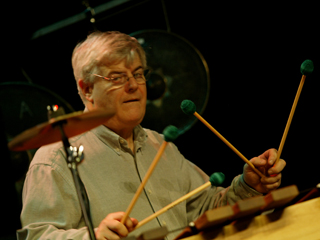 Music and Media Building, Room 218
8:00 pm, Free
In a unique form of "lecture-performance" (as influenced by the famous lectures of John Cage and Stefan Wolpe), three different pieces for voice and percussion are intermingled and superimposed, based on a reflection on the ephemeral quality of sounds, and on the inertia of musical instruments which carry a physical memory difficult to change. Percussive sounds produced throughout the performance may or may not illustrate the content of the lecture.
Also...
Improvisation:
A lecture/performance/workshop by Jean-Charles François
Music and Media Building, Room 218
Thursday February 25, 2010
2:00 pm, Free
The residency of Jean-Charles François is made possible by the UCI Music Department.
---
---

Wednesday April 21, 2010
The California E.A.R. Unit: Metal Machine Music
by Lou Reed, arranged for chamber ensemble by Ulrich Krieger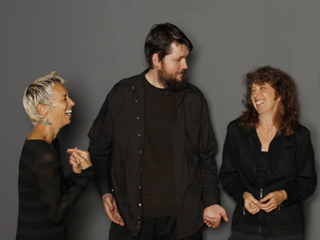 Winifred Smith Hall
8:00 pm, Free
Metal Machine Music is a one hour long feedback sonic mayhem by Lou Reed. Originally it was done with guitars, amps, pedals and studio tape manipulation, and the original LP said, "an electronic music composition". In the arrangement by Ulrich Krieger for the E.A.R. Unit, the piece reveals its orchestral scope. Metal Machine Music combines the complexity of orchestral new music with the flexibility of free jazz and the aggression and sound of rock. The piece is the forefather of industrial noise music.
The California E.A.R. Unit was founded in 1981. In its twenty-eight year history the ensemble has presented concerts of electroacoustic and live interactive computer music, music theater, dance, and local and world premieres of over 500 chamber works. The ensemble has earned critical acclaim, garnering awards for its contributions to the field of contemporary American music such as the L.A. Weekly's Best Classical Ensemble 1999 and 2003, as well receiving the prestigious Letter of Distinction from the American Music Center in 1999. The Unit has performed in many main venues such as the Kennedy Center in Washington D.C, and Queen Elizabeth Hall in London. They have toured throughout the world to Brussels, Aspen, Kiev, Paris, Cologne, Tanglewood, New York, Boston, Minneapolis, San Francisco, Santa Fe, Amsterdam, Reykjavik, as well as to other domestic and international hot spots for new music. The ensemble has been featured in documentaries for the BBC and Japanese television, American and National Public Radio, the Canadian Broadcasting Corporation, Danish National Radio, and WGBH's "Art of the States".
This performance is funded in part by grants from The Aaron Copland Fund for Music, The James Irvine Foundation, LA County Arts Commission, the National Endowment for the Arts, BMI Foundation, Ann and Gordon Getty Foundation, and the Amphion Foundation, and support for the California E.A.R. Unit has been provided by Chora, a project of the Metabolic Studio, a direct charitable activity of the Annenberg Foundation under the direction of Artist and Foundation Director Lauren Bon. Chora aims to support the intangibles that precede creativity.
---

Thursday May 13, 2010
ICIT Student Concert
New music works by students of the UCI Music Department's innovative MFA program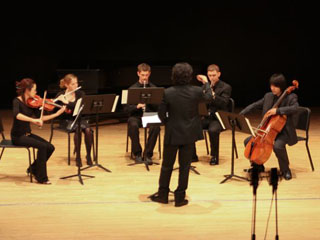 Winifred Smith Hall
8:00 pm, Free
The second annual concert presenting original new works by first-year MFA students in Integrated Composition, Improvisation, and Technology (ICIT) in the UCI Music Department.
---
This page was last modified on April 3, 2010.
Christopher Dobrian
dobrian@uci.edu