The GASSMANN ELECTRONIC MUSIC SERIES Presents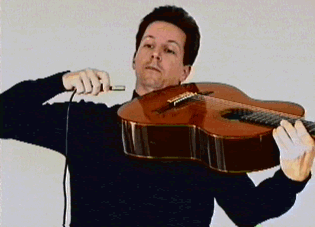 HUMAN & COMPUTER MUSIC
A Concert of Instrumental and Computer-Generated Compositions
Wednesday, April 29, 1998
8:00 PM, UCI Concert Hall
Admission FREE
Featuring instrumental works performed by UCI faculty and students, computer-composed works for Yamaha Disklavier computer-controlled piano, works for guitar and computer-mediated synthesizers, and the World Premiere of There's Just One Thing You Need to Know for computer piano, synthesizer, and interactive computer system performed by Daniel Koppelman.
---
This event is funded by the Gassmann Electronic Music Studio, and the UCI Music Department, with video assistance courtesy of the UCI Studio Art Department. The Yamaha Disklavier computer-controlled piano is generously provided by the Yamaha Corporation of America and Field's Organ & Piano Center of Santa Ana.

---
The UCI Concert Hall is wheelchair accessible. For more information, call (714) 824-7288.
This page was last modified on March 23, 1998.