The GASSMANN ELECTRONIC MUSIC SERIES Presents
PIANO PLUS
A Concert of Piano and Electronics by
DANIEL KOPPELMAN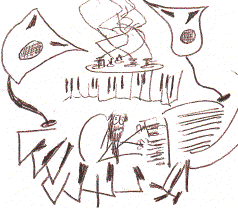 Monday, April 27, 1998
8:00 PM, UCI Concert Hall
Admission FREE
Featuring the West Coast Premiere of new works for computer piano and interactive computer systems by William Kleinsasser and Daniel Koppelman, and the World Premiere of There's Just One Thing You Need to Know for computer piano, synthesizer, and interactive computer system by Christopher Dobrian.
The concert will be complemented by a lecture/demonstration by Dr. Koppelman on "Modernizing Curriculum for Piano", presented at 3:30 pm in the UCI Concert Hall. Admission is free.
---
This event is funded by the Gassmann Electronic Music Studio, and the UCI Music Department. The Yamaha Disklavier computer-controlled piano is generously provided by the Yamaha Corporation of America and Field's Organ & Piano Center of Santa Ana.

---
The UCI Concert Hall is wheelchair accessible. For more information, call (714) 824-7288.
This page was last modified on March 17, 1998.