CLASSIC INSTRUMENTS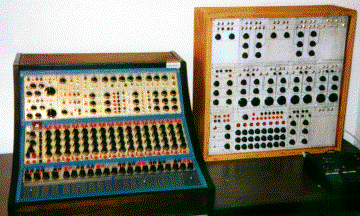 Instruments by Donald Buchla
The Gassmann Studio possesses three classic synthesizers from the early 1970s. These instruments have been beautifully restored by expert craftsman Kevin Lightner.
The three synthesizers are a Buchla 100, a Buchla 200, and a modular Moog system (with feline module retrofit). These synthesizers have audio connections to the rest of the Gassmann Studio, and have MIDI-CV conversion available which allows them to be controlled by MIDI controllers and computers elsewhere in the studio.
For traditional analog tape techniques, the "classic" section of the studio also includes an Otari MX5050 stereo reel-to-reel 1/4" tape deck.