---
Computer music activity at UCI emphasizes composition and performance of experimental music, especially works involving computer-aided algorithmic composition and the use of electronics in live performance.
---
---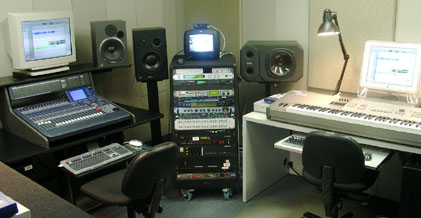 Gassmann Electronic Music Studio
The original locus of computer music activity at UCI is the Gassmann Electronic Music Studio, a state-of-the-art Macintosh-based studio for digital audio recording, editing, and synthesis. The studio provides 16-channel digital recording and CD writing capability and a battery of synthesizers and processors.
The Realtime Experimental Audio Laboratory (REALab) is a research laboratory in the UCI Music and Media Building for research and creative work in the use of computers in live musical performance, including realtime audio processing, sound spatialization, networked performance, interactivity, and alternative computer-mediated instruments.
The Arts Media Center is another center of computer music work. It provides several workstations devoted to computer music, equipped with synthesizers and professional-quality hardware for audio input and output, and a complete array of software for notation, audio editing, MIDI sequencing, and computer music programming.
The Gassmann Studio was made possible by a bequest from the composer Remi Gassmann and by funds provided by the UCI School of the Arts. The Gassmann bequest creates an endowment which supports maintenance and upgrade of the studio, and is the primary funding source for the Gassmann Electronic Music Series.
Additional facilities elsewhere in UCI's Claire Trevor School of the Arts include digital video editing labs, a multi-workstation lab for digital imaging and multimedia, the ArtsLab for general arts-related computing, and two 20-station teaching labs for the digital arts.
---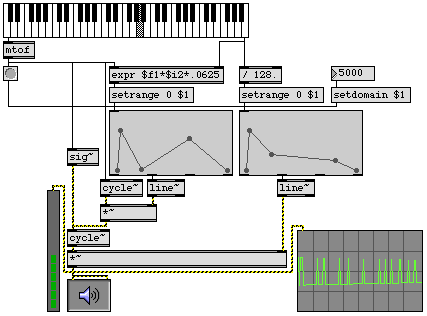 Frequency modulation synthesis in Max with MSP
Computer music courses are required only for the B.Mus. and M.F.A. degree programs in Composition, but they are available to all students. The computer music curriculum consists of a sequence of courses offered every year:
Music 51: Music Technology and Computers
A study of the influence of technology upon the musical culture and aesthetics of America in the 20th century, with particular emphasis on the role of the computer. Work will include lectures, readings, listenings, discussions, demonstrations, writing, and experimentation. Prerequisite: consent of instructor; enrollment limited to 25 students.
Music 151: Computer Music Composition
Composition using personal computers for digital signal processing and for control of synthesizers. Concentration on the theoretical bases of DSP and MIDI, practical computer applications of those ideas, and investigation of computer-aided composition. Work will include lectures, demonstrations, readings, listenings, compositional exercises, and original composition. Prerequisite: Music 51 (Music Technology and Computers) or consent of instructor; enrollment limited to 20 students.
Music 152: Interactive Arts Programming
Study of artistic issues and programming techniques involved in the development of interactive computer art and music. Theoretical background, basic tenets of programming, and practical exercises in programming interactive computer multimedia art. Examples and exercises will use the high-level programming language Max/MSP/Jitter. Prior programming experience is helpful but not required. Prerequisite: Music 151 (Computer Music Composition) or Dance 181A (Dance and Digital Technology) or Studio Art 106 (Intermediate Digital Imaging) or consent of instructor. Enrollment limited to 16.
Studies in digital signal processing, advanced computer music composition, computer music programming, and experimental research are offered as Music 147: Studies in Music Technology, or as independent tutorials.
---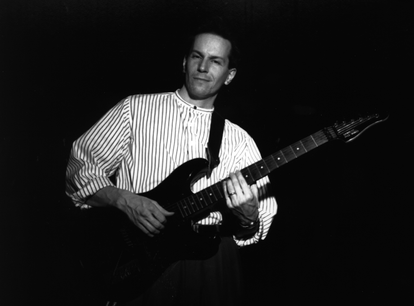 Gassmann Studio Director Christopher Dobrian playing a computer-mediated MIDI guitar
Computer music courses are taught by Professor Christopher Dobrian, director of the Gassmann Studio. Before coming to UCI, Dobrian was acting director of the iEAR Studios and the graduate MFA program in Electronic Arts at the Rensselaer Polytechnic Institute in Troy, NY, and executive producer of its Electronic Arts Performance Series. He is vice president of the Electronic Music Foundation, a non-profit organization for the preservation and distribution of electronic music, and is the author of the technical documentation and tutorials for the Max programming environment and the MSP digital audio software by Cycling 74. He holds a Ph.D. from the University of California, San Diego, where he studied composition with Joji Yuasa, Robert Erickson, Morton Feldman, and Bernard Rands, and computer music with F. Richard Moore and George Lewis. His own work in computer music focuses on the development of "artificially intelligent" systems for composition, improvisation, and cognition.
"I encourage students to use the computer to explore musical ideas that are experimental, new, and unique to them. We do teach the 'basics' of digital audio, MIDI, and the theory of computer music, but students are quickly urged to go beyond what is offered to them by commercial software, to develop and realize their own ideas of what computers can do for them and their music, and to do something extraordinary. What's the point of doing something 'ordinary'?"
Associate Professor Alan Terricciano, resident composer in the UCI Dance Department, has composed many award-winning computer music dance scores, and is a valuable mentor to Music students working in this medium, particularly students who wish to pursue collaboration with other departments. The Claire Trevor School of the Arts presents wonderful opportunities for interdisciplinary study and collaboration between the departments of Music, Drama, Dance, and Studio Art, as well as with the departments of Cognitive Science and of Information and Computer Science.
---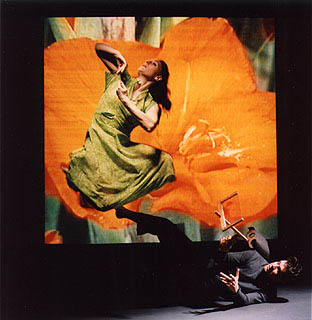 Choreographer Dawn Stoppiello and programmer Mark Coniglio
were featured guest artists of the 2002-03 season
The Gassmann Electronic Music Series at UCI presents a complete season of concerts and lecture/demonstations by innovative musicians and scholars focusing on Music and Computers.
The 2007-2008 season begins with a performance of interactive computer music and live-generated video by Laetitia Sonami and Sue Costabile, and a lecture on research and development in the commercial music industry by Benjamin Israel.
The 2006-2007 season featured performances of major computer music works of Philippe Manoury by soprano Julianna Snapper and flutist Elizabeth McNutt, improvised acoustic and computer music by Michael Dessen and Adam Rudolph, original compositions of live synthesizer music by UCI students, and works for piano and computer by Christopher Dobrian and Kei Akagi.
The 2005-2006 season included concerts of live music for instrument and computer by clarinetist E. Michael Richards and pianist Robert Gluck.
The 2004-2005 season included a lecture by Eric Singer, a lecture/performance by John Jannone, and a workshop on the Jitter programming environment for realtime visualization by Joshua Kit Clayton.
The 2003-2004 season featured a concert of works for clarinet and computer electronics by Gareth Davis.
The 2002-2003 season included intensive workshops and performances with two brand new programming environments for interactive realtime music and video performance: Isadora and Jitter. Composer/pianist Mike Garson conducted workshops for composers and improvisers and performed a concert of original compositions.
The 2001-2002 season featured performances and presentations by pianist Kei Akagi, flutist Cécile Daroux, clarinetist Louis Sclavis, composer Nicolas Vérin, guitarist Fred Frith, computer music programmer Ichiro Fujinaga, composer Pablo DiLiscia, flutist Jane Rigler, trumpeter Graham Ashton, cellist Hugh Livingston, composer/performer Laetitia Sonami, composer/performer George Lewis, composer Thomas Dolby, and others.
The 2000-2001 season of the Gassmann Electronic Music Series included visits by 3D recording specialist Franz Pusch of Virtual Reality Sound Corporation, composer David Was of the R&B group Was Not Was, composer/trombonist Vinko Globokar, composer/saxophonist Michael Zbyszynski, percussionist Don Williams, flutist/composer Robert Dick, flutist Beate Gabriela-Schmitt, and others.
The 1999-2000 season featured appearances by Mark Trayle, Nicolas Vérin, Cécile Daroux, Neil Rolnick, Amy Knoles, Douglas-Scott Goheen, and Christopher Dobrian.
The 1998-99 season featured concerts and workshops by musicians Pedro Eustache, Mari Kimura, Sylvia Pengilly, and Pamela Z, lecture/demonstrations by analog synthesizer wizard Kevin Lightner, and several other events.
The 1997-98 season featured some two dozen events, including appearances by David Cope, Mark Dresser, Daniel Koppelman, Joan La Barbara, George Lewis, Laetitia Sonami, Morton Subotnick, Robert Winter, David Zicarelli, and others.
If you would like to be included on the GEMSeries mailing list, please send your (electronic or physical) mail address by email to dobrian@uci.edu.
---

The Music Department offers teaching assistantships and research assistantships for students wishing to pursue innovative M.F.A. studies involving computers and electronic technology. In order to qualify for graduate research funding in technology, the graduate application should include a resumé of experience in music technology and an example of research or creative work (written paper, recording, software, etc.) that demonstrates interest in musical applications of technology.
---

The Music Department at UCI offers the opportunity for study of the latest technology used in experimental composition, performance, and research. Prospective students should apply for entry in one of the performance or composition degree emphases.
If you have questions about computer music study at UCI, please contact:
Christopher Dobrian
Director, Gassmann Electronic Music Studio
303 Music and Media Building
University of California
Irvine, CA 92697-2775

Phone: (949) 824-7288
Fax: (949) 824-4914
Email: dobrian@uci.edu
---

---
This page is maintained by: Christopher Dobrian
Email: dobrian@uci.edu
Last modified on: October 11, 2007