! August 20, 1999 >
Presented by the Gassmann Electronic Music Studio, UCI School of the Arts
Gassmann Electronic Music Series
1999-2000
---
The 1999-2000 season features appearances by
Mark Trayle, Nicolas Vérin, Cécile Daroux, Neil Rolnick,
Amy Knoles, Douglas-Scott Goheen, and Christopher Dobrian.
---
"From the Archaic to the Arcane"
Wednesday, October 20, UCI Concert Hall, Free
Lecture-demonstration 1:30pm, Concert 8:00pm
Mark Trayle performs original sonic works on a variety of user interfaces of his own design ranging from credit card scanner to gramophone to musical saw to tin can, all wired to electronic and computer soundmaking devices.
In an afternoon lecture/demonstration he will discuss the hardware and software used to make the pieces, and will provide background on the ideas behind them.
---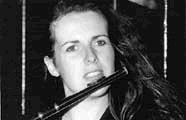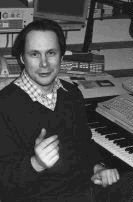 Wednesday, November 10, UCI Concert Hall, Free
Master class 1:30pm, Concert 8:00pm
French musicians Cécile Daroux (flute) and Nicolas Vérin (composer) present a concert of contemporary music for flute and electronics by Vérin and others, including premieres of two new works by UCI faculty composers Yung Wha Son and Christopher Dobrian, and a special guest appearance by flutist Pedro Eustache.
Cécile Daroux, virtuosic flutist and specialist in contemporary music, leads an afternoon master class in contemporary techniques and performance practices.
---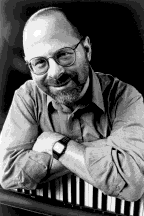 "Requiem Songs - for the victims of nationalism"
Wednesday, February 9, UCI Concert Hall, Free
Chamber music workshop 1:30pm, Concert 8:00pm
New York composer Neil Rolnick leads an ensemble of UCI student musicians in a concert of his original chamber works, including "Screen Scenes" for computer-directed ensemble, and the emotional "Requiem Songs - for the victims of nationalism" composed in response to the ethnic cleansing in eastern Europe.
In an afternoon workshop with chamber music students, Rolnick will discuss the role of improvisation and electronics in his music, demonstrating with excerpts from the evening concert.
---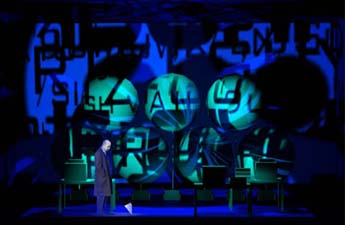 Wednesday, April 12, UCI Concert Hall, Free
Lecture-demonstration 1:30pm, Performance 8:00pm
A new computerized musical-theatrical "digital opera" by UCI professors Douglas-Scott Goheen and Christopher Dobrian in collaboration with other faculty and students; a multi-media performance in which music, lights, video, and environmental elements are all under the realtime control of computers, engagingly and intelligently interacting with the live performers.
In an afternoon presentation, the collaborators discuss the challenges of interdisciplinary collaboration, integration of diverse computer-controlled media, and process-oriented composition for computerized performance.
---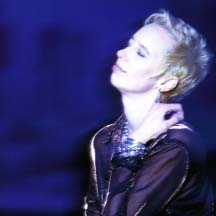 "Men in the Cities"
Wednesday, May 31, UCI Concert Hall, Free
Workshop 1:30pm, Concert 8:00pm
Amy Knoles, percussionist, performs interactive computer music "the old fashioned way - with interpretive passion supported by controlled technique..."[L.A. Times] using an array of samplers, synthesizers, acoustic percussion instruments, electronic drums, and MIDI mallet instrument. She has worked with such composers as John Cage, Quincy Jones, Steve Reich, Morton Subotnick, and Frank Zappa.
In the afternoon she will demonstrate the technology she uses and will discuss the interpretive challenges and rewards of performing with computers.
---
You can also read descriptions of
PAST EVENTS
of the
1998-99 GASSMANN ELECTRONIC MUSIC SERIES
and the
1997-98 GASSMANN ELECTRONIC MUSIC SERIES
---
For more information, phone (949) 824-7288.
Producer/Director: Christopher Dobrian
---
This series is made possible by the Gassmann Electronic Music Studio and the UCI Music Department. The appearance by Neil Rolnick is funded in part by the Meet the Composer Fund. Funding from Meet the Composer, Inc. is provided with the support of NY State Council on the Arts, ASCAP, Virgil Thomson Foundation, The Eleanor Naylor Dana Charitable Trust, and National Endowment for the Arts. The Yamaha Disklavier used in Microepiphanies is provided with the support of the Yamaha Corporation of America.
---
Christopher Dobrian
August 20, 1999
dobrian@uci.edu