! -- This page was last modified on March 31, 2007 -- >
Gassmann Electronic Music Series
2006-2007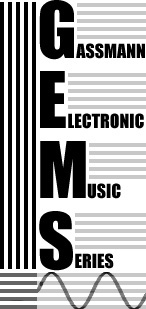 2006-2007
---
---
---
Computer Music of Philippe Manoury
Lecture/concert of computer music works by composer Philippe Manoury
Computer Music of Philippe Manuoury
A lecture/concert by composer Philippe Manoury
with computer music expert Miller Puckette
and live performances of Manoury's compositions
En écho performed by Julianna Snapper, voice, and
Jupiter performed by Elizabeth McNutt, flute
French composer Philippe Manoury will present two of his best known works for solo instrument with live computer processing, Jupiter and En écho. He will be joined by computer music expert Miller Puckette who collaborated with Manoury in the technical realization of these works. Manoury and Puckette will discuss musical and technical aspects of the compositions, and their discussion will be followed by performances of the two pieces by flutist Elizabeth McNutt and soprano Julianna Snapper.
Jupiter, which is dedicated to Laurence Beauregard, was the first piece to use score following to synchronize live electronics with a live instrument. In its original form (1987), it used the Beauregard flute and IRCAM's 4X machine; its hardware configuration has since been updated. In this piece the timbres, pitches and rhythms of the flute reappear, sometimes greatly transformed, in the electronics, giving the flutist control, through the flute, over the electronic part as well as her own. Twelve years after Jupiter's creation, there still remains a rich, unexplored world of possibility in this idea.
En écho is a cycle of settings, for soprano and live electronics, of seven short poems by Emmanuel Hocquart, which were written specifically for this piece in close collaboration with Manoury. The poems and their settings share a central concern but present seven highly individual excursions, both textually and musically. This diversity is balanced by a rich network of cross-references, both on the surface and underneath. The sonic world of the piece reflects Manoury's longtime interest in using live electronics more as an extension of the live instrument than as a mere accompaniment. En écho marks the culmination of Manoury's eight-year period of research at IRCAM in collaboration with Puckette, during which they worked out techniques for synchronizing electronic music with live performers, and moreover for using the sonic quality of the instrument (in this case Snapper's voice) to control selected aspects of the overall sonority of the electronic part.
Philippe Manoury studied piano with Pierre Sancan, musical analysis with Claude Ballif, composition with Gérard Condé and Max Deutsch, and computer music with Pierre Barbaud. He earned First Prizes at the Conservatoire de Paris both in analysis (1977) and composition (1978.) From 1981 to 2004 he worked at IRCAM, realizing a cycle of interactive pieces entitled Sonus ex Machina (including Jupiter, Pluton, Neptune, and La Partition du Ciel et de l'Enfer), En écho for soprano and computer, and two operas: 60ème Parallèle (at the Théatre du Châtelet) and K... (Opéra de la Bastille), among numerous other works. In 2004 Manoury joined the Music Department at the University of California, San Diego.
Miller Puckette was the top scorer in the 1979-1980 William Lowell Putnam mathematics competition and was awarded Putnam and NSF fellowships to study mathematics at MIT and Harvard, where he finished his Ph.D. in 1986 under Andrew Gleason. From 1979 through 1986 Puckette also studied with Barry Vercoe at the MIT Media Lab, concentrating on real-time techniques for live music performance. He then joined IRCAM in Paris and wrote the Max graphic programming language which has become the lingua franca of computer music. In 1994 Puckette joined UCSD where he is now professor of music and associate director of the Center for Research in Computing and the Arts.
Soprano Juliana Snapper works in new and post-war dramatic and intermedia music, performing with opera and new music ensembles, and in collaboration with theater and visual artists. A native of the San Francisco Bay Area, she won the Blanche Thebom/Metropolitan Opera Council Award at 17 and went on to earn degrees in performance and critical studies in music from the Oberlin Conservatory and UC San Diego. Juliana has written for the Journal of Open Space, Encyclopedia, and the European Journal of Cultural Studies on subjects like femme dyke phonography and scratch turntablism.
Elizabeth McNutt is a flute virtuoso and computer music experimentalist. Passionately devoted to contemporary music, she has premiered countless works and inspired many composers to compose for the flute. Her doctorate is from UC San Diego; her teachers include Harvey Sollberger, John Fonville, and Jacob Berg (flute), and Miller Puckette (computer music). McNutt recently joined the faculty of the University of North Texas. She actively collaborates with other composers in creating new works and performs as soloist.
---
---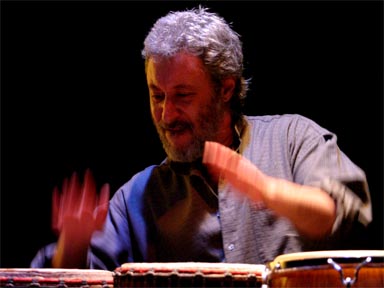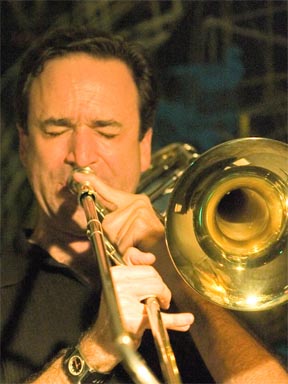 Adam Rudolph and Michael Dessen
Adam Rudolph (percussion) and Michael Dessen (trombone/electronics) in Concert
FREE
Adam Rudolph and Michael Dessen in Concert
Join us for an evening of uniquely 21st-century sonic exploration with Adam Rudolph (percussion) and Michael Dessen (trombone/electronics). Described as "a pioneer in world music" by the New York Times and a "master percussionist" by Musician Magazine, Rudolph has absorbed numerous musical influences and collaborated with artists across the globe, while always developing his own unique, syncretic approach. This event is the second of two concerts debuting a new collaboration between Rudolph and Michael Dessen (trombone/electronics), presenting compositions and improvisations that span a wide range of rhythms and electro-acoustic soundscapes. Although this is their first duo appearance, the two artists share a common connection to Yusef Lateef, a longtime collaborator of Rudolph's and a mentor to both musicians.
About Adam Rudolph:
Originally from Chicago, composer and handrummer/percussionist Adam Rudolph has, for the past three decades, appeared at festivals and concerts throughout North & South America, Europe, Africa, and Japan. In 1988 Rudolph began his association with the legendary Yusef Lateef, which lasts to this day and includes 14 albums as well as their large ensemble collaborations: "The World at Peace" (1995), "Beyond the Sky" (2000) and 2003's "In The Garden" with Rudolph conducting his Go: Organic Orchestra. He has performed worldwide with Dr. Lateef in ensembles ranging from their acclaimed duo concerts to appearing as guest soloist with Koln, Atlanta and Detroit symphony orchestras.
Since the 1970's Rudolph has been developing his unique syncretic approach to hand drums in creative collaborations with many masters of cross-cultural and improvised music such as Sam Rivers, Pharaoh Sanders, L. Shankar, and Fred Anderson. He is known especially for his innovative small group and duo collaborations with Don Cherry, Jon Hassel, Wadada Leo Smith, and Omar Sosa. Since1992 Rudolph has lead his own performing ensemble, Adam Rudolph's Moving Pictures, featuring drummer Hamid Drake, Ralph Jones, and Venice-based Butoh dance innovator Oguri. The group has performed in both Europe and the United States, and has released several CD's featuring Rudolph's compositions. In 1995 he premiered The Dreamer, an Opera based on Friedreich Nietzsche's "Birth of Tragedy".
In 1990 he was commissioned by the LA Festival to create and lead Vashti Percussion Ensemble with percussionist masters from Bali, Iran, India, Lebanon and Java. The ensemble still performs annually. In the 1980's Rudolph was artistic director of "World of Percussion" under the auspices of World Music Institute, Symphony Space, NYC. In 2001 Rudolph founded Go: Organic Orchestra a 22-piece woodwind and percussion ensemble dedicated to developing his unique compositional and rhythm concepts in a large group format. In concert, Rudolph improvisationally conducts the ensemble using his own innovative process. The group has recorded three CDs to date.
Adam Rudolph is known as one the early innovators in what is now called "World Music." In 1977 he co-founded The Mandingo Griot Society with Gambian Kora Griot, Foday Musa Suso, one of the first bands to combine African and American music. In 1988, he recorded the first fusion of American and Gnawa (Moroccan) music with Sintir player and singer Hassan Hakmoun. From 1998 to 2001 Rudolph performed at the Festival D'Essaouira in Morocco in collaboration with many leading Gnawa Maleems (masters). For 2 of those years he was artistic director and curator of "Calling Across the Water" an acoustic collaboration between American, Bambara and Gnawa musicians at that festival.
Active as a performer in the Los Angeles creative music scene since 1979, Rudolph has also contributed by producing concerts and running his own Meta Records label. In 1998 he organized the three-day Bootstrap Festival, Los Angeles, presenting over 75 artists from many local and national cultural backgrounds. From 1992 to '97 he organized and performed a free weekly concert series of improvised music for children at the Jazz Bakery which featured guitarist Kevin Eubanks and Ralph Jones. He has received grants and compositional commissions from the Rockefeller Foundation, Meet the Composer, Mary Flagler Cary Trust, the NEA, Arts International, Durfee Foundation and American Composers Forum.
About Michael Dessen:
Michael Dessen is a composer-improviser and trombonist working in both acoustic and electro-acoustic forms. His debut release as a leader in January 2007, entitled Lineal, features Mark Dresser, Susie Ibarra, and Vijay Iyer among others, and other current projects include his electro-acoustic trio in which he performs on trombone-driven electronics. Dessen's music explores the dynamic intersections of multiple traditions, and his collaborators and mentors include some of the most innovative musicians of our time. In addition to composing for his own ensembles, he also works with Cosmologic, a long-standing collective quartet praised by critics internationally for their unique approach.
Dessen has performed with a wide range of artists including Yusef Lateef, Anthony Davis, George Lewis, Mark Dresser, Susie Ibarra, Vijay Iyer, Terry Jenoure, Marty Ehrlich, Dana Reason, Craig Harris, J.D. Parran, Philip Gelb, Marcos Fernandes, Marcelo Radulovich, Jason Robinson, and Nathan Hubbard. He has also participated in computer and multi-media based projects with Shahrokh Yadegari, Miller Puckette, Rand Steiger, Vibeke Sorensen, and Matt Abidh Waugh.
In addition to creating music, Dessen has contributed articles to publications such as The Other Side of Nowhere: Jazz, Improvisation and Communities in Dialogue (Wesleyan University Press), the online journal Critical Studies in Improvisation / Etudes Critique en Improvisation, and Musicworks magazine. His scholarship focuses especially on the role of African American traditions within late-twentieth century experimental music worlds. He received a Ph.D. from from the Critical Studies/Experimental Practices division of the Music Department at the University of California, San Diego, where he studied with George Lewis and Anthony Davis. He also holds degrees from the the Eastman School of Music, and the University of Massachusetts, Amherst, where he studied with Yusef Lateef and Salvatore Macchia. Just as important, he has been schooled by numerous musicians outside of academia, while free-lancing in diverse contexts.
In fall 2006, Dessen joins the faculty of the Music Department at the University of California, Irvine. He has also taught at Hampshire College, the University of Massachusetts, Amherst, the University of California, San Diego, and Amherst College.
---
---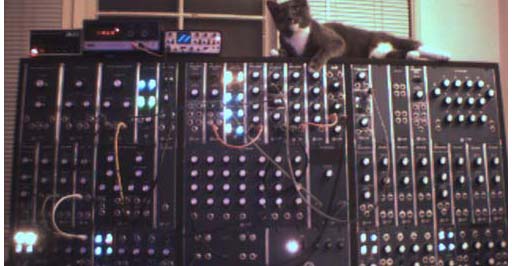 Synthesizers, Live!
FREE
A concert of live electronic music from retro to cutting edge, including synthesizers from the 1960s to the present, featuring all original music composed and performed by students of the UCI Music Department.
---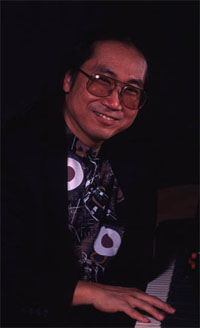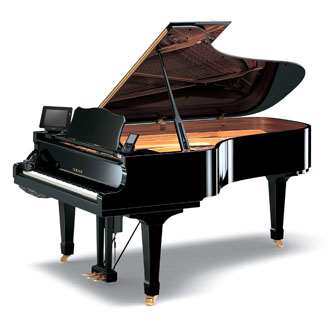 Disklavier - Music for Piano and Computer
Computer Piano Compositions by Christopher Dobrian,
featuring Kei Akagi in Concert
FREE
Kei Akagi will perform on the Yamaha Disklavier
A concert of works for the latest Yamaha Disklavier computerized piano composed by Christopher Dobrian, featuring virtuoso jazz pianist Kei Akagi.
The concert includes autonomous works for computer-controlled grand piano, as well as interactive works for live pianist and computer-controlled synthesizers.
---
This page was last modified on March 31, 2007.
Christopher Dobrian
dobrian@uci.edu