! -- This page was last modified on April 28, 2005 -- >
Gassmann Electronic Music Series
2004-2005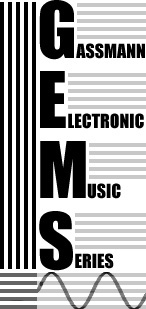 2004-2005
---
WINTER 2005
---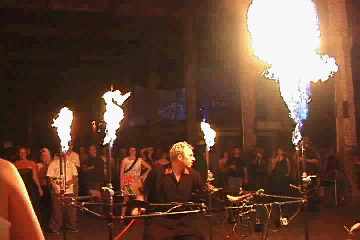 Music, Robots, Pyrotechnics and Assorted Mayhem
Music, Robots, Pyrotechnics and Assorted Mayhem - What do these topics have in common? They are all part of the work history of Eric Singer, engineer, artist and musician from Brooklyn, NY. Eric is the founder and director of LEMUR - League of Electronic Musical Urban Robots - a group of artists and technologists creating robotic musical instruments, and The Madagascar Institute, a Brooklyn guerilla performance and arts collective. Along the way, he has created numerous electronic and computer music and art projects in the areas of interactive performance systems, alternative musical instruments, integrated music/graphics systems, networked multimedia environments and computer-controlled pyrotechnics. Eric will present a history of his work in these areas, including a behind-the-scenes look at the technology behind LEMUR's upcoming exhibition at UCI's Beall Center for Art and Technology.
Eric Singer is a Brooklyn-based musician, artist, engineer and programmer with 20 years of arts and multimedia programming, engineering and performance experience. He holds a BS in Computer Engineering from Carnegie Mellon; a Diploma in Music Synthesis (Magna Cum Laude) from Berklee College of Music; and an MS in Computer Science from New York University. He has performed and lectured throughout the world with electronic musical instruments, as well as touring and recording with many bands on tenor, alto, and baritone saxes. He is a founding member of the Brooklyn-based arts collaborative The Madagascar Institute, and he has contributed to many of the group's spectacular projects in addition to reaching the semi-finals with the MI-originating team "The Brooklyn Benders" on The Learning Channel's 'Junkyard Wars' television show. He is also the founder of LEMUR (League of Electronic Musical Urban Robots), a group of artists and technologists creating robotic musical instruments. In addition to directing LEMUR, he currently works as an independent Arts Engineer and Consultant.
---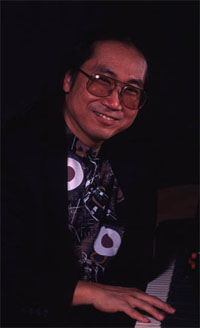 JazzBot
Presented in collaboration with the Beall Center for Art + Technology:
Jazz pianist Kei Akagi of the UCI Music Department will give a brief performance in live interaction with a collection of robotic musical instruments. The robotic instruments, designed by LEMUR (the League of Electronic Musical Urban Robots), are currently installed as an exhibition in the Beall Center for Art + Technology. Mr. Akagi will provide a demonstration of realtime musical interaction between man and machines, using music composed by, and musically intelligent robotic behavior programmed by, UCI professor Christopher Dobrian, The 20-minute performance will be followed by a question-and-answer session with professors Akagi and Dobrian and LEMUR founder Eric Singer. Refreshments will be served. Seating is limited; for reservations phone 824-4339.
Kei Akagi is professor of Jazz Composition and Performance in the UCI Music Department. Christopher Dobrian is professor of Composition and Technology, and director of the Gassmann Electronic Music Studio and the Realtime Audio Research Laboratory. The LEMUR exhibition is ongoing at the Beall Center through March 19, 2005.
Mr. Akagi will perform on a Yamaha Disklavier grand piano lent by the Yamaha Corporation of America, with additional funding from the Gassmann Electronic Music Studio of UCI and the Beall Center for Art + Technology.

---
SPRING 2005
---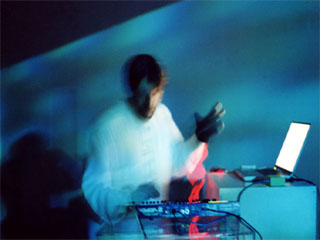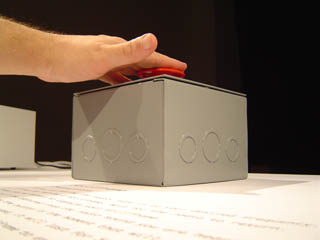 John Jannone: STILLFRAME
John Jannone presents the installation "Stillframe," and one of the performances associated with it. In the work he investigates the fascinating paradox of the still frame in sound: that each moment of sound is in itself a silence. When the turntable slows to a stop, or the cassette tape pauses, there is simply nothing there. Without the flow of difference between the just-past, the now, and the just-to-be, sound is not possible. Or is it? If we look at sound another way, as a layering or stacking of simple tones sounding at once, then at any given moment we can theoretically stop the progression of sound, but continue to hear the component tones which constitute the frozen moment. This is the listening experience visitors create for themselves in the "Stillframe" installation.
Visitors to the installation interact with two simple elements; an FM Radio and a big red button that "stops time." In performance, Jannone manipulates the frozen sound using a sophisticated motion capture system which allows him to gesturally "wade" through the massive chord that is created when a sound is stopped.
Jannone teaches in the Department of Television and Radio and the Center for Computer Music at Brooklyn College, and directs the College's new graduate program in Performance and Interactive Media Arts.
---
Joshua Kit Clayton:
Lecturing/Teaching Residency
May 9-11, 2005
Joshua Kit Clayton is a San Francisco based computer programmer and electronic musician. Born in Evanston, Illinois in 1974, he went on to study computer science and electonic music at Wesleyan University and has since released various musical compositions on record labels such as Cytrax, Vertical Form, ~scape, Mille Plateaux, and Orthlorng Musork. In addition to his musical work, Joshua is a programmer for Cycling '74, where he is responsible for further development of the Max/MSP MIDI/audio programming environment. Recent work has focused on "Jitter", a multi-dimensional dataset processing and visualization architecture with applications in audio, video, and 3d graphics.
During his residency at UCI Clayton will lecture on issues of heterogeneity and integration in multimedia programming, will present some of his own computer music work, and will teach classes on multimedia programming in Max/MSP and Jitter. The lectures are free and open to the public; classes are open to all UCI students, staff, and faculty.
Lectures:
Joshua Kit Clayton will speak about his musical and performance activities employing realtime performance software of his own design.
The Max/MSP/Jitter graphical programming environment for the rapid development of custom multi-media applications using C, Java, and JavaScript, in addition to its primary visual patching language. This talk will cover the advantages and disadvantages of each of these languages in the context of Max/MSP/Jitter, and issues of integrating them in a single project. It will also cover the heterogeneous nature of multi-media, motivation for and issues with integrating audio, video, MIDI, machine control, and networking in a single project.
Classes
Classes will all be held in the:
Monday, May 9, 2005 - 10:30-11:50 am
Interactive Arts Programming

Monday, May 9, 2005 - 1:30-3:20 pm
Max/MSP/Jitter Workshop

Tuesday, May 10, 2005 - 10:30 am-12:20 pm
Max/MSP/Jitter Workshop

Wednesday, May 11, 2005 - 10:30-11:50 am
Interactive Arts Programming

---
KOREAN CLASSICAL MUSIC

A Concert of Contemporary Works
Thursday May 12, 2005 - 6:00 PM
Winifred Smith Hall
FREE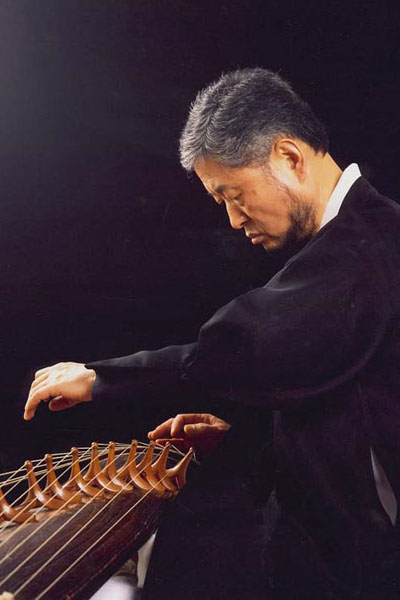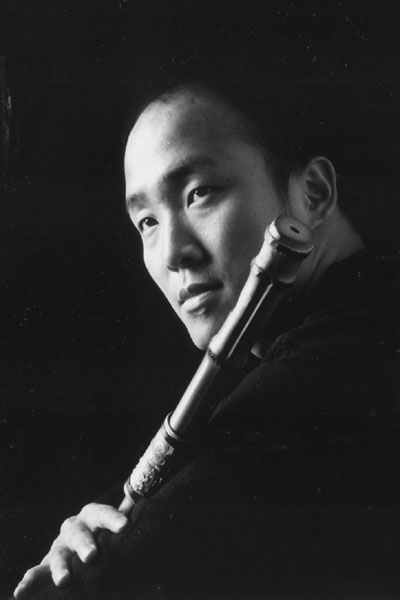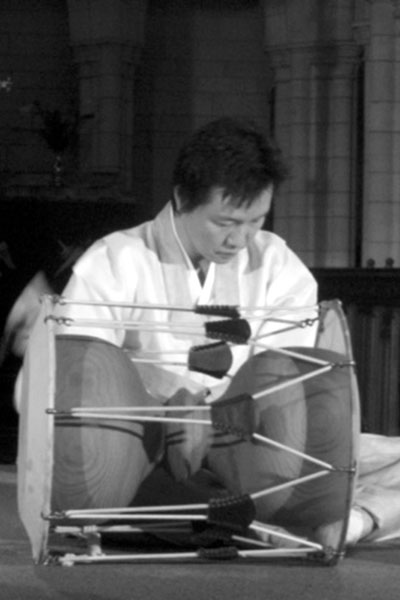 Byung Ki Hwang, gayageum
Jeong Seung Kim, daegeum
Woong Sik Kim, janggo

Distinguished classical musicians from the National Center for the Korean Traditional Performing Arts perform contemporary compositions for Korean classical instruments, including the southern California premiere of Mannam (Encounter) for daegeum and interactive computer system by UCI professor Christopher Dobrian.
Program
Cheong Seong Gok - Traditional
Gayageum Sanjo - Hwang, Byung Ki school
Mannam (Encounter) - Christopher Dobrian
Janggo solo - Kim, Woong Sik
--Intermission--
Harim Castle - Hwang, Byung Ki
Sounds of the Night - Hwang, Byung Ki
Chim Hyang Mu - Hwang, Byung Ki
For this concert the Gassmann Electronic Music Series has received generous financial support from the UCI Center for Asian Studies, and organizational support from professor Hi Kyung Kim.
---
For more information about events of the Gassmann Electronic Music Series, call (949) 824-7288.
---
This page was last modified on April 28, 2005.
Christopher Dobrian
dobrian@uci.edu