! -- This page was last modified on October 29, 2018 -- >
GASSMANN ELECTRONIC MUSIC SERIES
2018 - 2019
---
---
---

Saturday December 8, 2018
"LISTEN TO THE MOTION"
Mari Kimura and friends, featuring MUGIC™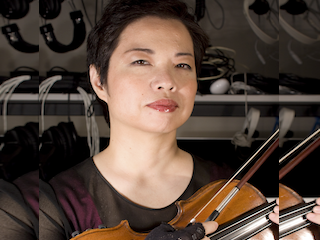 Experimental Media Performance Laboratory (xMPL)
8:00 pm, Free
Violinist/composer Mari Kimura will present a concert—in collaboration with guest artists, UCI colleagues, and students—that incorporates the performance motion sensor "Mugic™," a prototype currently under development in collaboration with Calit2. Students of the doctoral program in Integrated Composition, Improvisation and Technology (ICIT) will present new works using MUGIC™. "Listen to the Motion" also features guest media artist Luke DuBois from New York University, whose solo exhibition is currently showing at the Beall Center for Art + Technology.
The concert features works by student composers Mark Micchelli, Alex Lough and Tomoko Ozawa, and dancer/choreographer Jacob Machmer. Prof. DuBois will collaborate with the students in creating computer graphics, interacting with the MUGIC™ sensor.
The MUGIC™ system is currently under development at UCI's Calit2 through the Multidisciplinary Design Program (MDP). For the MUGIC™ project, students at the Claire Trevor School of the Arts collaborate with students from the Henry Samueli School of Engineering and the Donald Bren School of Information and Computer Science at UCI.
---
---

Wednesday January 23, 2019
SAM PLUTA AND PETER EVANS
Sam Pluta / Peter Evans Duo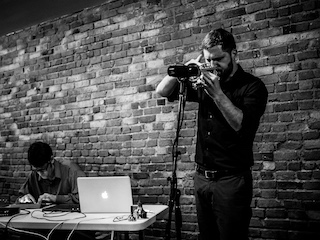 Winifred Smith Hall, UCI
8:00 pm, Free
Peter Evans (trumpet) and Sam Pluta (electronics) have been collaborating since 2008 to forge a new and dynamically interactive live electroacoustic music. Improvisation and a commitment to the explosive energy of sound itself inform the duo's approach to realtime composition.
Also, the day before...
Tuesday, January 22, 2019
ICIT Thesis Colloquium: Lecture/demonstration by Sam Pluta and Peter Evans
Music Collaboration Laboratory, Room 190, Arts Instruction Technology Resource Center
3:30 pm, Free
---
---

Friday May 24, 2018
ICIT Student Concert
New music by students of the UCI Music Department's innovative graduate program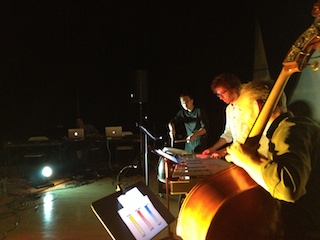 Winifred Smith Hall
8:00 pm, Free
The eleventh annual concert presenting original new works by PhD students in Integrated Composition, Improvisation, and Technology (ICIT) in the UCI Music Department.
---
This page was last modified on September 17, 2018.
Christopher Dobrian
dobrian@uci.edu