! -- This page was last modified on April 29, 2018 -- >
GASSMANN ELECTRONIC MUSIC SERIES
2017 - 2018
---
---
---

Friday November 17, 2017
CELEBRATING JEAN-CLAUDE RISSET
Commemorating the work of an electronic music pioneer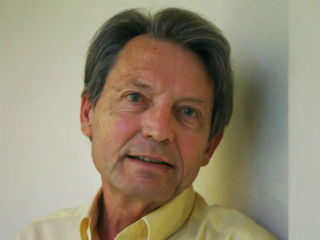 Winifred Smith Hall
8:00 pm, Free
The Gassmann Electronic Music Series presents Celebrating Jean-Claude Risset, a concert commemorating the work of an electronic music pioneer. French composer and computer music pioneer Jean-Claude Risset, who passed away this past year, will be memorialized with performances of his music, discussion of the significance of his work, and the California premiere of compositions in his honor by UCI professors Mari Kimura and Christopher Dobrian.
In the 1960s Risset was a pioneering researcher in the use of computers to analyze and synthesize musical sounds, and he was one of the first composers to use digitally synthesized sounds in his compositions. Trained in both science and music, he was a student of André Jolivet, a composer of both instrumental and computer music, a professor at the University of Aix-Marseille, and director of the laboratory of mechanics and acoustics at the National Center for Scientific Research in Marseille.
His friends at UCI, music professors Mari Kimura and Christopher Dobrian, along with student performers Yihui Liu and Jared Davenport, will perform several of his compositions for instruments and computers, will describe some of the technical innovations for which he is credited, and will present two new pieces composed in his memory.
---
---

Tuesday January 16, 2018
DAVID ROSENBOOM
Propositional Music of Many Nows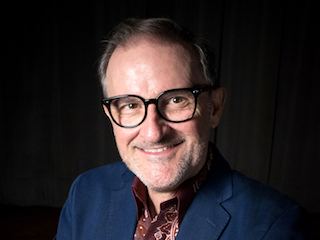 Music Collaboration Laboratory, AITRC 190, UCI
3:30 pm, Free
Propositional music refers to a mode of musical thinking in which the act of composing embraces building proposed models of worlds, universes, evolution, brains, consciousness, or whole domains of thought and life, and then proceeding to make dynamical musical embodiments of these models, inviting us to experience them in spontaneously emerging sonic forms.
This lecture will draw from selected examples of Rosenboom's work over several decades that explore how propositional models for musical worlds have energized his composer-performer practice, which often collapses distinctions among formal percepts and embraces a dynamic dimensionality in musical structures that may be fundamentally emergent and/or co-creative.
Topics to be explored include: musical configuration spaces and the networked possible, conundrums about emergent time, deviant resonances appearing in mappings of natural phenomena onto music with implications for composition and designing interactive instruments (including advanced BCMI - Brain Computer Music Interface), collaborative strategies across malleable time-spaces, linked complex self-organizing systems, and notation as interface.
David Rosenboom explores the spontaneous evolution of musical forms, languages for improvisation, new techniques in scoring for ensembles, multi-disciplinary composition and performance, cross-cultural collaborations, performance art and literature, interactive multi-media and new instrument technologies, generative algorithmic systems, art-science research and philosophy, and extended musical interface with the human nervous system. He holds the Richard Seaver Distinguished Chair in Music at California Institute of the Arts, where he has been Dean of The Herb Alpert School of Music since 1990.

Monday February 26, 2018
MARGARET SCHEDEL
Sonification as the Basis for Musical Composition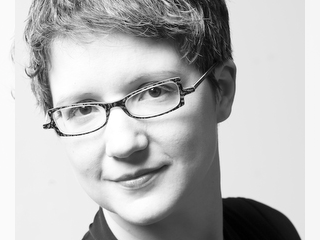 Music Collaboration Laboratory, AITRC 190, UCI
11:30 am, Free
Sonification can be used for purely scientific purposes, or as the basis for musical composition. There is a continuum between auditory display, which attempts to faithfully reproduce data in audio, and composition in which creativity can be king. In each case, aesthetic decisions must be made in order to translate data into the auditory domain—either to bring out or hide a quality in the data or to massage the sound of the data in order to fit musical goals. In this talk, Professor Schedel will cover several case studies of sonification at Stony Brook University, from x-ray scattering of nano-structures, to FMRIs of the brain, to the gait of patients with Parkinson's.
Margaret Anne Schedel is a composer and cellist specializing in the creation and performance of ferociously interactive media, whose works have been performed throughout the United States and abroad. As an Associate Professor of Music at Stony Brook University, she serves as Co-Director of Computer Music and is the Director of cDACT, the consortium for digital arts, culture and technology. She ran SUNY's first Coursera Massive Open Online Course (MOOC), an introduction to computational arts. Schedel holds a certificate in Deep Listening and is a joint author of Cambridge Press's Electronic Music. She recently edited an issue of Organised Sound on the aesthetics of sonification and her two of her pieces are featured on the REACT recording by Parma Records. Her work has been supported by the Presser Foundation, Centro Mexicano para la Música y les Artes Sonoras, and Meet the Composer. She has been commissioned by the Princeton Laptop Orchestra, the percussion ensemble Ictus, and the reACT duo. Her research focuses on gesture in music, the sustainability of technology in art, and sonification of data. She sits on the boards of 60x60 and the International Computer Music Association, is a regional editor for Organised Sound, and is an editor for Cogent Arts and Humanities. In her spare time she curates exhibitions focusing on the intersection of art, science, new media, and sound.

Friday March 2, 2018
LOADBANG
Lungpowered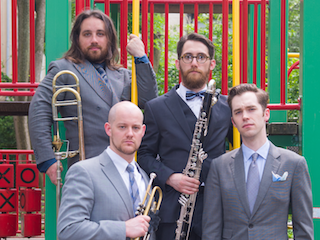 Winifred Smith Hall, UCI
8:00 pm, Free
New York City-based new music chamber group loadbang is building a new kind of music for mixed ensemble of trumpet, trombone, bass clarinet, and baritone voice. Since their founding in 2008, they have been praised as "cultivated" by The New Yorker, "an extra-cool new music group" and "exhilarating" by the Baltimore Sun, "inventive" by the New York Times, and a "formidable new-music force" by TimeOutNY. Their unique lung-powered instrumentation has provoked diverse responses from composers, resulting in a repertoire comprising an inclusive picture of composition today. They will be presenting works written exclusively for them by composers Lei Liang, Alexandre Lunsqui, Reiko Futing, Scott Worthington, Scott Wollschleger, and by ensemble members Carlos Cordeiro and William Lang.
Also, the day before...
Thursday, March 1, 2018
Readings of ICIT graduate student works by Loadbang
Motion Capture Studio, Room 218, Music and Media Building
8:00 pm, Free
The residency of Loadbang is co-sponsored by UCI Illuminations.
---
---

Friday April 20, 2018
ZEENA PARKINS
Captiva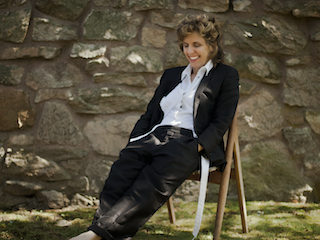 Winifred Smith Hall, UCI
8:00 pm, Free
Zeena Parkins is a composer, improviser, and pioneer of the electric harp, inventing extraordinary playing techniques and layers of electronic processing. She performs Captiva, an original multi-movement composition that explores a compendium of possibilities on the acoustic harp, deploying improvisational strategies on composed fragments, triggering new material.
Also...
Friday, April 20, 2018
Zeena Parkins
Improvisation Workshop
Room 218, Music and Media Building
1:00 pm, Free and open to all
---

Monday April 30, 2018
Javad Butah
Ableton Live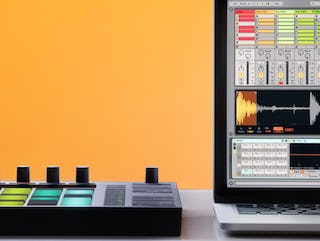 Music Collaboration Laboratory, AITRC 190, UCI
2:00 pm, Free
Ableton southwest brand manager Javad Butah will provide an overview of the innovative Live software and its dedicated Push hardware controller. All are welcome to attend.
Ableton makes Live— a unique music creation and performance software—and Push, a hardware instrument for playing and composing with Live. Ableton was founded in 1999 and released the first version of Live in 2001. Since then, the company has received numerous awards and has attracted a worldwide community of dedicated musicians, composers and DJs.
Javad Butah is a Los Angeles-based musician, composer, producer, and educator. Javad's unique and innovative perspective on music can be traced to his Romani roots, his studies under various tabla masters, as well as his formal music education at the California Institute of the Arts. He has toured for over 20 years, performing as a solo artist and accompanying world-renowned musicians.
---

Friday May 25, 2018
ICIT Student Concert
New music by students of the UCI Music Department's innovative graduate program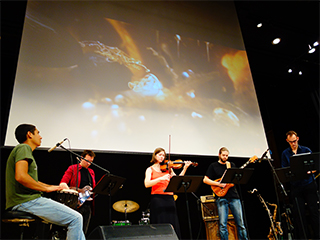 Winifred Smith Hall
8:00 pm, Free
The tenth annual concert presenting original new works by PhD students in Integrated Composition, Improvisation, and Technology (ICIT) in the UCI Music Department.
---
This page was last modified on April 29, 2018.
Christopher Dobrian
dobrian@uci.edu