! -- This page was last modified on April 2, 2015 -- >
GASSMANN ELECTRONIC MUSIC SERIES
2014 - 2015
---
---
---

Friday October 24, 2014
Hammer & Hair
A concert of works for violin, piano, computer, and video
by Neil Rolnick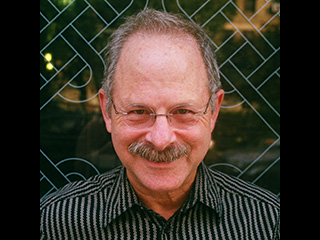 Winifred Smith Hall, UCI
8:00 pm, Free
Composer/performer Neil Rolnick will be joined by students from the UCI Music Department in a concert combining his recent works for solo laptop computer with pieces for violin and piano with computer and video. "Rolnick's computer echoes and multiplies certain notes and phrases, producing an ivory current that whips and swirls around the performer." -- Steve Smith, Time Out NY
Neil Rolnick has been performing with computers since the 1970s. His work combines technical wizardry, musical sophistication, and healthy senses of humor, joy and self-reflection.
Also...
Friday, October 24, 2014
"Integrating Music and Media"
A lecture presentation by Neil Rolnick
Winifred Smith Hall
4:30 pm, Free
In his work blending music, computers, and video, Neil Rolnick has explored many ways of integrating and establishing relationships between different media and arts onstage. In this interactive workshop he discusses some of what he has learned from this varied and adventuresome work. The event is free and open to the public.
---

Saturday November 22, 2014
Adventures In New Music
Composition, Improvisation, and Electronics
by The Michael Dessen Trio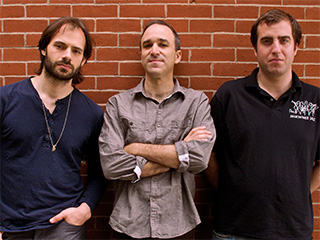 Michael Dessen, trombone, electronics, and composition
Christopher Tordini, bass
Dan Weiss, drums

Winifred Smith Hall, UCI
8:00 pm, Admission $15
Seniors, UCI Faculty & Staff $14
UCI Students & Children, $5
Praised in DownBeat Magazine as "a musician for this moment," composer and trombonist Michael Dessen and his trio deliver a unique evening of adventurous improvisation, intricate compositions and live electronics.
Also...
Saturday, November 22, 2014
"Composing For Improvisers and Improvising With Composers"
A workshop/presentation by The Michael Dessen Trio
Winifred Smith Hall
4:00 pm, Free
Jazz musicians in the past century pioneered a stunning diversity of methods for collaborative, realtime music making that continue evolving today in many directions and communities. In this presentation, composer-trombonist and UCI professor Michael Dessen and renowned musicians Chris Tordini (bass) and Dan Weiss (drums) will demonstrate some of the ways they integrate improvisation with intricate pre-composed structures as well as with new forms of technology such as live audio processing and dynamic, screen-displayed "scorestreams." The workshop is open to the public, and both specialists and non-specialists will be welcome. The trio will also perform a concert of their original music at 8pm.
---
---

Friday January 30, 2015
Wired Percussion
A concert of music for percussion and computers
by Aiyun Huang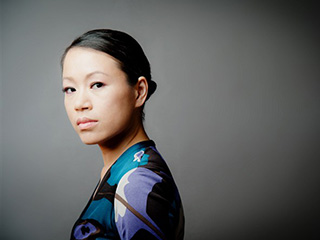 Winifred Smith Hall, UCI
8:00 pm, Free
This multimedia event features Montreal percussionist Aiyun Huang in collaborations with Sean Griffin and Christopher Dobrian, including a new work Tacoma Narrows Monochord instrumentalizing archival footage of the Tacoma Narrows Bridge Collapse.
As the First Prize Winner of the Geneva International Music Competition, Montreal percussionist Aiyun Huang is known for her virtuosity integrating percussion and theater. She is a researcher at the Centre for Interdisciplinary Research for Music Media and Technology and holds the position of Associate Professor at McGill University in Montreal, Canada.
Also...
Thursday, January 29, 2015
"Interactive Improvisation - Percussion and Computer"
A lecture presentation by Aiyun Huang
Music and Media Building, Room 216
11:00 am, Free
Percussionist Aiyung Huang describes her collaborations with computer and media artists, previewing the technological bases underlying two of the works she will perform in the Friday concert.
---
We regret to announce that the residency by David Cope has been cancelled. We plan to invite him for a comparable residency in the near future.

Tuesday February 10 and Wednesday February 11, 2015
Lectures on Artificial Creativity
by David Cope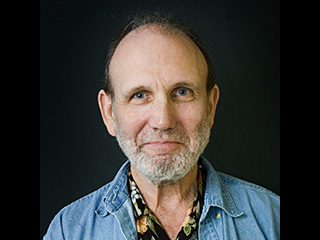 Tuesday February 10, 2015
Algorithmic Composition
Music and Media Building, Room 216
11:00 am, Free
Artificial intelligence expert, prolific author, and music composer David Cope discusses modern and historical views of the systematic formalization of the compositional process.
Tuesday February 10, 2014
Techniques of the Contemporary Composer
Music and Media Building, Room 216
2:00 pm, Free
David Cope, professor emeritus of the University of California, Santa Cruz, discusses some significant distinguishing developments in the composition of music in recent times.
Tuesday February 10, 2015
Artificial Creativity
Music and Media Building, Room 216
3:30 pm, Free
David Cope, author of Computer Models of Musical Creativity discusses his research on the question of computer creativity.
Wednesday February 11, 2015
Experiments in Musical Intelligence
Physical Sciences Classroom Building, Room 140
2:00 pm, Free
David Cope, author of Experiments in Musical Intelligence presents his groundbreaking research into computers composing music of remarkable humanity.
Wednesday February 11, 2015
Composing Today
Music and Media Building, Room 316
3:30 pm, Free
Composer David Cope discusses his thoughts on the present and future of music composition in light of the breathtaking pace of technological changes.
---

Thursday April 23, 2015

Adventures in Sonomorphic Design and Concept
Onyx Ahsanti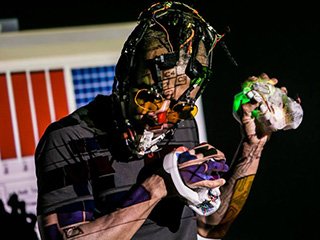 Room 218, Music and Media Building, UCI
3:30 pm and 5:00 pm, Free
3:30 Workshop - Design and Interaction of Sonological Cyborg Systems in Multiple Dimensions
What would the word "cyborg" mean if it were invented today? Onyx Ashanti believes it would incorporate open-source software/hardware, including 3D printing and Arduino, and would interface intimately with our desire to interact with our Self: self guided self-investigation with sonic interfacing.
5:00 Concert - Adventures in Sonomorphic Design and Concept
The workshop will elide with the concert, with no real separation between performance and technical presentation, since the interface integrates the computing systems with the sonic (i.e., musical) systems. Both will investigate 3D printing concepts and biomechanical design, open source hardware and software integration, and kinesthetic abstaction (useable data from body movement sequencing).
Onyx Ashanti has spent the last few years consolidating a lifetime of experiences--from busking in cities around the world, playing nightclubs and raves, as a MIDI wind controllerist, to immersing himself into the present day age of self iterated design, 3d printing, online learning, and the search for and interaction with Self with a capital S. Having given 4 TED talks on the subject, as well as lecturing, busking, performing, and teaching around the world, Onyx Ashanti has made it his life's purpose to see the human mind as the primary computing platform upon which to design "apps" of evolution and transcendence by way of a multi-dimensional process he calls sonomorphology or sonomorphosis: the creation of form from sound which begins the perceptual process of creation. A sort of cymatics for perceptual form with the cyborg idea of man-machine hybridization allowing for the use of general purpose open source computers as augmentators of the core process.
---

Thursday May 14, 2015
ICIT Student Concert
New music by students of the UCI Music Department's innovative graduate program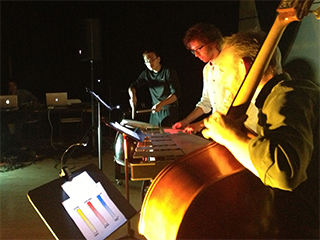 Winifred Smith Hall
8:00 pm, Free
The seventh annual concert presenting original new works by first-year MFA students in Integrated Composition, Improvisation, and Technology (ICIT) in the UCI Music Department.
---
This page was last modified on April 2, 2015.
Christopher Dobrian
dobrian@uci.edu